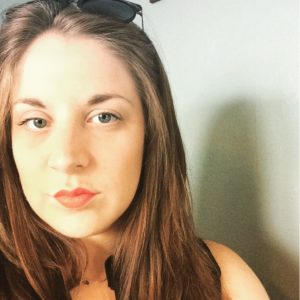 Alyssa Bennett Smith lives in Kansas City, Missouri with her husband Joshua, and works as the Web and Social Media Content Manager for Mennonite Church USA. She loves coffee, cats, tattoos, poetry, and theology. In May of 2015 she graduated from Central Baptist Theological Seminary, earning a Master of Arts in Theological Studies, with an emphasis in Peace and Reconciliation Studies.
My first experience at a peace church was with a Quaker fellowship in urban Kansas City, Missouri. While I admired their reverence for recognizing "the light of God" in all worshipers and their desire for peace and justice in the community, I began to miss musical worship during our extended services of silent listening for the still small voice.
Shortly thereafter I found myself a part of a Mennonite congregation in urban Kansas City, Kansas, who held the same intense yearning for peace at their center and worshiped God through the poetry of hymnody, swells from organ pipes, warm and round, and occasional a Capella harmony – I was home.
It was only a year before I inserted myself deeply into church life as a member of multiple committees, a voter at congregational meetings, a contributor to potlucks, and a church delegate at area conference gatherings.
The last of these is where a seed of institutional questioning was planted that eventually grew into a project.
In the summer of 2014, I was sent as a congregational delegate to the annual gathering of Western District Conference of Mennonite Church USA in Waxahachie, Texas. This annual gathering took place during a particularly tense time in our relationship as an area conference when many were debating whether or not to allow clergy who are credentialed by Mennonite Church USA to perform marriage/covenant ceremonies for couples in same-sex relationships. In 2014 the governing documents of both the national denomination and our area conference did not, and still don't, allow for clergy to officiate for these wedding/covenant ceremonies. Additionally, just days before our conference's annual gathering, the Executive Board had released a report in which they refused to recognize the credentialing of a Mennonite minister in a neighboring area conference because she was in a committed same-sex relationship.
As a delegate during this annual meeting, I was afforded a quick but thorough education in the decision-making processes employed by the denomination. Vocational experience in committee structures and Robert's Rules of Order provided a head start to my study of this institutional tension, and during the Western District Conference meeting in July of 2014,
I realized that so much of the conflict that I was hearing and seeing in the broader church was the result of both the misunderstanding and misuse of existing church polity and institutional structures.
A question and answer session with a denominational minister who was attending the conference as a representative of the national arm of the denomination made clear that the current foundational documents of the church, which had been written in the mid-1990s, needed to be revisited.
In this question and answer session, both denominational leaders and pastors who had been a part of the church for years were unclear as to the history, intent, creation, and application of the church's foundational documents.
How were they written? Did the national delegate body vote to affirm them? Were they meant to be permanent documents or to help through the transition of creating the new denomination? All of these questions and several more were posed without many clear answers.
This confusion was startling to me. I realized that very few people knew exactly how these documents factor into our lives as members of Mennonite Church USA because on a day-to-day basis, they simply don't. On a congregational level, we do not rely as heavily on bylaws and polity but instead fall back on relationships with one another to inform our work in community together. However, the national denomination of the church relies on community without that deeply personal relationship. We are brought together as a larger body through our history and biennial gatherings, and participation in and support of Mennonite Church USA agency activities and missions, but we do not live together as we do on a congregational level. Put simply, there is no way that every church in the country can be interpersonally connected in the same way we are when we share pews.
We have community through common interest rather than relationship.
As a member of Mennonite Church USA (and later, an employee) I decided to make these documents the focus of my Master's degree capstone project.
I spent a year researching and writing, in hopes of putting together some sort of resource that could give us all a place to start.
While I could not fully encompass every conversation or committee meeting or delegate session that went into the creation of these documents, I do hope that my work allows insight to those, like me, who were not present for their writing. I hope that insight leads to productive conversation. And first and foremost I hope that we are able to come together and renew our covenant together as a church with Jesus at the center of our faith, reconciliation at the center of our work, and community at the center of our lives.
—————————