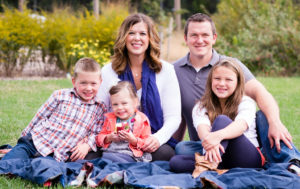 Tonya Keim Bartel is on convention staff as the Program Expeditor for KC2015. She also works in a local inpatient rehabilitation facility for drug and alcohol addiction. In her spare time, she keeps a lively, popular, blog: Serendipity. She lives in Hesston, where she is raising her family in her childhood home.
Home. Growing up, it was the place where I had my own room—a messy space that was my domain. At home, I had a list of chores waiting for me on Saturday morning, and a $5 weekly allowance to spend on candy at the ballgame or save up for those cool jeans—Guess brand, pinch-rolled … you remember! There, our family read chapter books, decorated the tree, planned mystery dinners, cleaned, fought and laughed together. At home there were always a few extra people around, and those who stopped by without invitation were asked in to sit at the table. My little sister and I were taught to put on the coffee when the doorbell rang. Home was sometimes messy, sometimes tidy and always warm.
Now, home is where there's always more to be done. Laundry … clean out the freezer … dishes in the sink … laundry … paint the shelves … and did I mention laundry? Thank God for those sacred long Sunday afternoon naps. Home is where we converse about what matters most to us, interrupting each other always because it's just how we roll. It's where we pray together before meals and bed and travel and when we're all fighting and just need to stop and beg God to Show Up! And more than anything, home is where we get to be our most true selves, where we don't shy away from conflict and never hide what we really think or want. Here we are loved despite our oddities and for our most annoying imperfections.
I suppose you see where I'm going with this, don't you?—the ripe metaphors for this denomination I so love. What was true in my childhood home—the lessons of work, discipline, hospitality—were true in my early experiences of being Mennonite. And again as an adult—the constant work, truth-telling, rest, and quest for meaning—they're all true in our larger Mennonite church.
I'm not under any illusion that we are anything but a work in progress. Like our literal homes, we are a fluid effort to maintain some sense of order all while finding joy and meaning and probably more than anything, comfort in belonging. We are real with each other, so feelings are sometimes hurt, and there's repair work to do. But because we're real, we have the privilege of seeing one another's souls and, if we are present enough, of glimpsing the work of God in one another. Just like at home, we have opinions that we desire to be truly heard and honored. We want to be loved for who we are. And because of our nature as Mennonites, our tendency toward humility and gift for compassion, we expect that we are in a safe space for great debate and hearty discourse.
Convention can feel like coming home to one big reunion, where we see old acquaintances, and new friends and family are brought to the table. At convention, we echo the traits of our denomination … eating together, learning, playing, worshiping and discussing the concerns of our heart. We want more than anything to just plain have a good time and to boost our personal faith in a tangible way—to do the good, important work of being Mennonite.
So at this time of year when we gather in homes, around tables with loved ones and new friends to thank God for this thing we call home, as we anticipate gathering with our larger family in just six short months, I'm breathing the deepest, heartiest "thank you" for my Mennonite home, too.