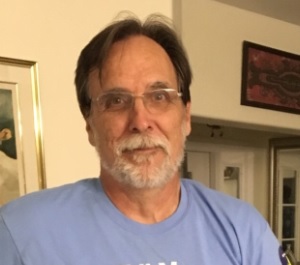 Over the next few months we've invited folks from across Mennonite Church USA to reflect on our Journey Forward and consider how they've seen Renewed Commitments at work in their lives, their congregation or community. If you'd like to contribute to this series by highlighting stories that bring our shared values to life, email JenniferC@MennoniteUSA.org. 
For the past nine years Rick Lee has served as pastor of Homestead (Florida) Mennonite Church. He was first introduced to Mennonites as a young adult through Reba Place, Evanston, Illinois, and helped plant Living Water Community Church in Chicago. After 15 years there, Rick and his family of four moved to Brazil to be Christ's faithful witnesses among the global English speakers in Macaé, a coastal oil town. Rick believes you should never do anything unless it is either fun or important. In the best of worlds it will be both.
Our congregation is not inclined to separate ourselves from MCUSA in the midst of the current processes and growing pains. This marks us as different from many, if not all, of the other churches in the Southeast Mennonite Conference. But neither are we inclined to separate ourselves from the SMC, though the majority of churches focus on separating themselves from MC USA while finding some other way to maintain local togetherness. Possibly, this challenges the SMC. Yet, we hope to stay affiliated with the rest of the SMC, as long as they will have us. At the same time we hope to remain part of, and contribute to, MC USA as long as they will have us. Through this stance we hope "to embody the grace, joy and peace of the gospel."
Here's how we got there.
The kingdom of God is at hand. I came across the Renewed Commitments document online before it was widely disseminated. Though our casual practice as a congregation was to stay out of the conversations that have consumed other MC USA churches and conferences these past years, it presently seemed right and good and pleasing to God that we engage the Renewed Commitments document as a congregation. So, for a number of weeks it became part of our conversations, prayers, lessons and sermons.
Together we reflected and discussed and sharpened one another around these four themes, especially as they applied to the MC USA denominational considerations regarding forbearance and membership norms.
Thus far we have come to this place and have found opportunities to engage other local MC USA pastors and leaders, sharing our perspectives and listening to theirs. May sharpening and growth continue.
Below are some quotes from the Renewed Commitments document as well as some of our reflections as we processed them together as a congregation.
Follow Jesus
"As an Anabaptist community of the living Word, we listen for God's call as we read Scripture together, guided by the Spirit. Through baptism we commit ourselves​ ​to live faithfully as Jesus' disciples, no matter the cost."
We take seriously the discipline of interpreting scripture together; of not leaving interpretation and discernment to the presumed appointed and experts. We seek the Spirit's guidance together. We pray. We think. We discuss. We listen to understand rather than merely listen to respond. We realize this will cost us time and at times challenge us to grow our maturity and our mutual submission to one another. If we've not moved, we can't assume we've been guided anywhere.
Witness to God's peace
"We are called to extend God's holistic peace, proclaiming Christ's redemption for the world with our lives. Through Christ, God frees the world from sin and offers reconciliation. We bear witness to this gift of peace by rejecting violence and resisting injustice in all forms, and in all places."
Holistic peace suggests that peace that comes from God comes from all directions and addresses all aspects of life. "My peace I give to you," says the Lord. Holistic peace includes experiencing peace with God and also the peace of God within and among ourselves and extending peace outward to others as far as God's kingdom extends.
Part and parcel of life with God through Christ are the possibilities of freedom from sin for ourselves and for others and reconciliation (or oneness) among us all. If our processes or conclusions build walls and drive wedges between us, then we are doing it wrong. Most often people we actively love should feel loved; not judged, shunned or tolerated. Love is the unbounded concern for the wellbeing of another, regardless of their condition or their reaction. Often Love is tied closely to Forgiveness. To forgive someone is to — love them anyway.
Experience transformation
"The Holy Spirit dwells in and among us, transforming us to reflect God's love. Through worship the Spirit gathers the body of Christ, where our diversity reveals God's beauty. The Spirit empowers our communities to embody the grace, joy and peace of the gospel."
We recognize the place and the need for diversity in the body of Christ. Rather than self-segregating, or rejecting others from our fellowship because we understand God and God's Word differently. Therefore we take this stance. We are willing to fellowship with anyone who takes Christ seriously and takes scripture seriously.
________________________________________________________________
All congregations are invited to use Journey Forward's "Pathways" study guide. Find it and all Journey Forward updates here.
Your financial support of MC USA helps us equip leaders and tell stories of Anabaptist faith in action across the church. Donate to MC USA here.