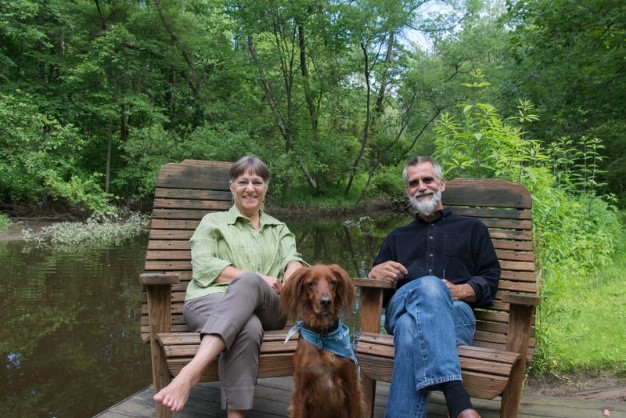 Sandy Drescher-Lehman and her husband John are trained spiritual directors who tend FernRock Retreat in Bucks County, Pennsylvania. Sandy also delights in pastoring Methacton Mennonite Church near Philadelphia in Mosaic Mennonite Conference. 
_______________
Reading the word "missional" over and over again in our Mennonite media, calling us to get involved with immigrants, people who are homeless, community meals, protest marches for Black Lives Matter, sexual abuse and domestic violence, compassion funds, etc., etc. – it was just too much.  My stress level increased with each new report of good works, making me wonder what I should be doing.
Our family was sheltering in place and had shut our doors to guests, according to our state and county recommendations and for the safety of our age and vulnerabilities. I was telling our congregation that the best way to help stop the virus, especially for those in the "at risk" population, was to stay home … but I had a hard time believing it myself.
I felt selfish.  Day after day into months, John and I enjoyed our beautiful 15-acre home and retreat center all by ourselves. I began to feel like this safe place of quarantining was just wrong. Should I risk our health and sign up to help a local shelter for the homeless or serve at a community kitchen? That felt wrong too. What was my missional thing to do?
Admittedly, this has always been a struggle for me – quieting the activities of my mind and my ENFP/#7 enneagram personality and paying too much attention to "should," but this shut-down was taking me to another level of dis-ease with the contemplative call on my life.
After four months of being shut down and shut in, we decided to take the extra steps of precaution and open our place to Hipcampers (the glamorous camper version of Airbnb) – even though inviting anyone to come for whatever reason had not been our original vision for FernRock Retreat. Instead, our lifelong vision has been to offer a place of spiritual rest and silence for busy people to come away to be with God. While our retreat center has been used like that a bit, we've been disappointed with how little our cabin and basement space have been requested.
So we decided to let the Hipcamp organization do our booking and charging for us and prepare to receive whoever came. Within a few days, we were booked for the next two months, and soon after, into the fall season! Individuals and families started coming and filling our spaces with their joy as well as the empty place in my own spirit that yearned to offer hospitality.
They came with names we've never heard, from walks of life with which we're unfamiliar. They're not coming for silence, so we get to talk to them at a distance, which feeds my extroversion and quells my jealousy of God getting to know people who come, without me getting to be part of it.
Most of them aren't coming for the labyrinth and the prayer walk around the woods, but the mysterious and holy thing is – they're meeting God here in ways they hadn't planned and we never dreamed would happen.
They're writing in our guest book things like:
"I traveled here full of pent up emotions … My faith in the unknown and the spiritual has really wavered. Here, I felt a deep internal shift as soon as I stepped out of my car, and I felt open to receive all the gifts that this space offered … I felt a Spirit here. I leave full of clarity, forgiveness and commitment to my spiritual path that I was too scared to confront for so long."
 "I came here during a time of intense stress and felt a peace as soon as I got out of my car … I hope to be more at peace with my surroundings and look deeper into the spiritual world that this time has shown me."
"The place is magical, blessed and sacred all rolled up into one. I was truly surprised at how palpable the peace felt – such beautiful energy. I came here to find something I didn't know I was looking for. And what is that thing you call a labyrinth?  Something happens in there that I can't describe."
"I've felt more present in my body this weekend than I've been in months."
We shake our heads in amazement and laugh with joy as we read and hear these responses! It seems that when we got out of the way of what we created and expected this place to be, God began using it in greater and more diverse ways than we could've ever achieved or imagined!
Our life-long vision of offering spiritual refreshment and connection to the Divine has not disappeared, but it's being transformed in deeper and broader ways and for people I would never have had a chance to meet by staying in my Mennonite world with my definition of spiritual direction.
Is it missional to stay home to provide a safe place – cleaning, fixing beds and weeding flower gardens, for people to come and find Someone they don't know they're looking for? Might tending a retreat center and offering spiritual direction with new definitions and expanded purpose be the next step of following God's call? Is this time of pandemic transforming my definition of missional? Thanks be to God, I believe the answer I hear is a resounding "Yes" to them all!
Learn more about the Mennonite Spiritual Directors Network at mennosdn.org.
The views and opinions expressed in this blog belong to the author and are not intended to represent the views of the MC USA Executive Board or staff.