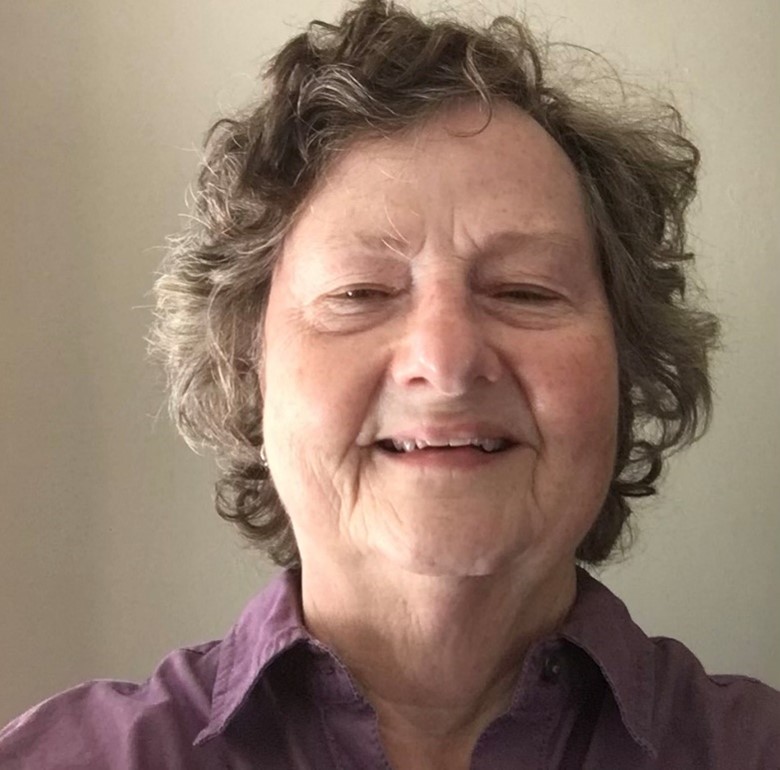 Leslie James is a retired medical librarian and worship planner. She is also co-author, with Karmen Krahn, of "Proclamation by Design: The visual arts in worship" (Faith and Life Resources, 2007). She resides, gardens and works in her studio in Wichita, Kansas. She is a member of Hope Mennonite Church.
In the following column, Leslie James describes how her journey as a creator of worship art has developed into a spiritual practice, connecting her with God and allowing her to express her faith — opening a pathway to healing, service and praise.
_______________________________________________
Getting older brings many unexpected gifts, no matter what the culture around us might believe.
Chief among those unexpected gifts for me has been finding myself "in the place just right" — for this season of my life. And a delightful, simple, healing and holy place it is.
Looking back at my life, it is impossible to imagine how so many disparate threads might, one day, integrate into something entirely new. I have always worked with my hands, which is something I learned from my family. I am contemplative by nature. I love the feel of tools in my hand, the smell of newly sawn wood and the tension of tiny stitches pulled tight. Academically, I have gone down the rabbit holes of literature, science, art history and worship, where I discovered a passion for tending, with great care, to the elements used for worship and the space in which a congregation gathers.
Just as I was retiring, I found a love for gardening sprouting up from a seed my grandmother had sown decades ago. DNA results confirmed the sense that I had growing up that both sides of my family are from Celtic roots, giving foundation to my interest in Celtic art, spirituality and the profound sense of arriving at home that I felt on the two separate Celtic pilgrimages I had embarked on with fellow Anabaptist Mennonite Biblical Seminary pilgrims. Taken together, this lifetime of experiences, interests, education, acquired skills and modest talents is quite the eclectic hodgepodge.
But, here, at this point in my life, I have found this eclectic hodgepodge woven together in the most unexpected, wondrous way. While over the years I have worked alongside amazing artists doing art for worship, never once did it occur to me to wonder about doing art for worship myself. I certainly didn't seek it out, and yet, here it is. I draw upon and express all things Celtic; literature; art history; the underpinning of creation that we discover through science; contemplative ways; skills; tools; learnings from nature in the garden; the love of color and metaphor; biblical study; and a passion for worship through art created for worship. These works are collaborative adventures with another artist, who  helps articulate my ideas. These works have been large in every sense. They are physically large, as the sanctuary worship space requires. Creating visual art for the Psalms, Revelation and the Sermon on the Mount has also been a huge undertaking intellectually and spiritually, including research, reflection and numerous technical challenges.
There are many things I will never be: a cook, a poet, more than an adequate musician, 5'7". (Still holding out for that 5'7" thing.) But what I never expected, never once, was to find myself doing art for worship. Creating art for worship weaves together the hodgepodge of my lifetime. It heals. It serves. It is deeply fulfilling.  I've come down in the place just right. I know, because doing this work, I feel God's pleasure.
Worship art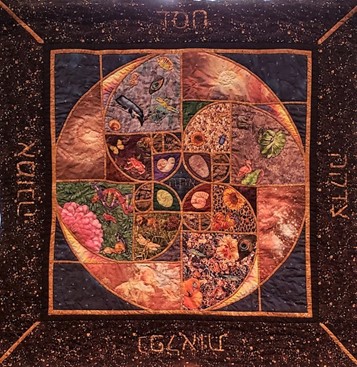 "You." 4' x 4', 100% cotton fabric, bamboo batting. "You" is the word used throughout the Psalms for God. It is the word at the heart of this piece, which reflects on the praise given to the God by all creation, in all of its wonder and diversity. The piece is structured around the Golden Mean, also known as the Divine Proportion, which is found throughout creation from the infinitesimal to the infinite.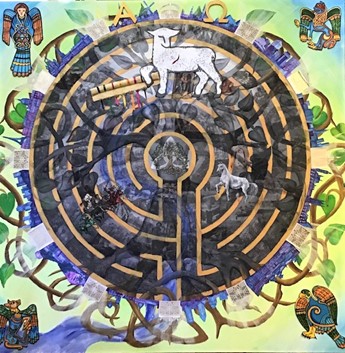 "The Dwelling of God is Among Mortals." 6' x 6', mixed media on canvas. This piece is structured around the classic seven-circuit labyrinth, a tool for reflection and a symbol of pilgrimage for Christians from the Middle Ages to the present. The Tree of Life is found at the center and is its enveloping truth.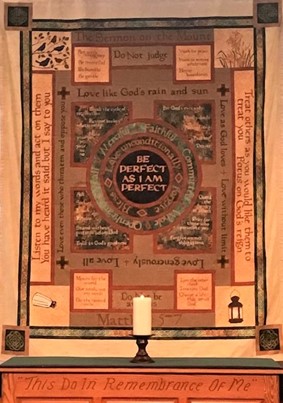 "Sermon on the Mount." 6'6" x 7' 6", mixed media on 100% cotton. This piece is based on the design of the Mark carpet page of the Lindisfarne Gospels. The words and phrases you see were chosen to succinctly, and faithfully, convey Jesus' words of instruction and encouragement to live the reign of God.
---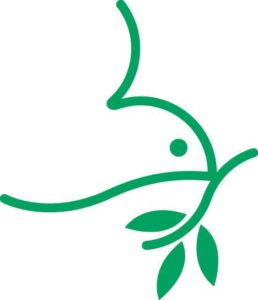 Learn more about the Mennonite Spiritual Directors Network at mennosdn.org.
You can find links to the Spiritual Directors Network website and other congregational and ministerial resources on MC USA's Church Vitality webpage: https://www.mennoniteusa.org/ministry/church-vitality/
The views and opinions expressed in this blog belong to the author and are not intended to represent the views of the MC USA Executive Board or staff.