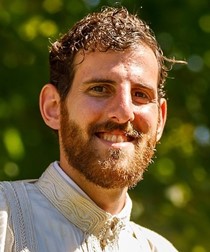 Jonathan Brenneman is the communications manager for FOSNA: A Christian Voice for Palestine. From 2016-18, he volunteered for Mennonite Church USA as the Israel-Palestine Partners in Peacemaking coordinator.
______________________
"Why are you stopping this child from going to school?" I asked the Israeli soldier, on a brisk morning in Hebron (Al-Khalil). A 10-year-old Palestinian stood impatiently awaiting the return of his backpack.
"We have to search him for security reasons. You think these children are so innocent. We once found one carrying a knife this big!" The soldier says, putting her hands a foot apart then pushing the bag back to the child. This is not the first time I've heard this nonsensical fish tale about the knife, and the soldiers' hands get farther apart every time I hear it.
As I walk back to join my Christian Peacemaker Teams (CPT) partner who is monitoring the situation, she asks, "Why are the soldiers so on edge today? They have a platoon of heavily armed soldiers, military vehicles, and their biggest fear is that a kid might have a knife, yet they are so skittish, I'm worried they'll hurt someone."
"I think they're on edge because of their guns and tanks." I replied, "When you have a gun, you have to convince yourself that you need it. Isn't that how militarism works?"
Israel is one of the most militarized societies in the world. The nation spends more money per capita than any other nation (even the U.S.!) on its military, it is the only nation in the world with an unregulated nuclear arsenal, and it is the closest ally with the U.S.A, the nation with the largest military in the world. If there is an example that militarism doesn't bring a sense of security, it is in Israel. Yet Israel's vicious cycle of militarism and fear has devastating consequences on Palestinians.
Israel's strategy of security through militarism has led the Israeli army to completely lock down the military-occupied Gaza Strip, which is home to nearly two million Palestinians. In opposition to international law, Israel does not allow essential items like steel or concrete into Gaza, so basic infrastructure like water systems are unable to be kept up. This has helped create a deadly water crisis. Today, 96% of the water in Gaza is undrinkable. The blockade doesn't stop there; it even includes "security restrictions" on foods coming into the strip. These restrictions mean that children do not get the nutrition they need. Half of the 1 million children in the Gaza strip are anemic, yet Israel justifies their starvation based on a need for "security." Militarism does not only kill through violent acts of war, but through the structural violence claimed to keep one group safe by making it impossible for another group to live.
The stories of Palestinian suffering may feel far away, but they are incredibly close. As Palestinian scholar Edward Said wrote in 2003, in one of his last published essays, "In America, Palestine and Israel are regarded as local, not foreign policy, matters." The U.S. gives Israel $3 billion a year in military funding. To put that into perspective, if you pay taxes, then you "donate" $20 a year to the Israeli military, with no strings attached. Our taxes fund these inhuman and illegal practices to the detriment of Palestinian lives, the possibility of peace in the Middle East, and international law and norms.
Instead of using its influence to support any and all nonviolent effort to change the deadly status quo, our government is funding the vicious cycle of "militarized security."
But that doesn't mean we have to follow suite. MC USA has already taken a big step in recognizing that our tax dollars make us complicit. The denomination has taken action to divest its funds from companies profiting from Israel's occupation. But we must also advocate with our government, "the greatest purveyor of violence in the world today,"[1] to invest in justice rather than funding militarism at home and abroad.
Note:
[1] Martin Luther King Jr. "Beyond Vietnam Speech" co-written by Vincent Harding, who was a Mennonite. Delivered at Riverside Baptist Church on April 4, 1967, one year to the day before King was assassinated.  https://kinginstitute.stanford.edu/king-papers/documents/beyond-vietnam

Mennonite Church USA invites you and your congregation to get involved in the Cost of War: Learn, Pray, Join initiative as one way to
reinvigorate our collective voices against the destructive powers of militarism.
Join in this prayer for the cost of war, written by Amy Yoder McGloughlin:
Spirit of Life,
  you inspire and compel us towards creative peacemaking.
Move us beyond our confessions, into creativity.
Move us beyond our guilt, into inspiration.
Move us beyond our shame into a fuller vision of shalom for your world.
Move us into being
  creators of peace in our communities,
  co-conspirators of wholeness in our churches,
  accompaniers of peacemaking efforts on the borders,
    and in places of international conflict. 
Find the full prayer, upcoming webinars and ways to get involved at www.mennoniteusa.org/ministry/peacebuilding/learn-pray-join/cost-of-war.
The views and opinions expressed in this blog belong to the author and are not intended to represent the views of the MC USA Executive Board or staff.