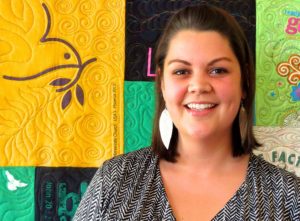 Charissa Zehr is legislative associate for International Affairs at the MCC U.S. Washington Office. This article was adapted from a previous article on Third Way Café.
Last year I had the rare opportunity to visit to visit Democratic People's Republic of Korea (DPRK/North Korea) with several other Mennonite Central Committee (MCC) staff. I was eager to take part in the visit and see the country firsthand. But I also wondered how we would be received as U.S. citizens, given the tense history between our countries.
Although the enmity between U.S. and North Korean political leaders was palpable at the time, we were greeted with warmth and enthusiasm. At each place we visited we were shown hospitality: from slippers waiting at the door to keep our feet warm, to snacks of fruit and fresh roasted chestnuts.
Local government officials who oversee the orphanages that receive material assistance from MCC were eager to engage with us. They invited us to lunch, offering a spread of delicious food, including some traditional fare to celebrate the Korean holiday that fell in the middle of our trip.
In many faith traditions, breaking bread together is a tangible way of building community.
Across many cultures, sharing a meal demonstrates hospitality and welcome.
Gathering around the table with our Korean hosts made space for rich discussions, not only about MCC's partnership in the country and political differences, but about our families, food traditions and the core of Anabaptist values that lead us to seek relationships with those our government labels "enemies."
Each day of our visit I was struck anew by the open hand extended to us by North Koreans and MCC's endeavor to build relationships with them. In this challenging work we are guided by a vision of reconciliation and hope for eventual peace between our countries.
Here in Washington, D.C. we speak to the U.S. government about creative ways to work towards dialogue, such as resuming people-to-people exchanges that could thaw this relationship. Isolating North Korea in the global community has not produced the desired effect; it is time to try a diplomatic solution to end the years-long impasse.
The recent summit between the two Korean leaders from North and South provides hope for change on the horizon. But there are still many hurdles to overcome. As President Trump and the leader of North Korea, Kim Jong-un, move closer to a summit in the coming weeks, there is mounting pressure for a "breakthrough" between the two leaders. It is important to recognize that progress may be slow after years of frozen diplomacy. This summit is one vital step on the road towards reconciliation and the reduction of military threats; the beginning of dialogue, not the final negotiation.
After sharing meals with people in DPRK, I was reflecting on how history might read differently if political leaders could break bread together with no strings attached, experiencing how hospitality can break down the barriers built by hostility.
Take Action: Tell Congress to speak out for diplomacy with North Korea.
__________________________________________
With hope we pray for peace and clear minds for all leaders engaged in historic talks regarding the future of North and South Korea, and nuclear disarmament. We invite MC USA congregations to take part in the day of prayer for the Korean Peninsula on May 20 using MCC's Prayer for Peace in North Korea:
Dear Lord, send your Spirit to establish peace between nations.

We bring before you the disunity of Northeast Asia,

it's history of injustice and oppression,

the fear of the unknown,

and now threats of nuclear war.

May your church be a voice of reason,

reaching across divides to speak peace in a region

that has endured 70 years of hostility and division.

Strengthen the will of those who work for reconciliation and peace.

Renew your church

And give us the peace which the world cannot give, Amen.
Consider ways you can actively promote peace in the Korean Peninsula by:
• Participating in the MCC U.S. Washington Office's call to urge Congress to publicly support diplomacy with North Korea and carry the message to President Trump that engagement and dialogue with North Korea is the only way to move toward peace on the Korean peninsula. Visit this action alert to send a message to Congress.
• Financially supporting the ongoing peacemaking efforts of MCC and Mission Network by donating here. Funds will be shared between the Korea Peacebuilding Institute, a partner of Mission Network, and MCC's work in North Korea and South Korea.