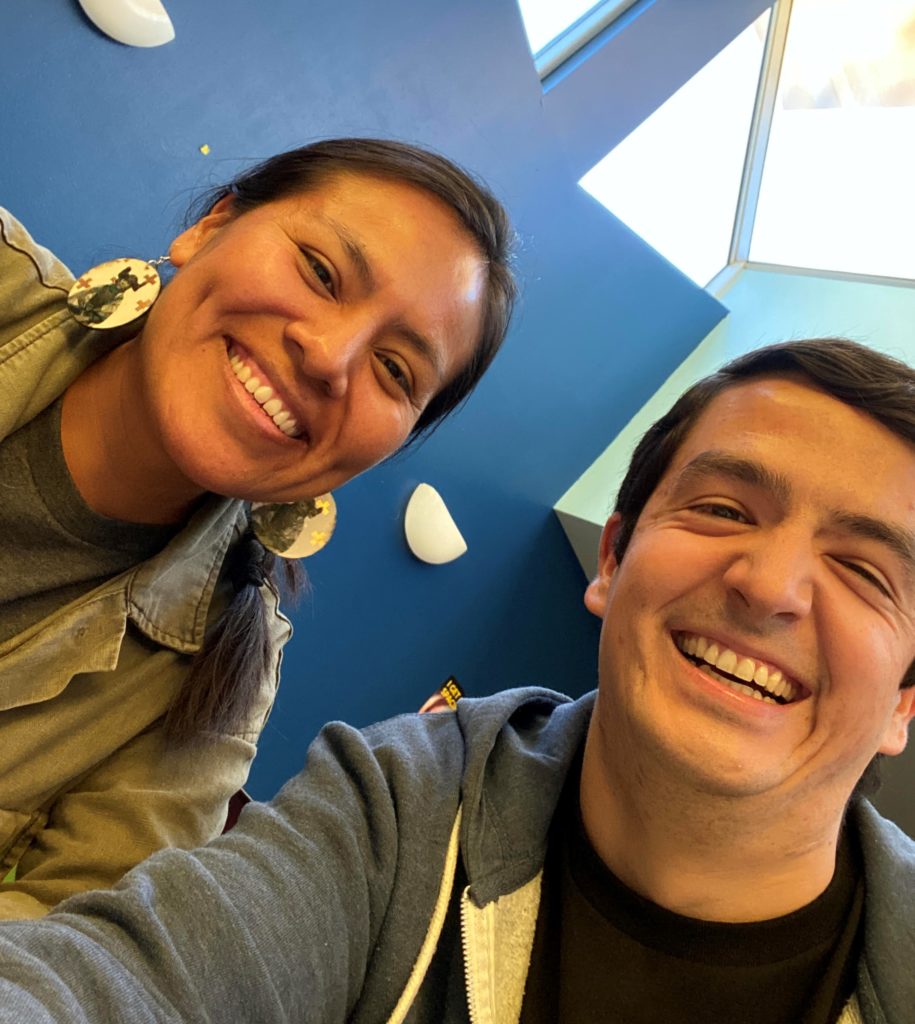 Authors: 
Jennifer Hernandez is an immigrant from Guatemala. She's currently reading Black Sun by Rebecca Roanhorse. She lives in Los Angeles, California.
Frank Scoffield Sánchez is an immigrant from Guatemala who loves listening to Latin American political hip-hop and reading academic books. He and his wife, Erica, are members of Pasadena Mennonite Church in California.
______________________
Recently we learned of another migrant caravan attempting to make its way to the United States [1] — thousands of people on the move, hoping to find safety and better conditions than those in their Central American homes. What are the invisible forces behind this visible movement of people? From our two Guatemalan immigrant experiences, we see that the invisible forces pressing people to migrate are the legacies of colonialism and neocolonialism which have created a permanent state of war in the region.
Invisible forces pressing people to migrate from Central America are created by visible people with power. For example, in the mid-twentieth century, the United States supported a coup against the first democratically elected president in Guatemalan history.[2] This president, Jacobo Arbenz Guzman, had introduced unprecedented reforms, most notably the widespread redistribution of unused lands to poor indigenous families. This threatened capitalist interests, primarily those of the United Fruit Company, who owned large swaths of land, and whose board member Allen Dulles served as Director of the CIA. Under the logic of guarding the region from communism, the United States helped Guatemalan elites orchestrate a coup-d'état. This inaugurated a 36-year civil war resulting in tortures, disappearances, massacres, genocide, 200,000 dead, and over one million displaced people, mostly poor and indigenous.
This U.S. intervention and the Guatemalan state's assault on indigenous and poor people was simply the most recent iteration of a 500-year war. Upon arrival to this continent, European colonizers unleashed war not simply militarily, but in the creation of a social, political and economic order of brutality and death. This order was based on racial hierarchy, sexual violence, labor exploitation, language and worldview erasure, land dispossession, and plantation models of slavery.[3] This colonial order remained largely unchanged with independence from Spain. It was not until Arbenz that substantial change became possible, and we've already described the consequences. In 1996 the Guatemalan peace accords were signed.
"Post-war peace" became the new name for the unending war against indigenous and poor peoples across Guatemala. Neoliberal economic reforms were introduced, extending long-standing economic exploitation and social hierarchies.[4] The primary victims of this neoliberal and neocolonial "post-war peace" continued to be the literal millions assaulted by ongoing conquest, theft and displacement. Not only that, but waves of deportations from the United States in the mid-1990s inaugurated a new social phenomenon called "gangs" and "gang violence" which did not previously exist in Central America.[5] Caravans moving north are the visible legacy of this 500-year war by Western Europe, the United States, and a small Central American elite of Euro-descendants against the majority of Central Americans who are indigenous and/or poor.
And yet amid this permanent state of war, it is migrants, particularly the undocumented and the refugee, who visibly reveal another life that we the authors choose to identify as a manifestation of God's kindom.
God's kindom is manifest in the kinship among migrants who get together to talk, organize themselves, share what they have, and live a better life.
Ordinary people have organized themselves by the thousands to come in caravans, crossing borders without regard for laws or militaries to survive. Many times unrelated to each other, migrants share food, clothing and medicine on the journey, taking care of one another. Upon arrival, migrants share knowledge, advice, money and shelter without expectations of repayment. This is a life of boundless kinship that's already practiced in the process of reaching the goal. None of this is to romanticize migrants, their precarious conditions, or the invisible forces pushing them north. But it is indisputable that in spite of all this, they are creating a legacy different than the European and U.S.-American ones.
Migrants are creating the legacy of a world without war. Ordinary practices of survival, resilience, sharing and kinship are passed down through the generations. Today we see children and grandchildren of migrants organizing in explicitly political ways to release people from detention, abolish ICE (U.S. Immigration and Customs Enforcement), provide healthcare for all, fund education and housing, and so much more.
We share in the kinship of those before us and beside us to create a world without war for those coming after us.
May this be our legacy: a world of kinship which is God's world of peace.
Notes:
[1] Migrant Caravan: Thousands Move Into Guatemala, Hoping To Reach U.S.
[2] Stephen C. Schlesinger and Stephen Kinzer, Bitter Fruit: The Story of the American Coup in Guatemala (Mass: Harvard University Press, 2005).
[3] In this article we follow multiple theorists on war who understand "war" as more than just military conflict, but encompassing also a whole host of material and philosophical structures that create, uphold and reproduce an economic, political and social order of violent, often targeted, precarity and death. A few of these theorists include Michel Foucault, Enrique Dussel, Nelson Maldonado-Torres, and Achille Mbembe.
[4] Claudia Dary, et al., Pensar Guatemala Desde la Resistencia: El Neoliberalismo Enfrentado (Guatemala: Prensa Comunitaria/F&G Editores, 2018).
[5] Deborah T. Levenson. Adios Niño: The Gangs of Guatemala City and the Politics of Death (Durham: Duke University Press, 2013) and Elana Zilberg. Space of Detention: The Making of a Transnational Gang Crisis between Los Angeles and El Salvador (Durmah: Duke University Press, 2011).

Mennonite Church USA invites you and your congregation to get involved in the Cost of War: Learn, Pray, Join initiative as one way to
reinvigorate our collective voices against the destructive powers of militarism.
Join in prayer for the cost of war, written by Amy Yoder McGloughlin:
Spirit of Life,
  you inspire and compel us towards creative peacemaking.
Move us beyond our confessions, into creativity.
Move us beyond our guilt, into inspiration.
Move us beyond our shame into a fuller vision of shalom for your world.
Move us into being
  creators of peace in our communities,
  co-conspirators of wholeness in our churches,
  accompaniers of peacemaking efforts on the borders,
    and in places of international conflict. 
Find the full prayer, upcoming webinars and ways to get involved at www.mennoniteusa.org/ministry/peacebuilding/learn-pray-join/cost-of-war.
The views and opinions expressed in this blog belong to the author and are not intended to represent the views of the MC USA Executive Board or staff.