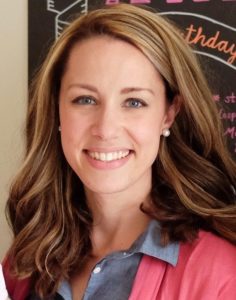 Rachel Lesher lives in Lancaster, Pennsylvania, with her husband and daughter. They attend East Chestnut Street Mennonite Church. Rachel is a graduate of Messiah College and Palmer Seminary of Eastern University. Rachel works as a freelance researcher and a work-at-home mom. She loves coffee, reading and walking around their neighborhood park.
I am one of the least patient people I know — just ask my husband. I'm constantly looking to the next thing and trying to figure out in my type-A way how to get there in the best and least trying way.
Some days I feel as if the progression of life is a checklist that I am trying to complete just right — done with one thing, on to the next.
The first week after my daughter was born, I began texting friends, asking how long it was after they had their children that they went out again on a date, or were able to go out and run errands without feeling so intimidated, or at least felt somewhat like themselves again.
At my daughter's first doctor's appointment after we had come home from the hospital, I saw a mother interacting with her baby in its carrier, cooing and smiling, and I leaned over and asked my husband, "How long do you think it will be before she (our daughter) is like that?"
I have a chronic patience problem, and parenting has been my biggest test of it thus far. I cringe when people tell me that it will be so much easier when my daughter is school age, because that feels like light years away. But I also struggle when people tell me to enjoy every moment — because I certainly do not feel like I always do, especially in the midst of tantrums, testing and the second guessing of myself that comes along with it. Ironically, in the midst of the many lovely, sweet moments with my daughter, I often find myself thinking about how short this particular phase of toddlerhood will be. Parenting is a strange balance of trying to simultaneously cherish and survive the present while guiding a child toward the future.
After reading Kate Bowler's new book recently, I have thought a lot about struggling in the midst of Lent, when many of the Christians want to rush to Easter — the celebration and the "it's all going to be okay!" reassurances it brings. I'm a rusher, and I confess I'm very guilty of trying to speed past the uncomfortable to get to somewhere that feels better.
Our Christian faith is also a strange balance of living in the here and now while God's kingdom is not yet fully realized. I know you do not have to be a parent to see the here-but-not-yet state of God's kingdom manifest in our world and within ourselves. In the midst of the tumultuous political news cycle in the U.S. and conflicts that others face across the globe, it is often much easier to focus on the not yet — come, Lord Jesus, make things right! — than to find and embrace the here and now — Jesus is in the midst of us, even still — moments.
I also realize that it's much easier for me to accept that I need to embrace the here and now than it is for many who are carrying greater burdens in the reality of their here. The immigrants in my English classes each week are living in the midst of huge uncertainty — particularly as they struggle with fear about whether their status is secure and as they try to settle into a new country, often far from family and friends. I think of my neighbors, parenting a grandchild as they mourn the loss of their son and wrestle with their own challenges.
I don't have neat resolutions to these situations, or none that are very satisfying, at least. I often think of a sort-of mantra that I say to myself in the middle of challenging parenting/life moments, when I want to remember that life must be embraced for its present struggles. It's a mash-up of Joni Eareckson Tada and Elisabeth Elliot quotes: "A cross-filled life is made up of cross-filled days … The life of faith is lived one day at a time, and it has to be lived — not always looked forward to as though the 'real' living were around the next corner."
For me, that means I'm trying desperately to learn to listen to others without offering a platitude about how things will all work out eventually. It also means I'm trying to be present even when it's uncomfortable.
I'm starting to sit a little longer on my front steps, talking to my neighbors. I'm trying to make the effort to cross the language barrier with my students, so I can hear more about the struggles they face. I'm also trying to remember that my daughter is a work-in-progress, as am I. We are in the midst of "here, but not yet", and we are trying to embody Jesus by being fully here, even without the answers.