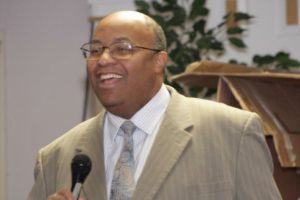 Horace McMillon serves as the tent making pastor of Open Door Mennonite Church of Jackson, Mississippi. He and Monique, his bride of 21 years have two teenage children. Prior to their move to Jackson, Horace served as associate pastor of the Community Mennonite Church in Markham, Illinois. He is the author of "No Mo'Broke: Seven Keys to Success from a Christian Perspective." Horace earned a Master of Arts degree from Chicago Theological Seminary and a D.Min. from Oval Bible College.
It's appropriate that Black History month and the liturgical season of Lent converge. In my spiritual journey, both have come to have deeper meaning when viewed in light of each other.
In particular, the murder of Emmett Till gives me a deeper understanding of Jesus on the cross. Considering them together allows me to understand how horrific events can become catalysts for redemption here on Earth.
As I think about their lives and the circumstances surrounding their deaths, I understand that in order to defeat evil — individual evil and the evil built into our social structures — that it must be exposed, witnessed and fully comprehended. It is only then that the evil can be confronted and eventually defeated.
In the summer of 1955, Mamie Till Bradley, a Chicago resident, sent her son to visit family near Money, Mississippi. At some point, the 14-year-old Till entered a store and spoke to Carolyn Bryant. Bryant was 21, white and married to the store owner. Emmett was accused of flirting with Bryant, of making sexual advances. Till's alleged behavior broke the color codes of the Jim Crow South. His alleged behavior was an affront to the social structures of white supremacy. As punishment for his "crime," Bryant's husband and his brother stormed the home where Emmett was staying and abducted him. They beat him, mutilated his body, shot him in the head and threw him in the Tallahatchie River.
According to our Christian witness, God sent what was then God's only son, Jesus, to the vicinity of Galilee in Judea. While there, Jesus encountered corrupt religious institutions that were in league with a Roman government who were militarily, economically, culturally and even sexually exploitative and abusive. Jesus' alleged behavior was an affront to a social structure of Roman cultural supremacy. He was accused of sedition, of challenging the established institutions and of disrupting the status quo. Jesus was taken by force, mocked, ridiculed, beaten and hung on a cross outside of Jerusalem.
"And as Moses lifted up the snake in the wilderness, even must the Son of Man be lifted up: That whosoever believeth in him should not perish but have eternal life." John 3:14-15 KJV.
The people of Israel had been sustained by God in the wilderness for some time. However, their toxic ways of thinking and living, their toxic lack of gratitude and trust in God, lead to poisonous snakes coming into their camp and biting them. This caused their physical deaths.
Moses was instructed to hang a bronze snake right in the middle of their camp. Not on the edges, not on the fringe, but the bronze serpent was placed front and center in order that everyone could see it, so that everyone who wanted to live would have to confront not only the evil of the poisonous snakes, but their own participation in bring the snakes to the camp. Anyone who found that they themselves were poisoned were able to "look at it and live" (Numbers 21:8).
Mamie Till Bradley would not allow the injustice that had been done to her son to be hidden in the shadows. She took the radical steps of insisting not only on a public funeral service for her son, she also demanded that his body be placed in an open casket. She demanded that the world be forced to see what racism in all its forms, personal, cultural and institutional had done to her son. His image was lifted up, front and center, published in (black) newspapers all around the country. Thousands viewed his brutalized body in that casket. That moment was a seminal moment in the struggle for civil rights in America. In that horrific viewing many were finally able to fully see, grasp and comprehend the width, breadth and depth of the evil of racism and the sin white supremacy. It was no longer possible to live with the lie that things were not that bad. Redemption and transformation came when people of courage and good will, black people, white people, people of all races, eyes fully opened, began at that moment to live their lives in response to the ugly truth of Emmett Till being lifted up.
As we again stop to witness Jesus on the cross during this season, let us pray that we allow our eyes to be fully opened to the way we individually and collectively participate in the social structures and mores that continue to crucify Jesus, that continue to murder and mutilate Emmett Till, that continue to oppress the marginalized others of this world.
We pray, with our eyes now being fully opened to the horror of our present status in the world, that we will now live in courageous, fearless and faithful response. Let those of us who believe look and live.