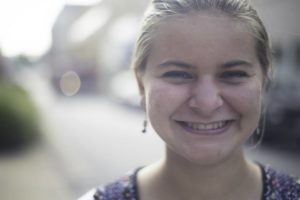 Mariah Martin is currently a senior at Eastern Mennonite University where she studies nursing and plays field hockey. Though her home base is Greencastle, Pennsylvania, she recently traveled to Haiti with a professor and fellow nursing students to work alongside the organization Midwives for Haiti. She enjoys long talks, writing, rock climbing and anything outdoors. In the future, she hopes to pursue a career as a nurse midwife and eventually work overseas.
"It's hot," she says.
"It's Haiti," I answer.
We trudge up the stairs, a few nursing students and a professor on the first day of work in our two-week long trip. We are at Azil today, a center in Hinche, Haiti, run by Sisters belonging to the Missionaries of Charity, founded by Mother Teresa in Calcutta.
Today is admissions day. Parents bring their children here for one of two reasons: they are sick or they are starving.
As my eyes adjust from the sun, my heart catches in my throat.
Children sit silently or whimper in parents' laps, their hands resting limply around swollen bellies, rail-thin legs dangling above the concrete floor. But as we begin the task of filling out admissions sheets with the assistance of translators, it is the eyes of the children that keep my throat tight — eyes that stay on the floor, despite everything going on around the room, as if the effort of looking up costs too much; eyes that seep an immeasurable sadness; eyes that have had the spirit stolen from them.
We spend the morning here, putting ointment on tiny bodies covered in scabies, changing dressings on arms covered in more burns than skin, feeding tiny, silent mouths.
Parents of toddlers often wish that they were easier to feed, but I have seen nothing more heart-wrenching than a 15-month-old who will sit motionless on a bench, never flailing or cooing or spilling their food, just opening their mouth whenever a spoonful of rice is offered.
The Sisters of the Missionaries of Charity are the clearest picture of love as a verb that I have seen.
Many of the Sisters in Hinche are Indian, but they have settled here. Their small, concrete compound is always overflowing: with children, with people in need of chronic care, with elderly homeless women who have nowhere else to go. The Sisters work constantly, feeding, bathing, medicating, putting IVs into veins I can't even see, comforting children who have every reason to cry.
In a rare quiet moment, I ask one of the Sisters what the return rate is for children once they are brought back to health and sent home.
She looks at me and says, "Most are back within one or two months, some are back within a few weeks."
If there isn't food in the home to start with, why would there be food later?
We return on an afternoon later in the week. Medical care is done in the morning, so our nursing skills are not needed now. However, the children being cared for live at Azil for as long as is needed to return them to health, and every part of their daily lives happens here. So we sit and play with them. Some of them are lively, pushing each other around on run-down tricycles or singing songs as they clap their hands against ours. These are the children who have been at Azil for a while, who have enough energy to play. But many sit silently on the floor, eyes large with the same sadness that brought me to tears on that first day.
When my professor indicates that it is time to go, I have two solemn little girls perched on my lap, my scrubs damp with their sweat. Putting them down feels wrong. I stand them up from my lap and hesitate, crouching before them.
I look into each of their eyes alternately as the weight of my incompetence fills my chest.
What do you say to a child you are leaving and will never see again? How do you relieve a sadness that has every reason to rest in their faces? I finally sigh and stand, glancing back at them with every other step until the curve of the stairway blocks my view.
I was only there a few days, but the Sisters are there for a lifetime. They will continue to touch these little lives, feeding their bodies so that their spirits have the chance to grow.
The Sisters showed me that sometimes love is knowing that your action won't solve the problem, but not letting that stop you from doing what you can.