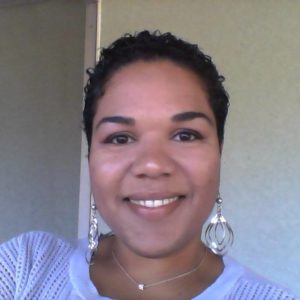 Jazmine Rivera is an administrative assistant at Mennonite Central Committee U.S. for National Program. She is a single mother of three girls who is keeping her commitment to Interdisciplinary Studies at Hodges University. She enjoys exploring creative ways to bring new adventures to life with her girls, whether it be in road trips, hikes, building or cooking.
From a young age, life taught me that I must be strong and resilient.
I watched the women around me push through their pain. They never talked about their problems and fears, or how these things affected them. And most importantly, they never asked for help. It was as if stress and trauma didn't exist in their lives. During life's storms, they put on make-up, cute outfits, heels, and smiles to go about their day. The only display of emotion I ever witnessed of their hurt was the yelling and fighting. So, I learned this to be a way of life. It was one I accepted as normal and I wore this mask proudly.
However, I arrived at a point where I was mentally and emotionally exhausted from always giving, always searching, always working, always smiling and always pretending I had the perfect life. I quoted scripture constantly, believing it could magically resolve my problems.
But I walked around feeling worthless, ashamed and afraid, wondering what people thought of me. My temper was out of control. I no longer wanted to fix myself up or cared about impressing anyone. I fought continuously in prayer because I couldn't figure out why brushing my truth under a carpet was considered the right thing to do. I couldn't understand why expressing the raw and honest things that lived within me was so wrong. And I couldn't figure out how or why I needed to lay down my life for others when I wasn't dealing with my own hurt.
It seemed as if I was destined to walk alone and to struggle.
During this breaking point, I was in the midst of big transitions. I started a new job in a new state, without a stable place to call home. And I was surrounded by new people while I was trying to resolve every problem that comes with transition – I felt like I was on display and there was absolutely no place for me to hide. I was even annoyed with the idea visiting churches! I didn't want to speak or say hello to anyone. I didn't want to explain where I came from, how I was connected, how I found the church or share my entire life story. I just wanted to go in and sit with my three girls and simply receive.
Deep within my heart though, I knew I wanted to be known, supported and cared for by others – regardless of my strengths and weaknesses. I wanted these walls I'd constructed to protect myself to come down.
So, given that chaos was my reality and I had no place to hide, I decided there was no better time than now to take a chance with my co-workers and friends. To my surprise, not once did I feel rejected by them. On the contrary, I felt community and love. Of course, with feelings like shame, fear and inadequacy present, I could not fully understand what was being done. I could not process why they were being so kind to me and my girls. No one drilled me with scripture, no one preached at me or imposed their thought processes on me. I expected to hear, "I'm praying for you" and be forgotten. But instead, they walked with me and listened. They didn't ask if I needed help, they offered help right off. It shocked me to see God working within me from the outside.
Receiving the prayers and the fellowship of my neighbors helped me to see God in a totally different light. Day by day, I'm learning to accept my weaknesses and to find joy in them. I can now expose my hardships and vulnerabilities and see that my brothers and sisters can relate to them. I'm no longer alone in this journey! My transformation no longer rest solely on my relationship with Christ. I can now physically see God through the grace and mercy of others and I understand more deeply how Love is a Verb:
"Love is Patient, love is Kind. It does not envy, it does not boast, it is not proud. It does not dishonor others, it is not self-seeking, it is not easily angered, it keeps no records of wrongs. Love does not delight in evil but rejoices with the truth. It always protects, always trust, always hopes, always perseveres."

1 Corinthians 13:4-7