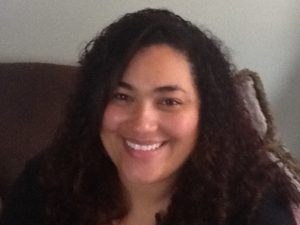 Raquel Esteves-Joyce works at Haverford College as a faculty affiliate of the Writing Center and a learning specialist at the Office of Academic Resources. She also serves as a board member of Oxford Circle Christian Community Development Association. She has a master's degree in Multicultural Education from Eastern University and her doctorate in Education from the University of Pennsylvania. Raquel lives in Philadelphia, Pennsylvania with her husband Timothy and their two children, Adonaya and Little Timothy (their third child will be born in November). Together they worship at Oxford Circle Mennonite Church.
I love the movie The Wizard of Oz. Its message resonates with me:
Sometimes what you desire is already with you.
However, as in the case of Dorothy, this is a truth we must discover for ourselves.
A while back I spent a weekend fasting and praying while at a family member's home. I I was feeling lost and dejected and thought the answer was asking God to change me into someone worthy of His love. I felt I hadn't earned His love. I soon discovered that I was right, just not in the way I imagined.
During that weekend I met Miriam. She came for an impromptu visit with my aunt and uncle but upon seeing me her plans changed. She broke out into song. She sang Tú me amas como soy (You love me as I am). Having someone sing to me was unexpected, to say the least. However, what was even more surprising was the message:
Cuando solo me halle 

Siempre estabas allí 

Si te necesite no me fallaste 

Tú me viste llorar en mi soledad 

Cuando nadie me amó siempre me amaste 


Tú me amas como soy 

(When I found myself alone, you were always there. When I needed you, you did not fail me. You saw me crying in my solitary state. When no one else loved me, you have always loved me. You love me as I am.)
 Although Miriam was the one audibly singing to me and personalizing the message, through her, God "calmed me with His love and delighted me with His song," (Zephaniah 3:17 The Living Bible).
Through Miriam's song, I experienced God's love in action and it went something like this: "I love you as you've been, as you are, as you will be, completely and unreservedly."
As a child, I learned that God is love. However, life's challenges impacted the way I saw things. My perspective of God was skewed and the way I saw myself was distorted. I was not convinced God loved me. I lived in fear of not being good enough and of His love being conditional.
When I failed or made mistakes, I felt worthless. I expected His judgement. I was unprepared to receive His unwavering love.
When Miriam sang over me it was like God telling me "Raquel, I love you! You do not (and could not) earn my love. I give it freely." This was active and tangible love. GOD loves ME! He sung it over me like a lullaby you sing your baby when they awake crying, longing for your soothing touch and voice to chase all the fears away. He sung it over me like the morning mix from an alarm clock that awakens you from a nightmare so you can rest assured, you are safe at home.
Like Dorothy, I was searching for what I already possessed. It took a stranger to show me love by saying God's words in a new way. This action allowed me to realize that God already loved me just as I am. Nothing I could do (whether good or bad) could change that. I continually remind myself of this.
I don't know if after returning home Dorothy ever lost her way again. I have sometimes gotten lost in my insecurities and fears. It is during those moments God leads me back with His song of love and reassurance, "I've never quit loving you and never will," (Jeremiah 31:3 The Message).