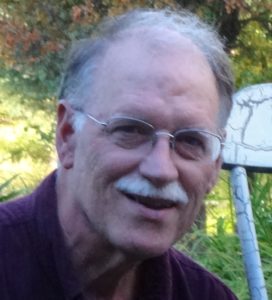 Jeryl Hollinger lives with his wife, Mary, in the foothills of the Swan Mountain range in northwest Montana where they share the space with a few chickens and ducks – and the welcome wildlife. His spare time goes into a variety of community clubs and the fruit trees, berry bushes and vegetable garden that feed them most of the year. He is the pastor of the Mountain View Mennonite Church in Kalispell, Montana and moderator-elect of the Pacific Northwest Mennonite Conference. 
Settling into my seat in the dimly lit theater, I glanced around to see who was there. Who will I share this evening with? Behind me sat the high school principal. I had served on a committee with him. A couple of seats down the row was a woman who was in a leadership prayer group I was also part of several years ago. Across the way was a friend who is part our multi-faith clergy group. I settled in. At intermission we'd get a chance to say hello. I felt at home.
We were gathering around a play written by George S. Kaufman and Moss Hart, "You Can't Take It With You," being presented by our local high school. It had caught my attention because Jen, a young mother and part of our congregation, was directing the play. Jen has the gift of loving and caring deeply for each person in the role of making a production come alive. It infects everything she does. While I have enjoyed the dramas she directs, I have also enjoyed observing her deep commitment to and respect for those she works with to pull it off.
As the lights dimmed further, my attention was drawn to the stage. The circular theater looked down on a large solid dining room table placed in the center. It felt welcoming, as though we'd come for a party or a treat. Smaller furniture sets had been placed at the perimeter of the stage. I took a moment to glance through the program. Jen had written a few words from the director:
"As the cast and I have traveled the course of creating 'You Can't Take it with You,' we continually find ourselves gathering around the dining room table. On the one hand it seems so normal, I mean, where else would we sit! On the other hand, it feels like more than logistics. We have met around this table and shared about our days, we have eaten together, we have gone over and over lines there for hours upon hours, we have shared ideas, named pets, laughed and cried … really. We have come together around this table — seniors and freshman, kids who have grown up in the valley and kids new to our school, kids with years of theater experience and kids with none — all to create a story together. As we have created the story, that miraculous process of theater has created a family. Each of you (I'm talking to my kids now) will always be the 'Donald' or the 'Alice' for me and to each other. I love you and I am immensely glad I get to be a part of this process with you. When this table eventually makes its way back into my own dining room, it will carry each of you with it. Thank you."
These words created a surge of life that pulsed through my spirit. Whenever a table is spread with love and respect I get the sense that Jesus is near. Whenever life, with all its frantic activities and pressing deadlines, slows down enough to care around a table of love, it feels as though something truly meaningful is taking place – even in the midst of preparing a high school play. Something deep and lasting is being learned.
Such a vision might well be one the church could live toward. Each worship service, each committee meeting, each classroom moment, each service project, and each set of personal or group talents could simply become another excuse to gather around a table of love. Tasks may be on the agenda, lines must be rehearsed and learned, but the real food at the table is the fellowship.
In each moment of simply listening, loving, respecting and caring, without fear or judgment, the life-giving bread is broken and shared; the energy-laden blood is infused through our veins. Jesus becomes present, embodied, in Spirit.
In the course of any given day we each gather at many different tables. These days I am spending more and more time at my garden table because spring has finally decided to give me the hope to believe that summer is on its way here in northwest Montana. As I prune the fruit trees and trim back the berry bushes, I am aware that a fellowship of other creatures is also gathering here. Some of them I welcome, like the garter snakes in the grass or the robin who builds its nest in the same spot each year. It is easy to feel a spiritual unity with them.
But others who come to this garden table I don't appreciate as much, like the hungry worms who attack the gooseberry bushes or the voles who threaten the carrots. They don't seem to respect the table the way I think they should. Still, tables of love and respect must bring together more than my select few favorites. There are both lovers and villains in each aspect of life. Otherwise, no story of value can truly be lived or told. It's the love-table's greatest challenge and mystery.
I'm still trying to learn how to gather at my many tables with an integrity that values everyone and everything. I'm trying to be still, pay attention, and open myself to what each other has to offer. I'm still praying that my life can produce the love and respect that will allow me to be a humble and thankful participant of this world's abundant table of possibilities.
… and I saw this love in action at a high school play.