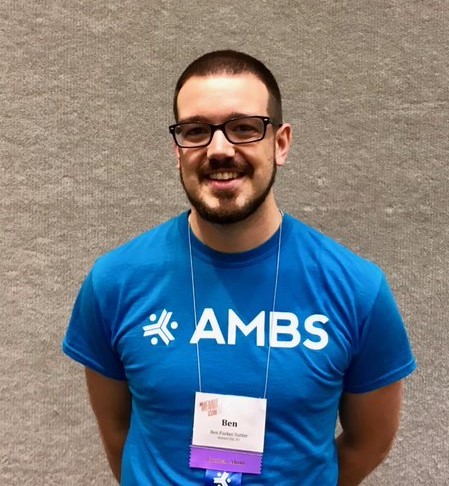 This post is part of a series from the MC USA Archives Oral History Project that seeks to document and preserve the voices of young people, ages 24-40, who are part of MC USA. The excerpts below are from an informal, longer spoken interview and edited for clarity. Interviewees did not receive the questions beforehand and responses were spontaneous. The interviewer was Xaris Martínez. Full recordings are available in the MC USA archives.
Ben Parker Sutter is currently a Master of Arts in Theology and Global Anabaptism student at Anabaptist Mennonite Biblical Seminary, where he also works in digital marketing. He lives in Kansas City, Kansas and is a graduate of Goshen College.
Xaris: What is important to you about being Mennonite? Why Mennonite and not something else?
Ben: So, my soapbox in like 5 words or 6 words, is that Mennonite is my faith and not my ethnicity.[1] As I've gone through some of my seminary classes and as I'm reading various people, including Isaac Villegas who has a great post or journal article about hyphenated Mennonites and Ben Goossen who has a book he wrote recently but also a blog post about the ways that Mennonite ethnicity has been — or the "quote, unquote" Mennonite ethnicity — has been traced to pro-white Aryanism kinds of stuff.
And so it's super important to me that Mennonite Anabaptist faith is my faith and something that I really hold strongly to in the sense of understanding Jesus, Jesus in the world, understanding Jesus in community with other people.
That leads me to live in a particular way that helps make space for people to all live there, to live into God's reign.
God is born into all of our lives and there's something there that's important, but when I'm looking at my Anabaptist-Mennonite faith, it's coming from a choice that I'm making just as [early Anabaptists] made a choice in, you know, initially they said, I want to be rebaptized or I'm making this kind of dangerous choice. And so I think that's super important for me, saying it's not a culture. It can be passed down from person to person, but passed from person to person through worship, through conversation, through the Holy Spirit. It's not being passed through blood and genealogy.
I think that's something that Mennonite Church USA has made huge strides in recently, but man, nothing boils my blood more than hearing someone talk about their Mennonite culture. Just because, I think a lot of the stuff that Ben Goossen has written — it really talks about how the people initially doing a lot of the German Mennonite ancestry kind of stuff would not have considered themselves spiritually Christian.[2] And I think that's just super important for us as Mennonites to continue to understand and to say our faith is, like, God is what continues to inhabit our lives. God is who continues to inhabit our lives and how we continue to have breath and have life in the world.
Xaris: What advice do you have for denominational leaders as they discern how to bring these values and these people and this denomination into a future that is as yet unknown?
Ben: Keep praying. Keep praying, keep listening, God is here. Continue to let God take precedent over your own desires, understandings of the world. I think God has got some… man, it just seems like every time that you read the Bible and God just shakes it all up all the time. And you know, as soon as you think you know what's happening, God gives you a left turn, or takes a left turn.
So I would say that's what I've throughout my life tried  — to just continue to be in communication with God and letting that Holy Spirit live in my life. That's my word.
And that's a lot of what Meghan [Good, worship speaker at MennoCon19,] was saying earlier, and so I think that's probably influencing me. But let that Holy Spirit guide. It's not going to be easy, and certainly wasn't for early Christians, certainly wasn't for early Anabaptists, and it's certainly not going to be for us. So we gotta lean into that difficulty and love, and live together, and listen, and figure out where we can go from here — well no, we don't need to figure it out, we just gotta trust. We gotta trust God and we gotta let that Holy Spirit be there.
[1]     This idea was developed for me in the course "Church and Race" taught by Malinda Elizabeth Berry at AMBS.
[2]     See Goossen, Benjamin W. "From Aryanism to Anabaptism: Nazi Race Science and the Language of Mennonite Ethnicity." The Mennonite Quarterly Review 90, no. 2 (April 2016): 135–63. https://www.goshen.edu/mqr/2016/04/april-2016-table-contents/
---

Support the Archives at mennoniteusa.org/give.
---
The views and opinions expressed in this blog belong to the author and are not intended to represent the views of the MC USA Executive Board or staff.