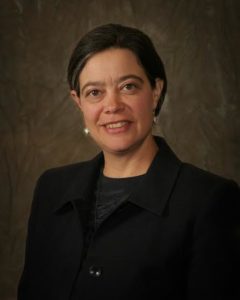 At the Mennonite Church USA convention in Orlando in July, planners tried something new: MennoTalks. Not quite TED and not exactly Pecha Kucha, MennoTalks explored a different topic each day, featuring speakers from diverse perspectives. Topics included Celebrating Women (Wednesday); Race, Religion and Justice (Thursday); and Local and Global Peacemaking (Friday). Over the next several weeks, we'll be featuring a series of posts based on the MennoTalk presentations in Orlando.
Kathy Neufeld Dunn is the Western District Conference (WDC) associate conference minister for Kansas, supporting pastors and congregations in the region. She also serves as the resource advocate for WDC, coordinating and leading trainings and other educational events for pastors and congregations. For 10 years, she was the pastor of First Mennonite Church, McPherson. She is also a mediator, mediation trainer and large group facilitator. Kathy and her husband, Michael, share their home in McPherson with two cats. She's better at training people than cats. Kathy's MennoTalk was categorized under the topic Local and Global Peacemaking.
I've been in some weird situations. I've used my body as a shield between police and anarchists, and between Israeli soldiers and Palestinian youth. I've talked with white supremacists (of course, more of us are doing that these days). And the weirdest thing: I sang hymns with Westboro Baptist members and gay people — at the same time!
These situations didn't happen accidentally. I'm a "nonviolent interventionist." God has called me to use the peace theology I believe in so passionately so that wherever I am, I try to defuse violence and offer peace.
I've been a Christian Peacemaker Team delegate in Israel-Palestine. I don't look the type to go running toward danger, do I?  But that's my point. We can each do more than we think we can in uncomfortable situations to be everyday peacemakers. Today I'll give you some practical ideas about how to be people of God's peace wherever you are.
First of all, I intervene in conflict. And I've learned you've got to use what you've got. If you're small and female, use it! If you're big and burly, use it. If you're a defenseless grandma, use it! I don't look threatening, so that works for me. Use what God gave you.
Second, as an everyday peacemaker, claim the space. Don't dominate the space, but claim it. Are folks in the board meeting or on the plane grumpy and tired? Start singing. Others might join in. CPTers regularly pray in public places where injustice occurs to bring hope and peace. Once I saw people claim the space when Ku Klux Klan members had a permit to speak. Community peacemakers put up a banner facing the KKK. It read, "Every minute you talk, we raise 500 dollars for diversity." Claim the space for peace.
As everyday peacemakers, we have to find peace within ourselves. There's nothing more confusing than an angry peacemaker. Take time to breathe, pray and check in. Ask yourself: How is my body reacting? Give yourself a chance to get out of your reactive, adrenaline-charged, reptilian brain. Slow your breathing (if you can in front of lots of people). Tense, then relax your muscles that seem ready to fight or flee. Ask God to give you the "peace that passes understanding." Seeking peace within is another vital part of everyday peacemaking.
Here are a few common situations where a peacemaker would be a blessing.
You're looking for the barbecue sauce because Kroger's has moved it again. You see a mom screaming and looking like she's about ready to hit her toddler. What do you do? If you offer to take the boy for a bit so she can calm down, you might be seen as a weirdo or even dangerous. Then she'd be more upset. Here's what I learned in nonviolence training. Walk up calmly to the mom and ask, "Do you know where the peas are?" You may have to repeat it. When someone is that angry, they literally may not hear you at first. But your repeated question should distract her just enough that she takes a breath, and everybody gets to hit the emotional re-set button.
As our immigrant neighbors become more anxious, we can use what we've got when we see an immigrant stopped by a police officer. Don't interfere, but watch from a distance. If the officer tells you to leave, you can decide whether you'll stay or not. You might say, "Respectfully, I'll stay. It's a public street. I'm doing nothing wrong." If police ask what you're doing, say, "I'm observing." You might also quietly start recording with your phone. It's also legal to ask officers their badge numbers. They may not answer, but when they know others are watching, they're usually on their best behavior. Use what you've got, and what some of us have in situations like this is white privilege. Use it.
Everyday peacemaking can mean listening and affirming another, even someone who you don't agree with.
You hold the power to deescalate tension during tense conversations. For example, in a conversation about immigration, one might hear, "So, we should just let all the Mexicans and Muslims in? Let every illegal immigrant in until there are no more jobs available for the working man?"
You might respond, "Yeah, we all need good-paying jobs, don't we?" affirming your conversation partner. Affirmation is not the same thing as agreement. But, affirming someone shows that you hear and respect their right to hold those thoughts and feelings — even if you disagree. Listening and affirming puts you in LA-LA Land. Listen-Affirm-Listen-Affirm. LA-LA-LA-LA. At some point, you might get a chance to respond with your opinion and add helpful info, like a great book or podcast on the subject. Or maybe not. Sometimes people just need to be heard and affirmed.
A while back I was walking to dinner at a restaurant with some friends. As we walked up to the restaurant, I heard someone yelling. There was a trio — a tall man venting at his wife or girlfriend.  Another female friend was trying to get him to stop, saying, "Hey, you know, this isn't good …" I felt called to intervene. I walked in-between the man and the woman. I looked him in the eye and I said, "Could you tell me what time it is?  I'm supposed to meet some friends here." He kept right on venting.
I said again, "I don't have a watch. Could you tell me what time it is?" This time he saw and heard me.  He quit shouting and looked at his watch. It's what we do, right?  He politely told me the time. The friend caught my eye and mouthed, "Thank you."
Did this intervention fix all their relationship problems? No, probably not. It wasn't a forever solution, but it helped right then. In that moment, there was an oasis of peace.
You can do this, too!
Use what you've got.
Claim the space.
Find peace within.
Listen and affirm.
Intervene creatively and confidently.
Bring peace in your everyday life.
Thanks so much.
God bless you.