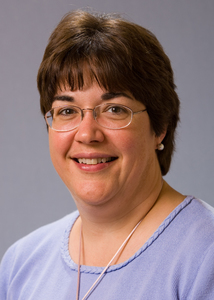 Janeen Bertsche Johnson is Campus Pastor and Alumni Director at Anabaptist Mennonite Biblical Seminary.
In 1974, my family loaded up the station wagon and drove from central Illinois to St. Catharines, Ontario for the triennial sessions of the General Conference Mennonite Church. On the way through Ontario, we passed a camper that had pulled over to the side of the road. Mom noticed that the camper had a Kansas license plate, and remarked that it must be Mennonites also heading for St. Catharines. So, we turned around and headed back to the stranded camper. Not only was it Mennonites, but it was the daughter of some of my parents' best friends, and her husband! We crowded them into our station wagon, and continued on the way to the conference!
That conference was my first experience of a church-wide gathering, and I still have a few memories of the children's activities in which I participated. As a child, I developed a deep love of the broader church, and this summer I will attend my 17th church-wide gathering and fifth Mennonite World Conference. I missed the 1992 GCMC gathering in Sioux Falls, because I was giving birth during the opening worship session (bad timing!), but I have made sure that my family attended every convention since then (this summer will be the 11th convention for our 22 and 20-year-old kids). I've had a variety of roles in those gatherings: attender, children's program volunteer, youth sponsor, worship leader, planning committee, worship coordinator, executive board member and congregational delegate.
Convention is important to my family because it is where we encounter the beautiful diversity of our church. We renew our connections with old friends, and we make new friends. We sing our favorite hymns, and we learn the worship songs of other parts of the church. We are inspired by speakers, and we put our faith into action through service projects and prayer walks. We discern issues facing our church, and we are stretched by different viewpoints. And we encounter God!
I hope many of you will join my family this summer as we gather in Kansas City. And whether or not you can attend, I invite you to keep alert as the church prepares for the convention. You may not see a camper full of Mennonites stranded along the side of the road. But you might learn of someone who can't make it to the convention without a scholarship. You might hear of a youth sponsor who needs someone to care for their children while they accompany a youth group. You can definitely offer your prayers to all of the delegates who will be engaging important questions about the church's future. Whatever you notice as we move toward Kansas City, be ready to stop and help one another on the way!