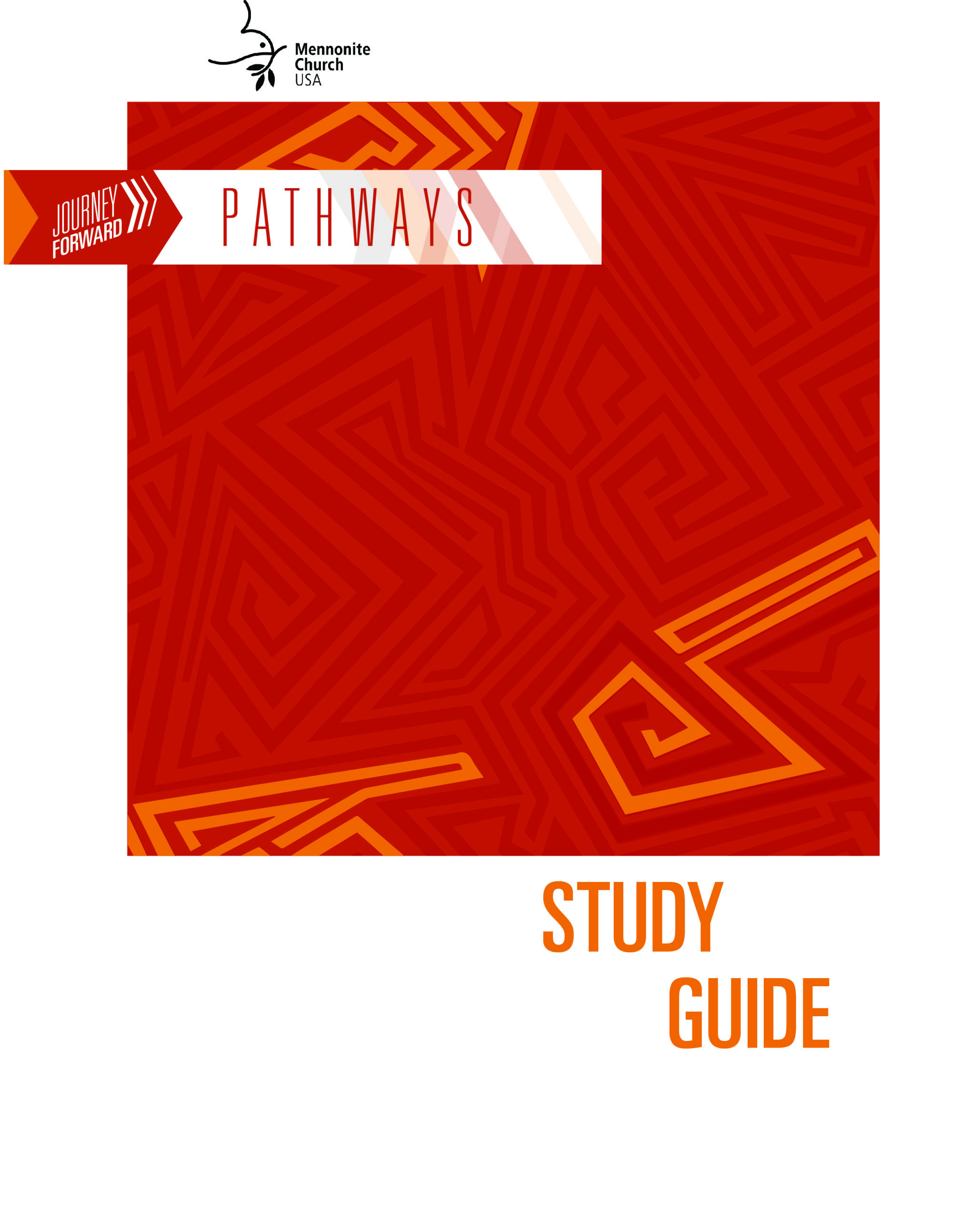 Journey Forward is Mennonite Church USA's churchwide renewal process of engaging in Scripture, storytelling and sharing how God is at work in the lives of people and congregations across MC USA. Its purpose is for us to renew our local and denominationwide identity and affirm our core beliefs as we live out the mission to which God calls us as the church. It is a process, not a conclusion. The process invites you to connect how you're living God's call to broader church mission and draws our attention to how the Living Word is moving in our midst.
The Renewed Commitments concisely name core values orienting MC USA toward a faithful future.
God invites us to experience and bear witness to the belovedness of all creation. We yearn to know and share in the mystery of God's unending love. But we live in a broken world. The Holy Spirit beckons us toward the restoration of all things in Christ, and on this journey together, we commit to:
Follow Jesus

Witness to God's peace

Experience transformation
The Pathways study guide is a resource for individuals and groups across MC USA to use in exploring how they might live out these values in their particular contexts. In preparation for MennoCon19, we invite you to use this study guide and consider how these commitments are at work in your life and community.
Session Summary
God's peace is not a work we achieve; instead, it's a gift we receive. Jesus Christ is that gift — the One who we receive through the Holy Spirit. We are called to open our lives to God's redeeming peace.
Gather:
Invite the group to sing "Will you let me be your servant" (#307 in "Hymnal: A Worship Book")
Offer a prayer inviting God to visit your gathering with the gift of the Spirit of Peace, and to open your hearts and minds to receive this gift.
Encounter:
Invite the group to read aloud the theme from "Renewed Commitments":
"We are called to extend God's holistic peace, proclaiming Christ's redemption for the world with our lives. Through Christ, God frees the world from sin and offers reconciliation. We bear witness to this gift of peace by rejecting violence and resisting injustice in all forms and in all places."
Read aloud the following: Peace is a gift from God, the grace of the Holy Spirit — the Spirit blowing across the waters at creation, making a world without violence before the corruption of sin (Genesis 1:2); God's breath enlivening the body of the first human being, filled with God's grace (Genesis 2:7); Jesus on his last day with his disciples, renewing their lives with the breath of the Holy Spirit's ministry of peace (John 20:21-22). Jesus is God's Word of peace made flesh, the gift of peace with each other and with God. In Christ we were offered a covenant of peace written with his body, offered to the world even though all of us were enemies of God's will (Romans 5:6-11). God offers peace from the beginning in creation. God intervenes with peacemade-flesh in Jesus. And God renews us with that same peace again and again through the Holy Spirit — the world alive with God's breath, creating life and sustaining peace.
Provide five minutes for participants to write down what peace looks like, what it feels like. Then invite volunteers to share aloud what they wrote.
Discern:
Read Ezekiel 34:25-31 — find two or three translations to read aloud. The original audience for this prophetic word was the people of God in exile, away from home, living among their oppressors. What did the promise of peace sound like for them? What kind of peace were they hoping for?
Read Isaiah 11:1-9 — find two or three translations to read aloud. Listen for images of peace in the passage. What does God's peace mean for the world? What does God's peace mean for our lives?
Embody:
Invite a member of the group to read aloud the following: In the passage from Ezekiel 34, God makes a "covenant of peace" (verse 25). God is the peacemaker, making a place for human beings to flourish — just as God did at the beginning of creation. The work of creation is the work of peace. The God of creation is the God of peace. That's who the Word-made-flesh is: Jesus Christ, the God of creation, renewing the covenant of peace. In Ephesians 2:14-17, Christ is the gift of peace, redeeming the world through his body. "He is our peace," it says. "He came and proclaimed peace to you who were far off and peace to those who were near."
Invite another member to read aloud the following: Since Christ is our peace — God's gift for a redeemed world — our posture is one of hospitality: what does it mean to welcome God's peace, to receive the gift of Christ? How should we live our lives so that we are open to welcoming God's peace into the world? Luke 24:28-35 tells the story of the disciples who offered Jesus hospitality without knowing it. Read the story out loud and discuss what we can learn about how to welcome Jesus into our lives.
Who are the strangers in our world who might be Jesus to us, offering the gift of peace?
Are there people or organizations in our community who show us what peace looks like?
Have we ever been tempted to act as if peace is a gift we give to the world, rather than a gift we receive from God?
Send:
Turn to the back of "Hymnal: A Worship Book" and lead the group in praying #697.
Read aloud Hebrews 13:20-21 as a benediction.