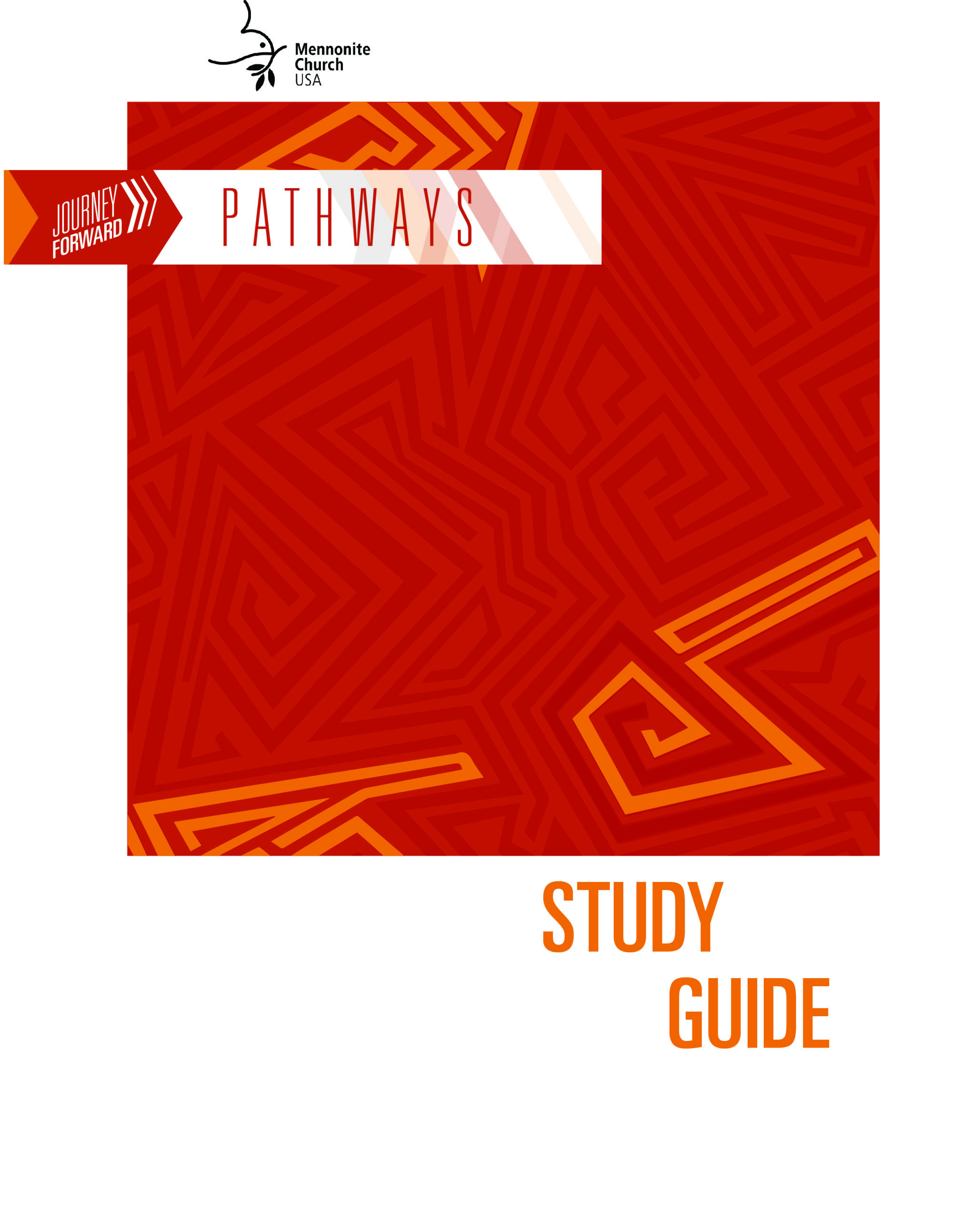 Journey Forward is Mennonite Church USA's churchwide renewal process of engaging in Scripture, storytelling and sharing how God is at work in the lives of people and congregations across MC USA. Its purpose is for us to renew our local and denominationwide identity and affirm our core beliefs as we live out the mission to which God calls us as the church. It is a process, not a conclusion. The process invites you to connect how you're living God's call to broader church mission and draws our attention to how the Living Word is moving in our midst.
The Renewed Commitments concisely name core values orienting MC USA toward a faithful future.
God invites us to experience and bear witness to the belovedness of all creation. We yearn to know and share in the mystery of God's unending love. But we live in a broken world. The Holy Spirit beckons us toward the restoration of all things in Christ, and on this journey together, we commit to:
Follow Jesus

Witness to God's peace

Experience transformation
The Pathways study guide is a resource for individuals and groups across MC USA to use in exploring how they might live out these values in their particular contexts. In preparation for MennoCon19, we invite you to use this study guide and consider how these commitments are at work in your life and community.
Session Summary
The gospel is a call of grace, where God invites us to be ambassadors of Christ's peace. We extend what God has given us: that is, the Spirit's movement of justice and love, of righteousness and peace, for the whole world.
Gather:
Invite participants to "pass the peace" by moving around the room, greeting one another with the words, "The peace of the Lord be with you," and responding, "And also with you."
Invite the group to sing "Jesus came — the heavens adoring" (#297 in "Hymnal: A Worship Book")
Encounter:
Invite the group to read aloud the theme from "Renewed Commitments":
"We are called to extend God's holistic peace, proclaiming Christ's redemption for the world with our lives. Through Christ, God frees the world from sin and offers reconciliation. We bear witness to this gift of peace by rejecting violence and resisting injustice in all forms, and in all places."
Invite a member of the group to read aloud the following: Peace is a gift from God to the world, and we are invited into the grace of extending that gift. Peace is not a possession. It's not something we guard. It doesn't have borders that we police, as if we owned it. Instead, peace is a way of life, embodied in Jesus Christ, a gift of grace to the world. We have been invited to extend God's work — to let grace reach through our lives, to let Christ's peace flow through us. That's what it means to name ourselves "the body of Christ"— we live by the Spirit's grace, alive in Jesus, now commissioning us as ambassadors of the same peace that was at work in the life, death and resurrection of Jesus.
Provide five minutes for participants to write down what hinders our communities from welcoming God's peace:
How has our congregation, our church, our faith worked against Christ's reign of peace?
How have we sinned against the Spirit's work of peace?
Then invite volunteers to share their insights.
Discern:
Read James 3:13-18 — find two or three translations to read aloud. Read aloud the following: The passage exposes the sin of pride and hypocrisy, while binding together the virtues of wisdom, gentleness, mercy and peace. The closing verse of the passage likens the labor of peace to working the land, planting and reaping, producing God's justice: "A harvest of righteousness/justice is sown in peace by those who make peace" (verse 18).
For discussion:
Where have you seen a harvest of peace?
Who planted the seeds?
Embody:
Invite a member of the group to read aloud the following:
The Holy Spirit redeems the world with Christ's peace. We've been invited to join God in this labor, as the world is being reborn with the gospel of peace. In the prophetic word offered our churches in the book of Revelation, God describes a new way of organizing our lives together, represented as the biblical city of Jerusalem (Revelation 21:1-4). The name "Jerusalem" means "city of peace." That's what God promises to us: peace as a new way of being together. And this gift from heaven — this community — is for everyone. "Its gates will never be shut by day, and there will be no night there" (Revelation 21:25). There are no guards, no police, no migra. Peace belongs to God, without gatekeepers — a gift for the world which includes us if we're willing to live according to the way of Jesus.
Read Revelation 21:1-4 — find two or three translations to read aloud.
Read aloud the following: "Death will be no more" (verse 4). The enemy of God's city of peace is death, meaning all the destructive powers unleashed into this world that conspire to kill God's beloved creation.
Discuss: How is God calling us into this new community of peace, happening all around us, through the power of the Holy Spirit?
Send:
Turn to #702 in the back of "Hymnal: A Worship Book" and pray the prayer in unison.
Read aloud Revelation 21:3-4, 22:17 as a benediction.
Commission the group with the words of Romans 15:33: "May the God of peace be with all of you, amen."