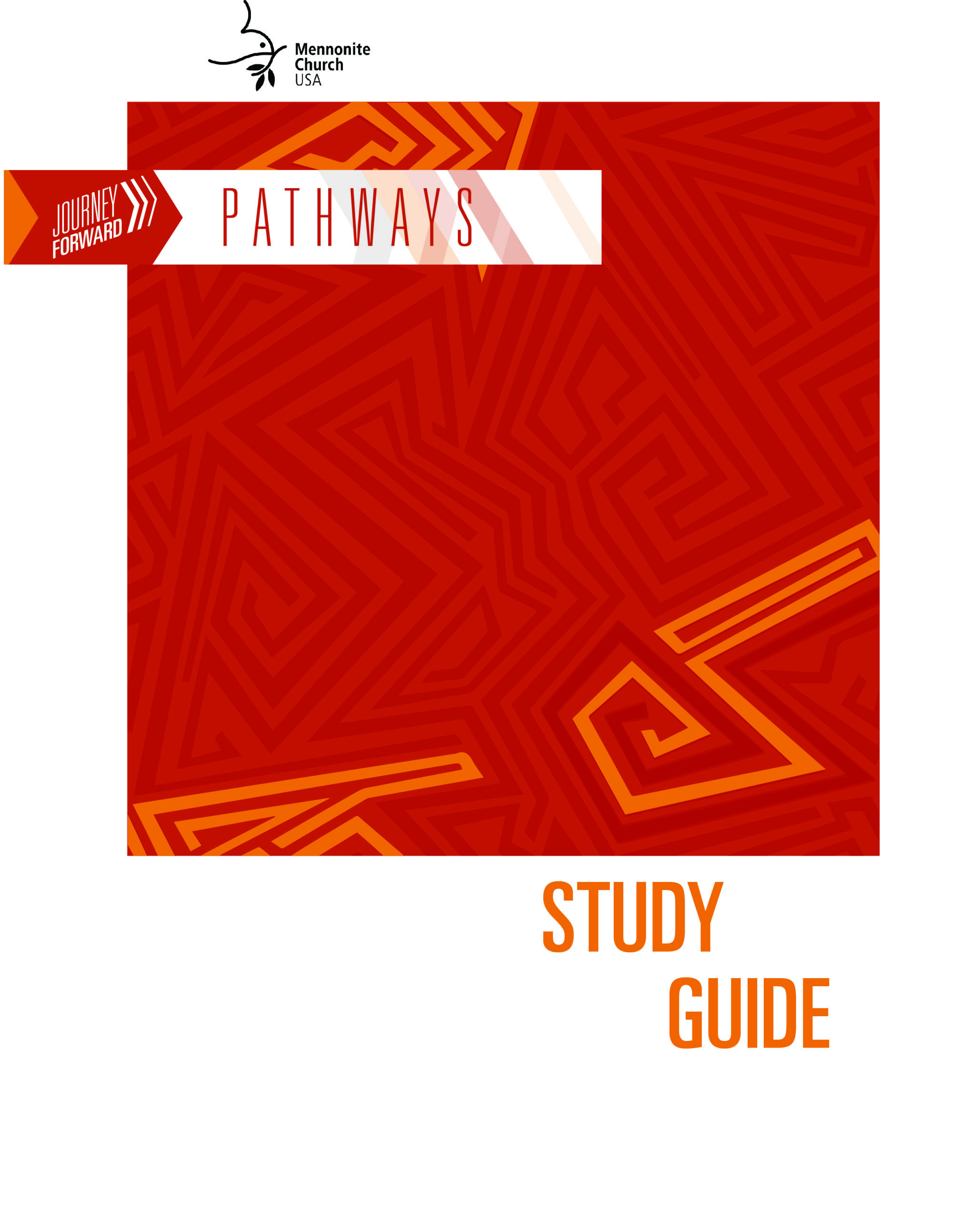 Journey Forward is Mennonite Church USA's churchwide renewal process of engaging in Scripture, storytelling and sharing how God is at work in the lives of people and congregations across MC USA. Its purpose is for us to renew our local and denominationwide identity and affirm our core beliefs as we live out the mission to which God calls us as the church. It is a process, not a conclusion. The process invites you to connect how you're living God's call to broader church mission and draws our attention to how the Living Word is moving in our midst.
The Renewed Commitments concisely name core values orienting MC USA toward a faithful future.
God invites us to experience and bear witness to the belovedness of all creation. We yearn to know and share in the mystery of God's unending love. But we live in a broken world. The Holy Spirit beckons us toward the restoration of all things in Christ, and on this journey together, we commit to:
Follow Jesus

Witness to God's peace

Experience transformation
The Pathways study guide is a resource for individuals and groups across MC USA to use in exploring how they might live out these values in their particular contexts. In preparation for MennoCon19, we invite you to use this study guide and consider how these commitments are at work in your life and community.
Session Summary
We are people of God's peace, which we receive by the Holy Spirit who infuses our lives with Christ's love for the world.
Gather:
Invite participants to sing, "We are people of God's peace" (#407 in "Hymnal: A Worship Book")
Invite participants to name a word, phrase or image that comes to mind when they heard the word "peace."
Encounter:
Read the theme from "Renewed Commitments":
"We are called to extend God's holistic peace, proclaiming Christ's redemption for the world with our lives. Through Christ, God frees the world from sin and offers reconciliation. We bear witness to this gift of peace by rejecting violence and resisting injustice in all forms, and in all places."
Ask a member of the group to read the following aloud: Jesus Christ is the prince of peace, the one sent to us to reveal God's justice and mercy, liberation and forgiveness. Jesus is God's love made flesh, the embodiment of God's peace. His life is good news. And his death and resurrection bear witness to: 1) the threat his good news poses to the powers that be (which is why they killed him for his actions) 2) the vindication of his love for the world (which we see in the resurrection).
Ask another member to read the following aloud: We have been baptized into the life of Jesus, baptized into the power of the Holy Spirit, baptized into God's declaration that the way of peace is eternal life — love that never ends. We bear witness to Christ's peaceable love for the world with our lives as we repent of the sins that oppress others. We bear witness to Christ's peace as we let the Spirit cleanse us from the
temptations to use power for our own selfish gain or treat people as objects for our use. We bear witness to God's peace whenever we stand in solidarity with people who are threatened with violence.
Provide five minutes for participants to write down the violences they experience or see around them in their communities, in this country and in the world. Then invite volunteers to name aloud what they wrote.
Discern:
Break up into three groups. Assign a different passage to each group. Have them discuss these questions in light of the Scriptures: What are the sins that get in the way of peace? What are the images associated with peacework? What language does the passage give us to help us name God's vision for peace?
Isaiah 58:1-12
Micah 6:6-8
Isaiah 9:2a-7
Return to the large group. Invite participants to share from their group discussion: What word, phrase, or image from these Scriptures invites you to think about God's peace in ways you haven't before?
Embody:
Read aloud 2 Corinthians 5:17-21. This passage is also printed in the back of "Hymnal: A Worship Book" as a responsive reading (#853).
Read the following to the group: In his New Testament epistles, the apostle Paul uses a single Greek word that gets translated into English with two different words in our Bibles, depending on the choice of the translator. In Greek, Paul writes dikaiosyne theou at the end of verse 21, which can either be translated as "the justice of God" or "the righteousness of God." In English, the word "justice" tends to have a different meaning than "righteousness." But according to Paul, justice is the righteousness of God — we are becoming God's justice on earth, bearing witness to God's justice for all, which is what it means to be "ambassadors of Christ" (verse 20). Spanish translations of the Bible (for example, see La Reina-Valera) stay closer to the meaning of the original Greek word by using justicia. The Latin Vulgate also has iustitia dei, the "justice of God." Ask the group, "What difference might it make whether we think of this as God's justice or God's righteousness?"
Return to the gathering hymn, "We are people of God's peace" (#407). These are the words of Menno Simons. Have a different person read each verse aloud. Notice how the hymn echoes with the words from 2 Corinthians 5:17-21. Ask, "In what ways does the hymn echo the language in the other Scriptures we read earlier?"
Ask a member of the group to read aloud the following: The gospel has been unleashed into the world through the incarnation of Jesus Christ — a "new creation" breaking the chains of the old (2 Corinthians 5:17). We are ambassadors of this new world: "God is making his appeal through us" (verse 20). As Menno Simons wrote in 1544, "Those who are one with Christ in Spirit, love, and life, who teach that which was commanded them by Christ, namely, repentance and the peaceable gospel of grace … are flesh of Christ's flesh and bone of his bone." We have been entrusted with the gospel — to live Christ's redemption with our whole selves — our words and deeds, our testimonies and service, our preaching and protests.
Invite the group to discuss the following questions:
Where have you seen God's redemption blossom in our world?
Is there a stronghold of injustice in your community that is crying out for the healing work of God's peace?
How might God be calling us to participate in this peace?
Send:
Turn to the back of "Hymnal: A Worship Book" and lead the group in praying #697.
Read aloud John 20:19-22 (NRSV) as a benediction:
"When it was evening on that day, the first day of the week, and the doors of the house where the disciples had met were locked for fear of the Jews, Jesus came and stood among them and said, 'Peace be with you.' After he said this, he showed them his hands and his side. Then the disciples rejoiced when they saw the Lord. Jesus said to them again, 'Peace be with you. As the Father has sent me, so I send you.' When he had said this, he breathed on them and said to them, 'Receive the Holy Spirit.'"