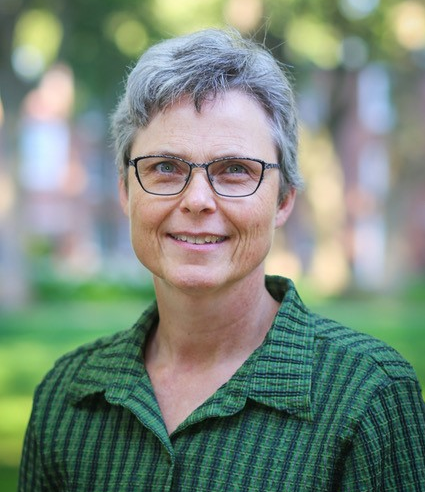 Jennifer Halteman Schrock is the leader of Mennonite Creation Care Network (MCCN) and the communications manager for Merry Lea Environmental Learning Center of Goshen College. She lives in Goshen, Indiana, with her husband, Dan, and is part of Berkey Avenue Mennonite Fellowship. 
"These things are written so that you may come to believe," the author of the Gospel of John says. I too would not see or believe if I did not write things down. It is my favorite spiritual practice and the way that I locate God's peace in the cracks of my own life. There is nothing dull about God's peace, but it can be subtle. Often it is only glimpsed in hindsight. How do I find God's peace?  I find God's peace through a geeky obsession with record-keeping. Here are three examples:
Sabbath Journaling
I write in my journal on Sundays because that is when I have time. I also write then because congregational life is important to me. Some people drift away from church after a lifetime of Sunday mornings. Journaling helps me to notice the nourishing moments and to charitably forget those that don't serve me.
My Sabbath Journal records an encounter I had August 11 with John 20:19-23. In this passage, the risen Christ appears to the fearful disciples, bringing peace and the breath of the Holy Spirit while they huddle behind locked doors. The passage is a reminder that God's peace is not a sleepy 19th century village so much as a surprised, wild joy in the face of death threats.
Two things hit me as I prepared a children's time on John 20. The first was that peace and the gift of the Holy Spirit are both linked with the power to forgive in this text. The second was to wonder how this passage speaks to climate change — the death threat playing in the background of my own comfortable suburban life. My work forces me to face this strange, new reality on a regular basis and to mourn what we are losing. How is this Spirit-driven power to forgive part of the work of addressing climate change? I don't know the answer to that yet, but I would have forgotten the question if I hadn't written it down.
Nature Journaling
Nature journaling is the form of record-keeping that gives me the greatest joy and relaxation. I keep lists of the birds and plants I have encountered, and I record what strikes me on our camping vacations — with sketches or haikus or photos.
I keep notes on the unexpected pinkness of house finches in an Indiana spring and the way the western meadow larks give voice to the cottonwoods in North Dakota. Both announce God's peace with their presence, defying — though not denying — the news that we've lost three billion of our birds since I was a child.
Whenever I encounter a species I have not seen before, it feels like the divine has revealed itself anew.  It does not need to be large or beautiful.
Last spring, at a highway rest stop in Kansas, I was jolted by strange new voices and found a tree full of great-tailed grackles. No treat for Kansans, I suppose, but I was ecstatic. Last week on the front porch, I found a caterpillar in an elegant fur coat: some cousin of the woolly bear, known to science but not to me. I have recorded both of them, with gratitude.
Seeing the Network
The practice of writing things down is part of my professional life as well as my personal life. In the half of my job that involves Merry Lea Environmental Learning Center of Goshen College, I record stories about the amazing young adults who pass through our programs and the vision that created those programs in the first place. In the half that serves Mennonite Creation Care Network, I gather and share stories of congregations as they care for the planet.
Recently, I decided to track the number of queries that I receive related to Mennonite Creation Care Network.  To understand how this endeavor brought me joy, you must first know that I have been with MCCN since its humble inception 15 years ago. Many times in past years, I have suspected that this network existed nowhere except in our council's heads.
My query list surprised me. During the month of September, I heard from over 40 people in 11 states and three countries. They were passionate about socially responsible investing and planting trees, permaculture and sustainable cooking. They were installing solar panels and holding intergenerational dialogs on climate change, mentoring others and fine-tuning strategic plans. Some wrote requesting resources; others offered them. I fielded questions from individuals resourcing study groups and was privy to email dialogs involving multiple people in the same area who were collaborating. A similar energy is blossoming around the world in response to environmental challenges.
Looking back over this list of many small achievements, I was reminded of a time the Word of the Lord came to me. I would have forgotten this still, small voice, if I hadn't written it down. At the time, I was at the tail end of cleaning up a mess that had seemed unsolvable.
"What do you see?" said the voice.
"I see that we have achieved our goal," I said.
"And how did that happen?"
The answer bubbled out of me: "Fidelity to the least of these. Taking one step at a time. And prayer."
We face an uncertain future with great potential for violence. Now, more than ever, let us remember and believe. May we all — writers and doers alike — remain faithful to those most in need of God's peace, to the small steps forward that lie within our power and to prayer.
This article is part of our #BringThePeace series. #BringThePeace is Mennonite Church USA's call to action for individuals and congregations to extend peace in our communities. #BringThePeace is also our prayer inviting God to bring the peace that expands our capacity for empathy, compassion and love that actively seeks to dismantle oppression and violence. Find our more at mennoniteusa.org/bringthepeace.