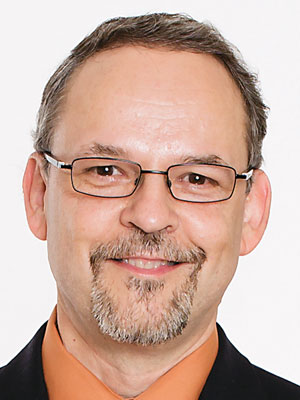 Beryl Jantzi is a former pastor and now serves as the Everence director of Stewardship Education. For more information on examples of financial policies and practices congregations might consider adopting submit your requests to beryl.jantzi@everence.com.
_______________
The term "white-collar crime" was coined in 1939 and refers to a full range of frauds committed by business and government professionals. These crimes are characterized by deceit, concealment, or violation of trust, and are typically nonviolent.
As we look at Scripture, there is another form of "crime" that I am naming "clerical crime." This is sinful (and sometimes criminal) activity committed by members of the clergy. The priestly class in both Old and New Testaments were called out for behavior unbecoming of their calling. We would do well not to ignore these warnings.
We don't often preach on these texts, in part because it would be directed to a very specific group of people – mainly the preacher! But maybe that wouldn't be all bad, as it would show we recognize those called apart for special service in the church are not immune to wrongdoing.
Let's consider some of the biblical texts that are cautionary scriptures for the credentialed, the licensed and ordained among us.
Warnings in Malachi directed to the Levites
The words of the prophet Malachi (1:6-2:9) are directed specifically at the priests of Israel. Despite knowing the Old Testament Law, they were offering improper sacrifices to God. Instead of following the requirements for pure offerings, they were sacrificing animals that were defective. This reflects a general disrespect toward God. Many scholars have suggested that Malachi 3 is also directed to the tribe of Levi, the priestly class of the day, which means the warnings about not robbing from God the tithe is directed to members of the clergy.
Begin by being honest. Do honest people rob God? But you rob me day after day.     You ask, 'How have we robbed you?' The tithe and the offering – that's how! And now you're under a curse – the whole lot of you – because you're robbing me. Bring your full tithe to the Temple treasury so there will be ample provisions in my Temple. Test me in this and see if I don't open up heaven itself to you and pour out blessings beyond your wildest dreams. (Malachi 3:8-11, The Message)
The prophet Malachi is reminding priests who served God in the temple that they are bound by the same commandments concerning the tithe as the common Israelites (Numbers 18:25-26; Deuteronomy 14:27). The Levites, who were supported by the tithes of the other 11 tribes, are in turn to give a portion of their income to the temple. Not to do so, is to rob God.
Judas accused of embezzlement
The writer John minces no words in describing the actions of his fellow disciple, Judas. As treasurer for the group, Judas was entrusted with managing the financial resources collected for Jesus' ministry. This money came from individuals like the women described in Luke 8:1-3, who contributed to Jesus' work. These funds probably were used to pay for the expenses of the band of Jesus' followers, which was no small enterprise. At one point, it was considered whether this kitty should be used to purchase food for the stranded group of 5,000 men, plus women and children, that gathered to hear Jesus speak (John 6:5). Judas was chosen as keeper of the funds even above Matthew, a former tax collector, or Peter and Andrew, who helped manage their father's fishing business and had experience managing money. Why Judas was chosen, we can only guess.
Judas showed a false piety of concern for the poor when he challenged the generous acts of Mary. John holds no punches in calling Judas a "thief and embezzler." The sins of Judas finally found him out, as we see repeated too often among modern-day clergy who fall prey to similar temptations.
Judas Iscariot, one of his disciples, even then getting ready to betray him, said, "Why wasn't this oil sold and the money given to the poor? It would have easily brought 300 silver pieces." He said this not because he cared two cents about the poor but because he was a thief. He was in charge of their common funds, but also embezzled them. (John 12:4-6, The Message)
Warnings to young Timothy
Most pastors receive modest wages for their service in the church. But there's also temptation that comes to clergy that needs to be recognized. Pastors can experience hard times financially, just like anyone else, and precautions should be in place to protect pastors from themselves and – just as importantly – from the appearance of impropriety.
The pastor should not count and deposit Sunday morning offerings. The pastor should report all expenditures made on behalf of the church and be sure to have receipts that support any money sought as reimbursement for church expenses. Paul was clear in his instruction to his young protégé, Timothy, about the need to deal with matters of money in ways that are beyond reproach.
These are the things I want you to teach and preach. If you have leaders there who teach otherwise, who refuse the solid words of our Master Jesus and this godly instruction, tag them for what they are: ignorant windbags who infect the air with germs of envy, controversy, bad-mouthing, suspicious rumors. Eventually there's an epidemic of backstabbing, and truth is but a distant memory. They think religion is a way to make a fast buck.
A devout life does bring wealth, but it's the rich simplicity of being yourself before God. Since we entered the world penniless and will leave it penniless, if we have bread on the table and shoes on our feet, that's enough.
But if it's only money these leaders are after, they'll self-destruct in no time. Lust for money brings trouble and nothing but trouble. Going down that path, some lose their footing in the faith completely and live to regret it bitterly ever after. (1 Timothy 6:3-10, The Message)
The integrity of scripture is again demonstrated in the refusal of the writers to cover up the acts of deception and hypocrisy that took place among those called to lead. This is a cautionary reminder that the temptations faced by the Levites and Apostles of biblical times are no less felt today for those in leadership. Having clear guidelines and protocols for how money is handled within the church is critically important.
Likewise, we need to be self-aware of our own temptations. What might we be capable of if we let our guard down?
The common call to be people of faith and integrity is required of all followers of Jesus, but especially for those set apart to lead.
The views and opinions expressed in this blog belong to the author and are not intended to represent the views of the MC USA Executive Board or staff.