This essay is the first winner of the Racial Discrimination Essay Contest organized by Solidarity Christian Community Development Association (SCCDA) in partnership with Mosaic Conference. This essay originally appeared on the Mosaic Mennonite Conference website and is shared here with permission.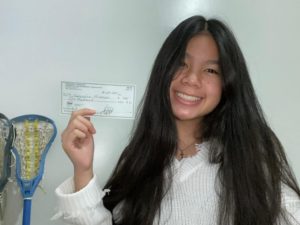 Syerafina Himawan is an Indonesian-American high school student from Pennsylvania. Her home congregation is Philadelphia Praise Center.
_______________
Growing up in Philadelphia I've been lucky to be immersed in many different cultures and backgrounds. I went to a predominantly Asian school in the heart of Chinatown and to a culturally inclusive high school. However that doesn't discount the multiple times I have faced racism.
One of my most vivid memories of facing racism was in middle school, when I was going to a birthday party where I only knew one person. I walked in and instead of being greeted by introductions, I was greeted by someone immediately coming up to my face and saying, "ching chong." I wanted to confront them for being ignorant and rude, but my mom always taught me not to make a scene so I chose to ignore it.
However, this single moment sparked the first time feeling of wanting to blend into society and wanting to become like the white people I saw all over my Instagram feed. I started to assimilate, dying the ends of my hair blonde, and speaking less of my native language.
Slowly but surely I became more "whitewashed." 
Going into high school all I wanted to do was fit in with the crowd. I refused to bring my mom's homemade food to school worried that people would make fun of me, in hindsight her food was much better than any lunch the school provided. I also refused to participate in cultural days like International Day where students would dress up in their culture's clothing because I didn't want anyone to make fun of my batik (traditional Indonesian cloth).
One thing I have noticed in high school is that racism against Asians is almost normalized, and it's never talked about. I, like many others, have been trained to take jokes about the Asian bird flu, coronavirus, and to accept the stereotypes that come with being Asian like eating cats and dogs. Instead of calling jokes and stereotypes like that out, my mind has been trained to laugh and go along with the crowd, almost like it was second nature. I didn't think much of the normalization of this racism until recently when I looked back and examined my high school experience.
A memory recently came into my mind when I realized I truly started to lose my native tongue. It was Christmas break of freshman year; I went to a friend's house to exchange gifts. I was used to speaking English with my friends and Indonesian with my parents. I received a call from my mom asking when they should come pick me up and I replied saying 5:30 in Indonesian. Just like that the whole room burst into laughter. At first I didn't know what they were laughing at but I soon realized that they were laughing at what I said. They were laughing at my expense. She soon stopped laughing only to start mocking what I said. This made me feel so ashamed of my own language.
To this day when I get a call from my parents in front of my friends, I exclusively speak English in the fear that people will make fun of me. Instead of calling her out and saying that it hurt my feelings, I sat there and laughed. I went along with the crowd once again. I felt so uncomfortable and almost sick to my stomach. I was embarrassed and humiliated that they were continuing to laugh and mock me.
After this moment pieces of my cultural identity continued to chip away after being ridiculed for being different. All of freshman and sophomore year, I fixated on what else I could change about myself to be seen as one of them instead of sticking out like a sore thumb. I changed the clothes I wore, the way I talked, the way I styled my hair, and the way I did my makeup all to conform. I wanted so badly to not be looked at as an outsider just because of the sole fact that I was Asian. Even after all of the changes I made, I realized that I could never be like one of my friends.
It wasn't until my junior year I decided to take back my cultural identity. I started to make new friends through field hockey, and they were so open about their different cultures and backgrounds. We could relate to having strict parents and eating foods that might be seen as weird by others. We embraced our cultural differences and it helped make me more open to sharing my culture. That year was the first time I participated in International Day; I wore my batik clothes for the first time in years.
After suppressing my cultural identity for years and idolizing the need to become like my friends, I started to become more proud of being Indonesian. 
I still feel uncomfortable speaking my language in front of people just because I'm afraid of the stares I could get or hearing the stifling laughs of those around me. I think that's one of the outcomes of facing ridicule for your culture first hand, shame. Instead of having pride for the beautiful language, clothing, and land of Indonesia, I had shame. The feeling of shame for culture is long lasting, it doesn't go away in a month or two, or in my case, a sports season.
After years of assimilating and being ashamed, I can't instantly revert to the person who was once so proud of being Indonesian, it takes time.  I slowly have to build up the courage that was stolen from me to share my culture with others.
I take it one day at a time, immersing myself back into the culture and learning more so I can tell others about it. Years of being proud have been stolen from me because of a few key moments of being taunted. I've come a long way from changing myself and hiding my culture in freshman and sophomore year, and I still have a ways to go, but at least now I can proudly and unapologetically reclaim my Indonesian heritage.
The views and opinions expressed in this blog belong to the author and are not intended to represent the views of the MC USA Executive Board or staff.