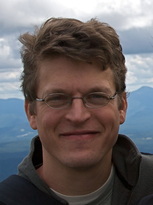 This is the fourth post in a series featuring people, congregations and organizations working with veterans who have experienced the trauma of war. The Peace and Justice Support Network, a joint project of Mennonite Mission Network and Mennonite Church USA, offers a six week Sunday School curriculum, Returning Veterans, Returning Hope, focused on returning veterans and how the church can play a part in their healing journeys. This curriculum draws from biblical reflection, the latest understandings of trauma and moral injury, and the experiences of veterans themselves.
Ken Landis is the director of SHELTER44. He lives in Lewis County, New York. He is a graduate of Eastern Mennonite University and Eastern Mennonite Seminary. He has traveled internationally, served through various relief agencies, and has a love for walking with people who are willing to be honest about their joys and struggles. Ken worked at a youth crisis shelter for six years in Anchorage, Alaska, pastored at First Mennonite Church in New Bremen, New York, and is currently the pastor at Watertown Mennonite Church. Ken is married and has three young children.
 I live in a rural Mennonite community that some days feels like it is hiding in the shadow of our neighbor – a large neighbor – a military base that claims one of the highest deployment rates in the country. Fort Drum is very active throughout the year training and sending troops. This means that the individuals who train for war are our neighbors. The people who return from war are our neighbors. The veterans who find themselves calling this area home are our neighbors.
 SHELTER44 is a ministry of Watertown Mennonite Church and New York Mennonite Conference with a goal of connecting people of Fort Drum with the Mennonite Community.
SHELTER44 began just over two years ago in an effort to step toward our neighbors rather than hiding in the shadow. We hope to express compassion toward those hurting from war, to teach and remind our own faith community of its peace-oriented heritage, to claim there is a light worth shining from our Mennonite perspective, and most simply to try and be better neighbors.
 SHELTER44 is not a huge effort but a step. We have not seen many veterans knocking on our church doors or asking for help, but I like to think we have at least made a door more accessible and have spurred on more conversation in our faith communities. In response to preaching and teaching times, I have witnessed thankfulness from veterans and non-veterans for the effort to reach out and care, as well as anger and frustration toward the peace perspective that is perceived to not honor soldiers enough. In our very patriotic country and local community that benefits financially from the military's presence, it often seems difficult to have a conversation that says anything other than "Thank you for your service," or "You are our hero," to soldiers.
How does one begin a conversation when our foundational understandings are so different, even if our heart feels called to love our neighbor? That is the tension SHELTER44 continues to walk toward.
SHELTER44 gets its name by combining two ideas: The first shelter is a figurative image of a safe place for conversation, the second comes from Micah 4:4, where everyone has a safe place to rest. This prophetic image is nestled in the powerful proclamation of a day when war will be no more. SHELTER44 reminds us of the challenge and dream of being that safe place for people to really share on their journey and feel rest without fear – to be a people working toward that day.
 For one of our teaching times we used the material from Peace and Justice Support Network's Returning Veterans Returning Hope. A variety of people from multiple churches in the area gathered on Sunday afternoons for times of teaching and rich conversation. Many found the lessons to be very eye opening to the experiences soldiers face – from basic training and war realities to the resulting PTSD and moral injury. One person shared that this time together helped them understand and be more sensitive to veterans and the layers of ongoing pain and spiritual struggle they may walk with. The gathering also created safe places for deep sharing that renewed some peace convictions and softened some hearts to see our military neighbors as our neighbors. Participants were encouraged to take what they learned back to their congregations to share with others. I personally found the PJSN materials to be a great resource and starting point for important conversation on how to better understand the unique Mennonite view point as well as understanding how we can learn from and walk with our neighbors who have served in the military.
 I live in a rural Mennonite community that some days feels like it is a bright light of hope and healing…