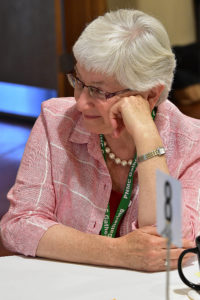 Marlene Kropf is a retired professor and denominational minister who lives in Port Townsend, Washington, where she continues to offer spiritual direction and lead retreats and Celtic pilgrimages.  She is a member of Portland (Oregon) Mennonite Church  and serves on the steering committee of Mennonite Spiritual Directors Network. 
It's not unusual for people to come to a puzzling crossroad in their spiritual journey. After a few years or many years of following Christ, the juice dries up. Or questions begin to plague people when they try to pray, and they wonder if prayer really makes any difference at all.
For other Christians, the church becomes a disappointment. In some settings, spiritual leaders no longer provide the kind of nurture that keeps faith alive.
What to do? Where do people go when their faith falters? How do they find a new path when the old answers or viewpoints no longer satisfy?
Spiritual direction is a ministry that is seeing resurgence across the church. Partly because our Mennonite seminaries continue to train fine spiritual directors but also because of growing spiritual hunger, more and more people are seeking out trained spiritual directors who can offer guidance for the ups and downs of the spiritual journey.
In Mennonite Church USA, a network of spiritual directors is tended by a voluntary steering committee. A list of trained Mennonite directors can be found online here. A geographical index helps people locate a director near them.
The purpose of spiritual direction is to help individuals or groups awaken more fully to the presence of God in their lives and to respond to that growing awareness in love, freedom and faithful living.
Spiritual directors are not counselors or therapists (though occasionally some are trained in both fields). Instead, spiritual directors offer prayerful listening as directees reflect on their faith journey. Directors ask gentle questions and pay attention to the Spirit's guidance throughout the session. What is shared in direction sessions is confidential.
Usually people meet with a director once every 4-6 weeks for an hour-long session. Often the direction relationship continues indefinitely, though sometimes people meet for just a few sessions. Periodic evaluations help both the director and directee discern whether the relationship is fruitful.
If you are seeking a spiritual director, consider the following steps:
Look over the list of trained directors to find someone in your area who is available to offer direction. Give them a call or send an email message asking to meet for an exploratory conversation.
If you aren't sure whom to ask, request a recommendation from your pastor, other spiritual leaders or trusted friends. You can inquire for more information at the school or center where the director was trained. Ask God to lead you to a director who will be suitable for your journey.
In an exploratory conversation, be prepared to tell the director what you are seeking in your spiritual life. Feel free to ask questions about their approach to direction or their training. Some directors offer both individual and group direction; find out which format might be most suitable for you. Inquire about fees (most directors receive payment for offering direction; most also agree to meet with some who cannot afford to pay; others barter for services).
If you are unable to find a director in your geographic area, you might explore meeting with a director by telephone or video-conferencing. You can also check the worldwide network of Spiritual Directors International.
Give yourself the gift of new life in the New Year. Explore the ministry of spiritual direction!