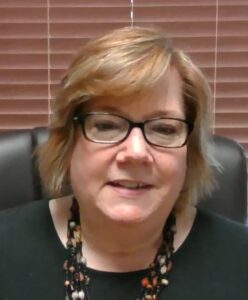 After 20 years in congregational ministry, Susan Janzen was called to serve Central Plains Mennonite Conference as Conference Minister for Ministerial Leadership in 2019. Her family includes seven nieces and nephews and three daughters-of-the-heart and their five little ones who call her grandma. A native Kansan, Susan has lived in Iowa for the past 18 years. She currently resides in Tiffin, a growing community just outside Iowa City, with an 11-year-old feline named Maxine.
This is part of a series of blogs reflecting on the Pastors & Leaders | Deep Faith 2022 conference.
---
The weekend before the Pastors & Leaders | Deep Faith conference at Anabaptist Mennonite Biblical Seminary (AMBS), I was introduced to the song "There's a Wild Hope in the Wind" (No. 828 in the Voices Together hymnal, © 2014 Lora Braun). It's hauntingly beautiful, with music and words by Lora Braun, who studied at AMBS the same time I did and, sadly, recently passed away.
The last line of the chorus stuck with me, and I sang it over and over in my mind throughout the weekend and into the Elkhart event. The verses call out to the wild hope in the wind, the skies and the earth, and the chorus concludes: "The future is dim, but we want to live into a wild, wild hope."
I went to Elkhart with a troubled spirit. Recently, in my role as a conference minister, I've listened as pastors have reflected on the difficult season we're coming through. The pandemic has affected every community, and every pastor and congregation have had to make a way through a wilderness that sometimes seemed to have no clear through-path.
For some, the pain of the journey has led to a questioning of call and vision for ministry. Others have been overwhelmed by pastoral care needs and infighting over long-simmering congregational conflicts laid bare by the confluence of COVID-19 and societal pressures. Coming to terms with unnerving realities while tending to their own anxieties and the needs of their families has made this a trying time for even the most resilient of pastors. Many are in desperate need of some good news.
"The future is dim, but we want to live into a wild, wild hope."
I went to the event at AMBS, like many others, tired and disheartened, seeking respite and renewal — along with fresh insights on scripture, Spirit-inspired worship, and an opportunity to reconnect with friends and colleagues from across the church.
All this happened — through words spoken and songs sung, table conversations and workshop presentations, quiet moments of reflection and peals of uninhibited laughter. Speakers who shared from their lifetimes of academic study and lived experiences. Responders who reflected both the beautiful diversity of the church and the Jesus-centered unity to which we aspire. No sugar-coated realities, but expressions of honest struggle — some as old as the Bible itself, some new for today. Glimpses of insight and imagination from leaders who are forging new paths through uncertain circumstances.
"The future is dim, but we want to live into a wild, wild hope."
The hymn sing where I first encountered "There's a Wild Hope in the Wind" began with several songs chosen by the facilitators to introduce the new collection and highlight the criteria they used to discern inclusion in the hymnal. Then they invited suggestions from the audience. I was struck by how often the number called out referenced an old favorite, a traditional hymn of the church.
I confess I was perturbed by this. Why sing what we already know when there's a whole new collection waiting to be explored? Yet, as we sang, I realized there's comfort in the old songs, in the familiar, the safe. People sang with abandon, perhaps — I wonder now — as a subconscious act of defiance against the swirl of uncertainty that has defined life these past two years and counting.
Similarly, Pastors & Leaders | Deep Faith provided a safe space for exhaling after a long and difficult season of ministry; a quiet respite for reflecting on how this wilderness is shaping me; and a creative invitation to new insights, courage and energy for the journey ahead.
"The future is dim, but we want to live into a wild, wild hope." May it be so.
View the recorded sessions from the Pastors & Leaders | Deep Faith 2022 conference here.