HARRISONBURG, Va. — Mennonite Church USA (MC USA), Mennonite Church Canada, and Herald Press began partnering in September 2020 to encourage Mennonites to engage in a "common read," a shared reading experience focused on specific books written to nurture Christian faith in this cultural moment.
The Common Read continues September 2021 through November 2021 with Tongue-Tied: Learning the Lost Art of Talking about Faith by Sara Wenger Shenk. Common Read participants can join the author on a live Zoom event on Tuesday, October 19, at 7 pm ET. Books are available from MennoMedia, CommonWord and other retailers.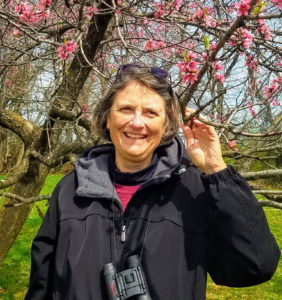 Many Christians easily talk about movies, sports, politics, jobs, and emotions, but struggle when it comes to talking about faith. In Tongue-Tied, Shenk investigates the reasons that people who claim the name of Christ are so reluctant to talk about him.
"One of our greatest gifts to the next generations, including our children and grandchildren, will be learning to talk more freely about what we've discovered of God's ways in the world, how we've found ways to follow Jesus in daily life, and how we anchor our lives in the love of God amid all manner of disappointments, tragedies, and hard times," Wenger Shenk says.
Shana Peachey Boshart, MC USA denominational minister for Faith Formation, said, "As Mennonites, we may feel that it is enough to let our lives give witness to our faith. However, over many years of equipping congregational youth leaders, I've observed that Mennonite youth have difficulty finding words to talk about faith. I've come to believe that our youth need to hear us use the words of faith in order to become fluent themselves. At least for their sake, we need the Tongue-Tied conversation."
Sara Wenger Shenk served as president of Anabaptist Mennonite Biblical Seminary (AMBS) for almost ten years, where her blog, Practicing Reconciliation, was lauded as a steady and deeply theological resource in anxious and polarized times. For nine years, she and her husband, Gerald Shenk, served as students and teachers in the former Yugoslavia, and she has served on the faculty and administration of Eastern Mennonite Seminary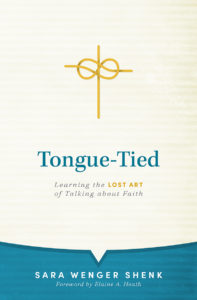 After reading Tongue-Tied this fall, the Common Read continues in January 2022 with Been in the Struggle: Pursuing an Antiracist Spirituality by Regina Shands Stoltzfus and Tobin Miller Shearer and April 2022 with Not Quite Fine: Mental Health, Faith, and Showing Up for One Another by Carlene Hill Byron and will include Zoom events with the authors.
Free downloadable study guides are available for Tongue-Tied on the MennoMedia and Herald Press websites. To schedule an interview with Sara Wenger Shenk, contact LeAnn Hamby at 540‑908‑3941 or LeAnnH@mennomedia.org.