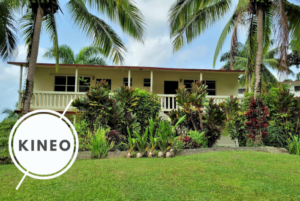 The Kineo Center, a ministry partner of Mennonite Church USA (MC USA), is hosting a new cohort program beginning Feb. 5, 2023, for pastors and leaders experiencing burnout. The program, titled "Renewal for Weary and Wounded Leaders," features a 24-week, online discussion group and a four-day, three-night retreat at The Kineo Center in Naguabo, Puerto Rico. Participants may register for the cohort here.
The Kineo Center is also offering a free online seminar, "Facing Ministry Pain: Four Ways We Cope," for pastors and leaders on Jan. 4 from 2-3:00 p.m. ET/11 a.m.-noon PT. The Kineo Center's Co-founder Tonya V. White and Cohort Director Matt Alexander will explore the coping responses that pastors often utilize to deal with their pain and will offer practical ways to address pain in a way that brings health. Interested participants may register for the seminar here.
The Kineo Center is an ecumenical Christian retreat center that provides healing and renewal to weary and wounded leaders through retreats, cohorts and resourcing. MC USA formalized a relationship with the Kineo Center earlier this year.
"The challenges and costs of leading others in the way of Jesus are high," said Alexander. "Ministry life and leadership is beautiful, messy and painful work. The Kineo Cohort was started to help pastors name and process their ministry injuries. We've created a space for leaders to experience compassion from others on a similar journey, while also finding courage and solidarity in a group of wounded healers," he added.
The cohort program is sized to accommodate the number of interested participants, with multiple online cohort groups running concurrently, as needed. Each cohort group is small, comprised of four to seven church leaders. The groups are led by a trained coach, who guides participants through a curriculum designed by therapists and experienced pastors.
For the final week, participants fly to The Kineo Center, which allows cohort members to meet one another face-to-face and worship together, while also leaving time for rest and relaxation at the five-acre resort. With MC USA's 30% discount, the 24-week cohort — including the stay at the retreat center — costs $1,575, plus the price of travel to and from Puerto Rico.
To enroll in the cohort, the participant must be actively involved in ministry or transitioning from one ministry to the next.
"Over the past two years, the COVID-19 pandemic has made life difficult for many," said Michael Danner, associate executive director of MC USA. "For pastors, who provide care for congregants, it is as if everyone had a pastoral care need all at once. Some pastors are leaving ministry for other work. So, how do we keep pastors? Part of that equation is providing tools to help pastors when they are weary or wounded. The right support at the right time can mean a pastor is able to continue pursuing the call that got them into ministry.
"We partnered with KINEO center because they have a unique and effective approach to walking with pastors who are tired or, even, traumatized. If you are a weary or wounded leader, consider joining the next KINEO center cohort," Danner added.
Dan White Jr. and Tonya White founded The Kineo Center in 2021 with the aim of providing renewal to church leaders who love the church but need help healing from ministry fatigue.
Mennonite Church USA is the largest Mennonite denomination in the United States with 16 conferences, approximately 540 congregations and 56,000 members. An Anabaptist Christian denomination, MC USA is part of Mennonite World Conference, a global faith family that includes churches in 59 countries. It has offices in Elkhart, Indiana and Newton, Kansas. mennoniteUSA.org
Testimonial
"I am so very grateful for this healing, resting, challenging time. Being led through this cycle of disruption, decent, awakening and renewal, echoed in Jesus and in the diverse creation that surrounds this place has been life-giving. I have longed for something, some kind of spark, to stir me from the place I have been existing in, and this has been it!" -Name withheld for privacy.