Sixteen U.S. denominational leaders – including Mennonite Church USA's Executive Director Glen Guyton – convened in a historic interfaith roundtable at Auburn Seminary in New York on November 14 to collaborate on urgently needed climate action. The group, the National Faith Leaders Climate Roundtable, also included representatives from the Christian Church (Disciples of Christ), Evangelical Lutheran Church in America, Islamic Society of North America, Presbyterian Church (USA), The Episcopal Church, Union for Reform Judaism, and United Church of Christ. Considering the status of climate impacts and advancements on solutions, the group discussed how to foster greater engagement of clergy, congregations and denominations to accelerate climate ambition, restoration and justice.
The National Faith Leaders Climate Roundtable, convened by ecoAmerica's Blessed Tomorrow program, gathered around the urgency and opportunity of the Intergovernmental Panel on Climate Change goal of seven years to make significant progress toward climate solutions, beginning in 2023. They recognized the significance of the number seven across faith traditions, and how it offers a profound framework to champion climate justice as a spiritual and ethical issue.
The group highlighted the importance of expanding clergy awareness and capacity to engage congregations and congregants in climate education and action in ways that acknowledge the everyday struggles, priorities and needs of Americans, most importantly people living on the margins. They recognized that climate change requires participation at all levels, from within congregations and communities to denominations and interfaith collective action. Scoping for a national faith and climate campaign began and will be solidified in a February 16, 2023, National Faith and Climate Forum in Washington, D.C.
"We can't faithfully serve the Creator without being mindful of the creation," said Guyton. "We are called to be stewards of the earth, and climate justice intersects with living out our faith in numerous ways. By engaging in creation care efforts, the church has an opportunity to reengage the local community, put our faith in action and create pathways to show God's love in meaningful ways. Young people and many others will experience the gospel in a manner that speaks to urgent needs," he added.
Carol Devine, director of Blessed Tomorrow of ecoAmerica, said, "The challenges for the faith community due to climate change are great, but so are the opportunities for us to live out our faith and our calling. There are no people better to lead on this existential crisis than faith leaders. We understand that we are not here for our own purposes. We understand that we are to pay particular attention and give particular care to poor, marginalized, and oppressed communities."
National faith leaders in attendance included:
Tamar Anitai, Director of Strategic Communications Central Conference of American Rabbis

Carole Collins, Co-Executive Director, Alliance of Baptists

Reverend Dr. John Dorhaurer, General Minister & President, United Church of Christ

Willie Gable, Chair of the Housing and Economic Development Commission of the National Baptist Convention, USA Progressive Baptists

Minister Glen Guyton, Executive Director, Mennonite Church USA

Betty Holley, Payne Theological Seminary

Rabbi Rick Jacobs, President, Union for Reform Judaism

Sergei Kapral, Proto Deacon, Orthodox Church in America

Antonios "Tony" Kireopoulos, Associate General Secretary, National Council of Churches

Imam Mohamed Magid, Former President, Islamic Society of North America

Bishop Vashti McKenzie, Interim President & General Secretary National Council of Churches

Carl Murrell, Principal United Nations Representative National Spiritual Assembly, Baha'is of the United States

Reverend Dr. J. Herbert Nelson, Stated Clerk of the General Assembly, Presbyterian Church (USA)

Reverend Dr. Terri Hord Owens, General Minister and President, Christian Church (Disciples of Christ)

Bishop David Rice, The Right Reverend (Bishop), The Episcopal Church, Diocese of San Joaquin
Reverend Dr. Carmelo Santos, Director for Theological Diversity and Theological & Inter-Religious Engagement, Office of the Presiding Bishop, Evangelical Lutheran Church in America
Brunhilda Williams-Curington, Program Assistant to the Stated Clerk, Presbyterian Church (USA)
Reverend Carol Devine, Blessed Tomorrow Director, ecoAmerica
Ashley Lane, Events Director, ecoAmerica
Robert Perkowitz, Founder & President, ecoAmerica
Meighen Speiser, Executive Director, ecoAmerica
About ecoAmerica and Blessed Tomorrow
Founded in 2006, ecoAmerica is a nonprofit organization that builds institutional leadership, public support, and political will for climate solutions in the United States. ecoAmerica helps national mainstream organizations elevate their climate leadership, providing them with strategy, tools, and resources to demonstrate visible climate leadership, empower climate literacy, engage their constituents, reduce their climate impact, and participate in collective action and advocacy.
Blessed Tomorrow, a program of ecoAmerica, is a coalition of faith leaders committed to serving as faithful stewards of creation. Blessed Tomorrow offers tools, resources and communications to demonstrate visible climate leadership, inspiring and empowering faith leaders to speak about, act on, and advocate for climate solutions. ecoAmerica.org  BlessedTomorrow.org
Mennonite Church USA is the largest Mennonite denomination in the United States with 16 conferences, approximately 540 congregations and 56,000 members. An Anabaptist Christian denomination, MC USA is part of Mennonite World Conference, a global faith family that includes churches in 59 countries. It has offices in Elkhart, Indiana and Newton, Kansas. mennoniteUSA.org
Written by Blessed Tomorrow of ecoAmerica, with input from MC USA staff.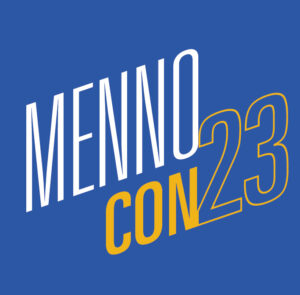 Join us in Kansas City on July 3-8, 2023 for MennoCon23, including the one-day Climate Summit for youth and young adults! Learn more here.