By MC USA staff
"We must rapidly begin the shift from a 'thing-oriented' society to a 'person-oriented' society. When machines and computers, profit motives and property rights are considered more important than people, the giant triplets of racism, materialism and militarism are incapable of being conquered." -Martin Luther King Jr.
Building on its roots as a historic peace church, Mennonite Church USA (MC USA) has launched "Cost of War," a "Learn Pray Join" initiative to raise awareness about the economics of war and the impact of militarism on our communities here and abroad. During February and March, MC USA will seek to engage people in the initiative by offering educational events, resources, prayers and ways to actively practice war resistance.
"War and systemic violence have the greatest repercussions on the most vulnerable." said Sue Park-Hur, MC USA's denomination minister for transformative peacemaking. "Through this initiative, we hope to reinvigorate our prophetic peace witness by focusing on the astronomical economic cost of war that is paid with our tax dollars, our lives and our land."
"Learn, Pray, Join: Cost of War" is part of a collaboration with Mennonites Against Militarism, a denomination-wide initiative to inform potential peacemakers about the corrosive ways that militarism influences people's daily lives.
"Mennonites have a long history of peace witness, speaking out against war and standing in solidarity with people who are suffering from the devastating effects of war," said Park-Hur.
MC USA's "Confession of Faith in a Mennonite Perspective" says, "Led by the Holy Spirit, we follow Christ in the way of peace, doing justice, bringing reconciliation and practicing nonresistance even in the face of violence and warfare." In 2015, the church amplified this core value, passing "Faithful Witness Amid Endless War," a resolution that calls the church to action, suggesting that "Our moral sensitivities have become calloused and that we are adapting to the normality of continuous war."
"I hope this initiative can recast the vision of our calling as peacemakers in a violent world," said Park-Hur.
Cost of War panel discussion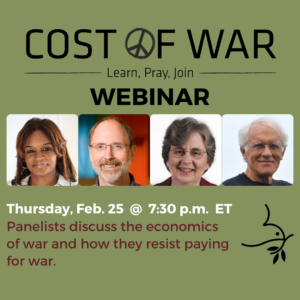 "Learn, Pray, Pray: Cost of War" will feature the voices of peacemakers across the denomination. A highlight of the initiative is an online panel discussion hosted by Park-Hur that focuses on the economics of war. The webinar will feature several active war resisters who will share how they oppose paying for war:
The webinar will be held on Thursday, February 25, 2021 from 7:30-8:30 p.m. ET. Register here to attend the Zoom discussion.
Peacemakers from MC USA congregations, sanctuary churches and related Mennonite colleges and ministries also will be contributing blogs on war resistance and peacemaking.
In addition, Amy Yoder McGlaughlin, pastor of Frazer (Pennsylvania) Mennonite Church and a member of the Steering Committee of Christian Peacemaker Teams, wrote a prayer for inspired and creative peacemaking. MC USA is encouraging congregations to share the prayer on Palm Sunday, March 28, 2021, as way to highlight Jesus' peaceful resistance to empire/colonialism.
Through "Learn, Pray, Join: Cost of War," MC USA also is providing:
Opportunities to learn more about the many costs of war through news stories, blogs and additional resources.
An invitation to pray for peace
A call to resist war and join in the advocacy work within MC USA and across the broader Anabaptist community.
MC USA's advocacy work includes the denomination's Church Peace Tax Fund, which provides funding for war resisters and educational peace programs, and the Justice Fund, a mutual aid fund that assists MC USA congregations engaging in their communities to dismantle racism and build peace.
For more information on "Learn, Pray, Join: Cost of War," visit the online resource page at: mennoniteusa.org/cost-of-war.
Subscribe to PeaceMail and follow MC USA on social media (Facebook, Instagram, Twitter and YouTube) to learn from resources, blogs and more in February and March.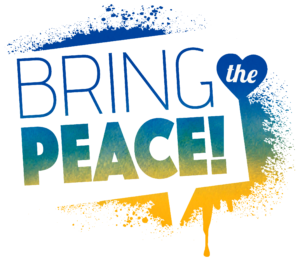 MC USA's "Learn, Pray, Join" initiatives seek to create opportunities across the church for deepening understanding around a common topic and coming together in prayer and support.
"Learn, Pray, Join: Cost of War" reflects the denomination's #BringThePeace theme. #BringThePeace is a call to action for individuals and congregations to extend peace in their communities. It is also a prayer inviting God to bring the peace that expands our capacity for empathy, compassion and love that actively seeks to dismantle oppression and violence. Learn more at mennoniteusa.org/bringthepeace.
Mennonite Church USA is the largest Mennonite denomination in the United States with 16 conferences, approximately 530 congregations and 62,000 members. An Anabaptist Christian denomination, MC USA is part of Mennonite World Conference, a global faith family that includes churches in 86 countries. It has offices in Elkhart, Indiana and Newton, Kansas.  mennoniteUSA.org