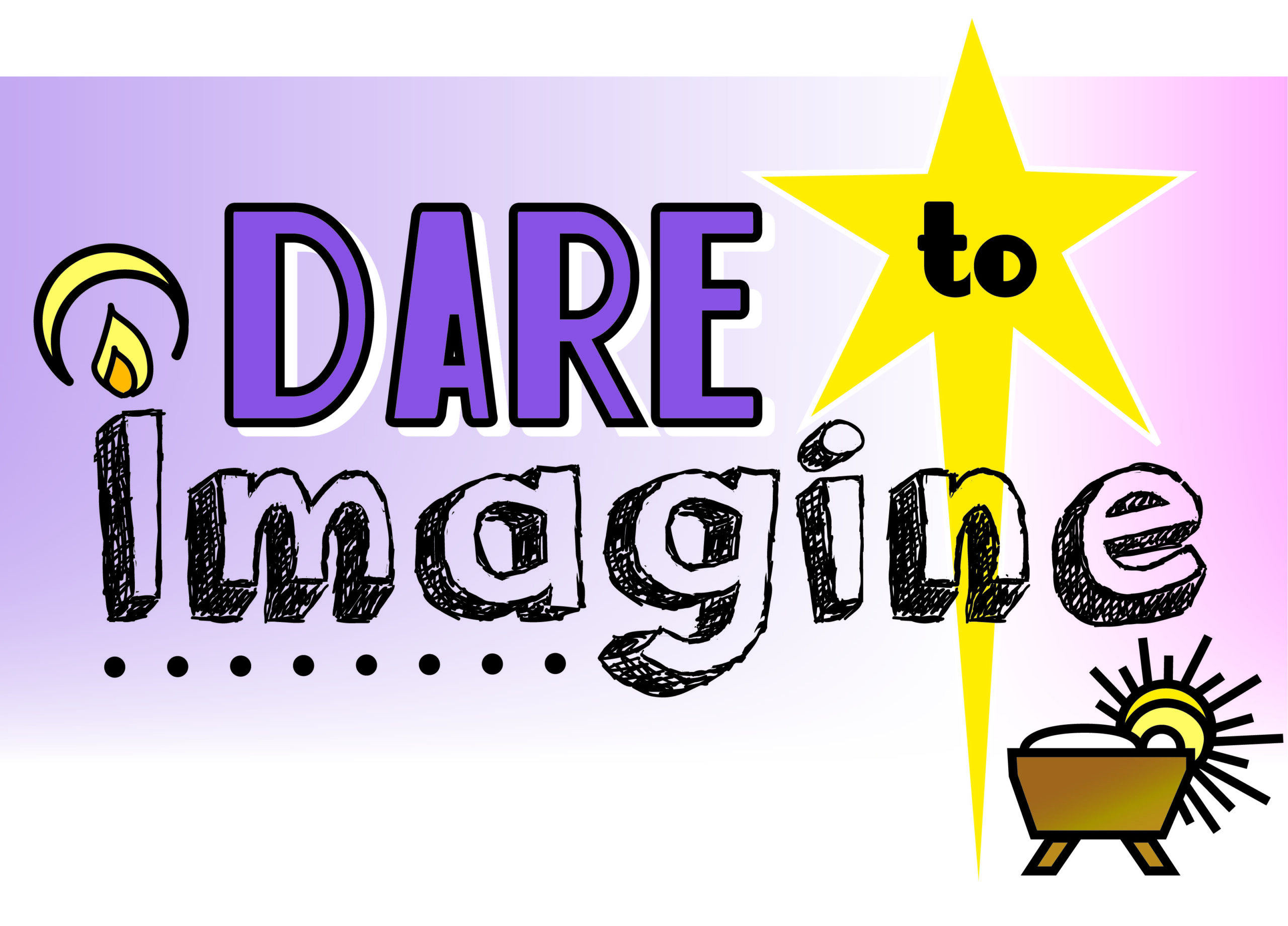 By Jessica Griggs for Mennonite Church USA
ELKHART, Ind.  (Mennonite Church USA) — Mennonite Church USA's annual Advent at Home worship guide is now available to help individuals and households of all ages prepare for the Advent season. The 2021 guide, "Dare to Imagine!" can be downloaded from MC USA's Advent at Home 2021 webpage. This resource offers weekly and daily Scriptures, worship rituals, prayers, activities, and background information.
"Celebrating holidays at home is a natural and fun way to talk about faith," said Shana Peachey Boshart, denominational minister for Faith Formation. "The Advent at Home worship guide can be used at any age or stage of life to deepen the experience of the Christmas season, and it provides parents with a toolkit for doing just that. We know that the greatest influence in growing faith in children is parents practicing faith at home," she said, citing research published in 2021 by Christian Smith and Amy Adamczyk, in their book, "Handing Down the Faith."
Using the traditional Advent themes of hope, peace, joy and love, "Dare to Imagine!" provides several flexible and optional components that participants can adapt to their needs. This year's guide also includes specially created Nativity scene coloring pages, which can be used to illustrate and enact the "Imagine the journey" visual storytelling component.
This Advent at Home guide offers seven weeks of devotional materials, beginning with the first Sunday of Advent, Nov. 28, and ending on Epiphany, Jan 6, 2022. "Dare to imagine!" walks participants through the biblical account of Jesus' birth, beginning with the prophecy of the Messiah's arrival in Jeremiah and ending with the Magi visiting Jesus.
Talashia Keim Yoder, pastor of Christian formation at College Mennonite Church in Goshen, Indiana and author of the 2020 "Advent at Home," wrote this year's guide. The 2021 theme and Scriptures run parallel to Leader magazine's Advent resource and the Revised Common Lectionary, on which many Mennonite pastors and pastoral teams rely for worship planning.
Keim Yoder said that Advent comes during a very busy season in many people's lives, so whenever it is possible to align the Scriptures and themes of Sunday worship, Sunday school and at-home resources for a given week, more robust at-home conversations and study can take place. She said, "We made the decision to follow Leader Magazine's theme this year, in an attempt to make it easier for MC USA's congregations to have more consistency in the Advent season. We hope this year's Advent season can feel more cohesive between church and home and be more spiritually renewing because of it."
Mennonite Church USA is the largest Mennonite denomination in the United States with 16 conferences, approximately 530 congregations and 62,000 members. An Anabaptist Christian denomination, MC USA is part of Mennonite World Conference, a global faith family that includes churches in 58 countries. It has offices in Elkhart, Indiana, and Newton, Kansas.  mennoniteUSA.org