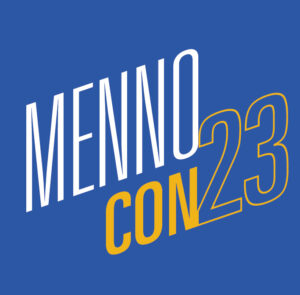 Online registration is open for MennoCon23, Mennonite Church USA's (MC USA) leading faith formation event, in Kansas City (Missouri) Convention Center, July 3-6, 2023. Registration is also open for the Youth & Young Adult Climate Summit, July 7, and the Delegate Assembly, July 7-8.
"MennoCon provides a way for our MC USA family to connect with God and each other for inspiration and refreshment, away from life's many distractions," said Glen Guyton, executive director of MC USA. "It is a time to learn about and engage with the resources offered by our program agencies, ministry partners and affiliated colleges. It is also a time for us to connect with our overall vision and to celebrate the rich diversity that is Mennonite Church USA."
Register here
The convention will feature worship, educational seminars and social opportunities for all ages.
The theme for the MennoCon23 convention is "Be Transformed," which echoes the denomination's Renewed Commitments to follow Jesus, witness to God's peace and experience the transformation of the Holy Spirit.
The worship services, which are the highlight for many attendees, will feature a blend of traditional and contemporary music. Keynote speakers will use stories of biblical characters from the Old and New Testaments to illustrate how we are "Transformed by the Spirit."
Educational seminars will include Bible studies and interactive learning sessions for youth and adults. These will cover a wide range of topics, such as discernment, leadership, outreach, parenting and family, peace and justice, spiritual transformation, stewardship and worship planning – presented through an Anabaptist lens. Guided discussions will help attendees engage more deeply with the content. There also will be designated small group times specifically for youth.
Language interpretation is available for the worship services and the Delegate Assembly by request on the online registration form.
An exhibit hall for denominational agencies, affiliated colleges and ministry partners will be open during lunchtime and in the evenings.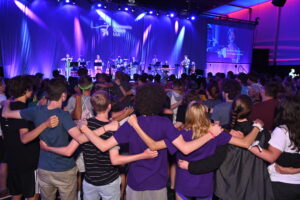 Children's programming
MC USA is offering programming for children at this year's convention. The children's program will be held 8:45 a.m.-12:15 p.m. and 2:15-5:00 p.m. on July 4-6. It will provide a rich convention experience for elementary school students, with biblical storytelling and lessons, crafts, music, and various play and recreational activities. Older children will attend all or part of the morning worship service. Children will join their parents/caregivers for lunch.
Childcare
Childcare for infants and toddlers will be available onsite on July 3-6. All childcare volunteers will complete required anti-racism training and have required background checks.
Hotel and travel
Mennonite Church USA convention planners returned to Kansas City for this year's convention because it is convenient to many in the denomination.
"Kansas City is within a one-day drive for many of our constituents and is centrally located for those who choose to fly," explained Lisa Lehman, MennoCon23 project manager. "It also offers a wide variety of dining and entertainment options."
MC USA has contracted with two hotels that are in proximity to the Kansas City Convention Center – the Crowne Plaza Kansas City Downtown and the Kansas City Marriott Downtown. Individuals and groups who register for the convention will receive a hotel reservation link in their confirmation email that will provide access to the group rate of $130 per room per night.
Scholarships
Mutual aid scholarships are available for anyone interested in participating in convention. Applicants may request a scholarship to cover all or a portion of their registration fees (excludes travel and hotel). MC USA prioritizes funds for first-time attendees. Apply for a registration scholarship here by April 13.
MC USA encourages registrants who are interested in attending but need additional assistance to cover travel and hotel to contact their area conference to see if additional funds are available.
To help others experience MennoCon23, please consider contributing to the scholarship fund.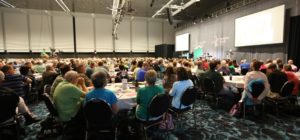 Delegate Assembly
The Delegate Assembly will meet immediately following the MennoCon23 convention. The MC USA delegate body gathers every two years to discuss and vote on resolutions pertaining to the denominational vision, mission, and documents. The delegate body is comprised of Executive Board members and representatives from congregations, conferences and constituency groups. For more information, visit the Delegate resource web page: mennoniteusa.org/delegate23
Youth & Young Adult Climate Summit
MC USA, in partnership with Mennonite Creation Care Network and the Anabaptist Climate Collaborative, will host a Youth and Young Adult Climate Summit on July 7. The one-day program for senior high school youth and young adults through age 25 will focus on the intersection of faith and climate justice. For more information, visit the web page here.
For the latest information about MennoCon23, visit the MennoCon23 website (convention.mennoniteusa.org) and subscribe (mennoniteusa.org/peacemail) to MC USA's weekly PeaceMail newsletter.
Mennonite Church USA is the largest Mennonite denomination in the United States with 16 conferences, approximately 540 congregations and 56,000 members. An Anabaptist Christian denomination, MC USA is part of Mennonite World Conference, a global faith family that includes churches in 59 countries. It has offices in Elkhart, Indiana and Newton, Kansas. mennoniteUSA.org
By MC USA staff
Updated on 5/1/2022.
Read the Spanish version here. 
Register here