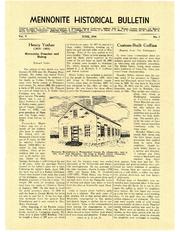 (Mennonite Church USA Archives) – The entire run of the Mennonite Historical Bulletin is now available online. Over the summer, the Mennonite Church USA Archives collaborated with Goshen College's Mennonite Historical Library and the Anabaptist Mennonite Biblical Seminary to digitize and publish every issue through the Internet Archive as part of the Digital Mennonite Periodicals project.
Digital Mennonite Periodicals is a collaborative effort with support from a wide range of Mennonite-related library, archive and historical organizations across the United States. These institutions provided initial funding for the project, along with significant grant support from the Schowalter Foundation.
The Mennonite Historical Bulletin was a publication of the Historical Committee of the (old) Mennonite Church from 1940 to 2001 and Mennonite Church USA from 2002 to 2012. The publication spans 73 volumes and almost 300 issues. Within each volume, researchers can conduct a full text search to locate topics and articles of interest.
The Bulletin includes articles, editorials, biographies, bibliographies, reports, book reviews, news items and copied documents from the archives. It is also a valuable resource for exploring the evolution of Mennonite thought and the practice of history during the twentieth century.
Full runs of the Gospel Herald, The Mennonite and predecessor publications are also available at: http://libraryguides.ambs.edu/digital_mennonite_periodicals

####