By Janie Beck Kreider
LEESBURG, Virginia (Mennonite Church USA) – For Chantelle Todman Moore, Mennonite Church USA's second Women Doing Theology (WDT) conference was a rare experience in a denominational setting where she "didn't feel tokenized" as an African-American woman.
"But even in this space of progress where things are moving, I know it gets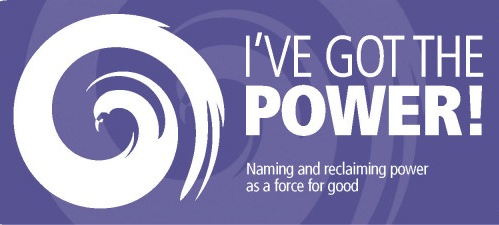 uncomfortable when Whiteness gets decentralized," she shared during her keynote presentation on the last morning of the conference. Todman Moore, co-founder of Unlock Ngenuity and former Philadelphia program coordinator for Mennonite Central Committee, said that the first WDT conference All You Need is Love set the groundwork for loving relationships. "And now we can talk about uncomfortable things like power," she said. "It gives me hope."
Mennonite women from across the country gathered at the National Conference Center in Leesburg, Virginia, Nov. 4-6 for I've Got the Power! Naming and Reclaiming our Power as a Force for Good to wrestle with power – who has it, understanding how it works and how to use it for the benefit of all.
Mennonite Church USA's Women in Leadership Project (WLP) coordinator Jenny Castro, together with the WLP steering committee – Moniqua Acosta, Erica Littlewolf, Linda Gehman Peachey, Sandra Perez and Regina Shands Stoltzfus – intentionally planned the event with diversity at the forefront. The planners recruited diverse worship leaders, music leaders and workshop presenters, and Castro wrote a grant that provided scholarship money for women of color to attend.
Breakout session topics included poetry, biblical storytelling, polity and power in Mennonite Church USA, Womanist theology, how social media empowers women's voices, barriers and access to solidarity and transforming patriarchy. Small group conversation partners were assigned by matching "sheroes" (female heroes), and participants were encouraged to design and create their own capes to wear.
Diverse worship
In opening worship, women called out their "sheroes" by name, inviting the power of ancestors and spiritual foremothers Dolores Williams, Teresa of Avila, Mary Magdalene and more into the space. Worship featured diverse gifts and expressions, with scripture readings in multiple languages and gospel songs, drumming, four-part harmony and Spanish praise songs interwoven. A multitude of God-language was incorporated – Mother God, Lord, Sophia, King Jesus, Christus Sophia, Pachamama, Father God and Womb of Life. Cynthia Lapp wrote new lyrics to the hymn "There is Power in the Blood" – "There is power, power, wonder-working power in the precious blood of the womb."
"The beauty in this gathering for me was standing back and watching women making space for one another, authentically offering their wisdom and their gifts, bringing their whole selves into our shared space, and even in difference affirming the Spirit of God at work in and among their sisters," Castro said. "It gave me hope for the church to see that this is indeed possible."
Throughout the conference, women were encouraged toward embodied participation and expression. Guided meditation, yoga, an artistic open mic and dancing were offered as extracurriculars. During worship, Annabeth Roeschley led centering breath work and embodied movement of releasing tension, sending and receiving the Spirit. Women were repeatedly called into their bodies, breathing with staccato breath, smooth breath and breath from the belly. Foreheads and hands were anointed. Women held hands and danced in worship; hugged while passing the peace; laughed, cried out, shed tears and groaned as they listened to one another's stories.
Talking power
During the first of three "kitchen table" plenary sessions, Wilma Bailey, Iris de Leόn-Hartshorn and Jennifer Davis Sensenig spoke on "naming the power we possess."
De Leόn-Hartshorn, director of transformative peacemaking for Mennonite Church USA, introduced the "The Power Cube," a framework for analyzing power in three different forms – visible, invisible and hidden – and three types of spaces – closed, invited and created.
"Invisible and hidden power and closed spaces are common factors in the misuse of power," she said. "When we're aware of power and how it works, it gives us more choices to respond with the power that we have, and ultimately this gives us power to make choices for the good."
Noting the potential dangers of power despite our best intentions, Davis Sensenig, pastor at Community Mennonite Church in Harrisonburg, Virginia, named power as "simultaneously good, fallen and being redeemed."
Bailey, a Mennonite professor at Christian Theological Seminary in Indianapolis and the second African American woman to get a PhD in Hebrew Bible Studies in the United States, retold the biblical story of Leah in Genesis as a journey of a woman who "grew in power."
What Leah wants for herself and for her future changes from the beginning of the narrative, Bailey explained. At first she simply wants her husband to notice her and love her, but that shifts as she begins to develop a sense of her own self and naming her own power.
"Power is the ability to make things happen," Bailey said. "Leah's story is remarkable in that throughout the course of the narrative, her husband Jacob is diminished while her own power increases." In the story, Leah names each of her six sons, the namesakes for half of the 12 tribes of Israel, based on events in her own life. "She had to come to a sense that she had the power to do that – to raise her status in her family and in her society."
Holding stories of pain and resilience
In the second and third plenary sessions, presenters shared how women claim power by speaking their truth and bearing witness to stories of trauma and pain.
"We are remem-bearers," said Sue Park-Hur, pastor and co-director of ReconciliAsian in Pasadena, California, as she shared a painful family story of trauma, resilience and forgiveness. Even if we're not the ones who actually experience the trauma, Park-Hur said, we serve as witnesses to the stories of our ancestors and as "remem-bearers" through which God's transformative power will continue to work.
"I'm not a victim, I'm a thriver," said Rachel Halder, founder of Our Stories Untold, a blog and network of support for abuse survivors in Mennonite contexts, as she shared from her experiences of sexual and institutionalized violence and her journey of healing. She encouraged each woman in the room to claim the power of embodiment – their right to take up space and be exactly who they are. "I am who I am, and that is okay. I am who I am, and that is all right," she encouraged the group to repeat.
Barbra Graber, editor of Our Stories Untold, spoke from decades of work supporting victims and survivors of sexual abuse, dispelling myths, encouraging women to speak their stories and imploring the church to stop questioning women's experience.
"High-functioning surviving is very different than functional thriving," she said. "Staying silent prolongs healing, and breaking silence accelerates it. There's power in breaking silence."
Graber encouraged women to focus on their own sexual healing. "This is where our power lies. And that's one of the best kept secrets in the world."
Sarah Matsui, a young adult attending First Mennonite Church of San Francisco, drew parallels between shaming and silencing experiences in her professional and church life where "people had positive and good intentions, but negative impacts under a grand banner of a beautiful thing they cared about." She told stories of ill-equipped and unsupported teachers in her Teach For America cohort who were shamed and told to "care more and try harder," women who were not accepted in church leadership roles, and being told to believe in a painful picture of heaven "that sounded like assimilation" where "race and language and culture don't matter any more."
These experiences led her to embrace her power to care for herself by learning to say "no" and having "deal-breakers" in unhealthy situations. Matsui ended up leaving her church and now attends First Mennonite in San Francisco.
Authenticity in diversity
On the final morning of the conference, plenary speakers Erica Littlewolf and Chantelle Todman Moore named the challenges women of color continue to face in Mennonite spaces.
Littlewolf, who works with Mennonite Central Committee's Indigenous Visioning Circle, acknowledged the dwindling numbers of Native American churches in Mennonite Church USA. She said she feels called to connect Mennonites with their history of oppressing Native people though residential schools and perpetuating the Doctrine of Discovery.
"We live in social structures where we are not the same. Where we don't matter the same. Where we aren't treated the same," she said. "For some reason we get in these environments with women and we tend to think we're all the same, and we're not."
She named her frustration of participating in Mennonite spaces where real differences are ignored. She called out the patriarchy that "still exists in this space where we are all women."
Todman Moore also encouraged the group to think deeply and move further.
"It costs people different things to be in this space," Todman Moore said. "And it's good that we're at the table now, but it's not good enough."
As she spoke on the theme of "Empowered to Empower," Todman Moore encouraged women who are learning to claim their power to become allies for others. "Who are you bringing with you?" she asked. "And who is coming behind you?"
Doing hard work
In her Sunday morning sermon, Elizabeth Soto Albrecht, former moderator for Mennonite Church USA, listed the highlights of what she observed throughout the conference. Two biblical women who continued to surface throughout the conference were Vashti and Esther. Soto Albrecht challenged her audience to hold both women together rather than pitting them against one another. "Both are important and used the power they had access to," she said. "They both live inside of us, and we don't have to choose."
"You don't have to choose between Mary and Martha," she continued. "And you don't have to choose between racism and sexism."
She challenged Mennonite women to create safe, holy spaces for one another by "refusing the script" we have been given and "choosing a new narrative."
"We've done hard work," said Regina Shands Stoltzfus, professor at Goshen College (Indiana), as she led the closing ritual of anointing. "Will you bear witness to what this room has held and walk out of this space into the holy possibility of the power we have named?"
###