Thrive recipients, Brooklyn Peace Center and Piedra Viva Mennonite Church, provide updates on progress despite the pandemic
Update on Brooklyn Peace Center
Update on Piedra Viva Mennonite Church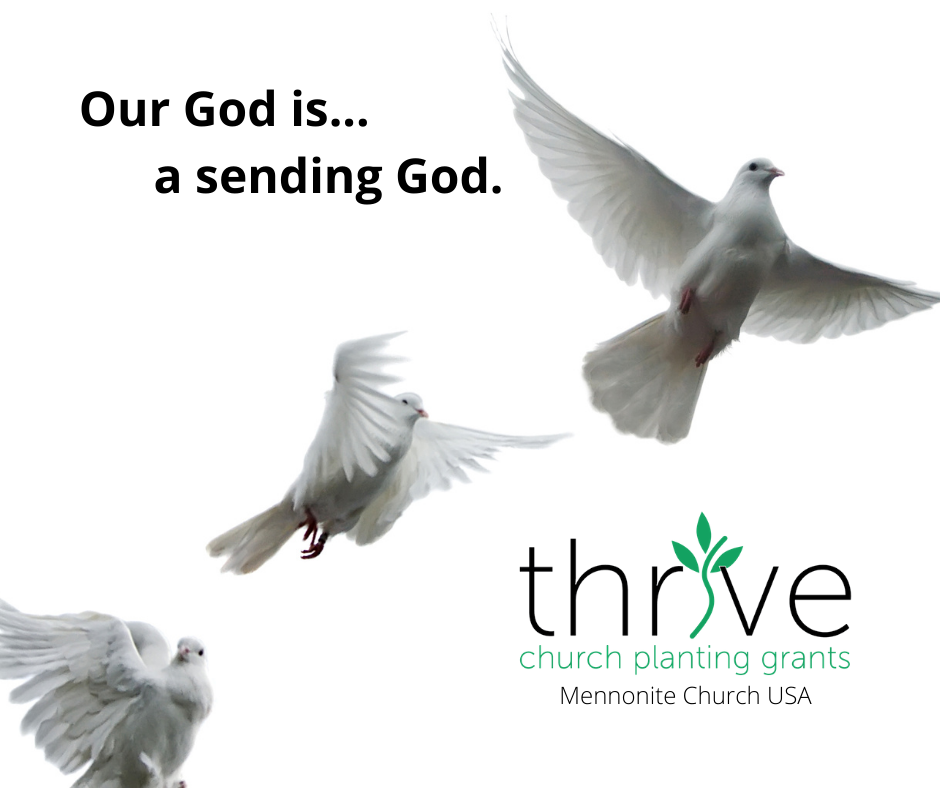 (Mennonite Church USA) – Mennonite Church USA (MC USA) is now accepting applications for its 2021 Thrive Church Planting Grant (Thrive), a $5000 renewable grant created to nurture and support the ministry needs of new, missional peace churches in the United States. The application deadline is August 1, 2021.
"Thrive is an outgrowth of MC USA's ongoing church planting initiatives," said Michael Danner, associate executive director for Church Vitality. "We're excited about the opportunity to partner with church plants that are engaging their neighbors with the good news of Jesus in fresh ways."
MC USA established Thrive in 2020 and awarded its first two grants to the Brooklyn (New York) Peace Center, a community organization that  promotes and embodies peace by equipping residents to be peacemakers, and Piedra Viva Mennonite Church, a Spanish-language church seeking to be the hands and feet of Jesus to the growing Hispanic community in Elkhart County, Indiana. (Read more about MC USA's 2020 recipients in the links and sidebars below.)
Jason Storbakken, pastor of Manhattan Mennonite Fellowship and church planter of the Brooklyn Peace Center, described the impact that the funding is having:
"The MC USA church planting fund helps us to actually do the work, and it gives us confidence to know that the denomination supports our important work in New York City."
Naun Cerrato, pastor of Piedra Viva, said the funding came at a critical time for their young church, as the congregation was struggling to cope with the challenges of the COVID-19 pandemic and local riots.
"Thanks to these funds, we were able to buy musical instruments, equipment and a subscription to Zoom so we could transmit our worship service online," he said. "We made the funds stretch and were even able to assist some single-parent families from the church."
Thrive supports new MC USA congregations in two ways:
Direct grants to new church plants that can be used for any ministry purpose as determined by the leadership of the church plant (i.e., programing, staff, facilities, etc.).
Grants for coaching through Mennonite Mission Network, the primary driver of church planting in MC USA. Mennonite Mission Network, an agency of MC USA, uses the Sent Network, a resourcing curriculum developed to recruit, equip and prepare church planters.
Church plants that continue to be viable and demonstrate effective use of funds are eligible for renewal for a total of three grants or $15,000 over three grant seasons.
"Our conferences are called to intentionally plant and resource new churches," said Danner. "Thrive amplifies and extends these efforts."
Church planters applying for Thrive must be credentialed by an MC USA conference. For a full list of grant eligibility requirements, read MC USA's Thrive: Church Planting Grant FAQ. Additional information is available on MC USA's Church Planting webpage, including various assessment tools, proposal guides and coaching resources, as well as guidelines for area conferences working with church planters.
Applicants for direct grants are encouraged to complete a grant application and email it to Danner at MichaelD@MennoniteUSA.org. Those who are qualified and interested in being a church planting coach should contact Sandy Miller, Mennonite Mission Network senior executive of resourcing and mobilization, at SandyM@MMNWorld.net. MC USA grant decisions will be made in consultation with the Mennonite Mission Network Sent Network team.
To support to MC USA's Church Planting efforts, donate here.
Mennonite Church USA is the largest Mennonite denomination in the United States with 16 conferences, approximately 530 congregations and 62,000 members. An Anabaptist Christian denomination, MC USA is part of Mennonite World Conference, a global faith family that includes churches in 58 countries. It has offices in Elkhart, Indiana and Newton, Kansas.  mennoniteUSA.org
Update on Brooklyn Peace Center, 2020 Thrive Church Planting Fund recipient
An interview with Jason Storbakken, pastor of Manhattan Mennonite Fellowship and church planter of the Brooklyn Peace Center, New York.
MC USA: What's new at the Brooklyn Peace Center?
Storbakken: We've been focusing on renovating the building, with help from volunteers from Manhattan Mennonite Fellowship and Believers Garifuna Mennonite Ministries – the latter of which hosts its church services at the Peace Center. We removed the pews to create an open-design, multipurpose space and hope to repurpose some of the pews and wood. Our building was initially built by progressive Jewish immigrants from Germany in the late 1800s, and, while the building is structurally sound, it needs work!
MC USA: How have the events of 2020 impacted the Brooklyn Peace Center?
Storbakken: The pandemic slowed down the development of the Brooklyn Peace Center, but we were still able to do important foundational work. We formed a board, consisting of folks from the Atlantic Coast Conference of Mennonite Church USA (MC USA); Everence and Mennonite Mission Network, agencies of MC USA; Mennonite Central Committee, and local Brooklyn residents.
Currently, we are working to file articles of incorporation. We also are working with a pro-bono architectural team to make our building accessible to people with disabilities. The aim is to make the Peace Center a welcoming, inclusive space.
In response to civil unrest, we hosted a series of meetings (in compliance with COVID-19 safety guidelines) before and after the election to meditate for peace – for ourselves, the city and the country. The Peace Center partnered with New York Mennonite Immigration Program, which has an office at the Peace Center, to provide the meditations in English and Spanish. We look forward to continued partnerships and projects once the pandemic subsides.
MC USA: What are your hopes/plans for the Peace Center in 2021?
Storbakken: We hope to launch some programming later in the 2021 and to continue renovating the space, making it accessible and welcoming to all people (i.e., complying with the Americans with Disabilities Act, installing lifts and adding all-gender restrooms, etc.)
Update on Piedra Viva, 2020 Thrive Church Planting Grant recipient
An interview with Naun Cerrato, pastor of Piedra Viva Mennonite Church in Goshen, Indiana.
MC USA: What's new at Piedra Viva Mennonite Church?
Cerrato: We are energetically keeping the vision and mission alive – and I plan to stay with this church until it is 100% independent.  During the pandemic, I was able to see how the leaders responded to the challenges of the pandemic. We have new faces, new leaders and two new initiatives:
We started an English as Second Language class.
We also are developing a peaceful place where immigrants can receive help and education related to immigration laws.
We have a director who runs these programs, which we believe are sustainable.
MC USA: How have the events of 2020 impacted Piedra Viva Mennonite Church?
Cerrato: Undoubtedly, the pandemic slowed down our physical activity as a young church. The pandemic took us out of the temple and moved us to social networks where the pulpit became an online social platform. But thank God for Zoom, WhatsApp and other social platforms that have kept us connected as a community of faith. We had to learn how to do new things and to use technology creatively so that this young church would not disappear but remained active and strong amid the storm. Civil unrest is normal for many Latin Americans, many of us who come from a Latin American background. Protests and riots in the streets are common in our Latino context. It is our daily life. For us, it was another riot. The only difference this time was that it was on American soil. I wonder if this will be a new normal.
MC USA: What are your hopes/plans for Piedra Viva Mennonite Church in 2021?
Cerrato: Our strength and hope are the same: We are a church where we are shaped by Jesus in our daily walk, where we echo peace ideas, where our steps and actions reflect the teachings of Jesus Christ, and where we use peace and Anabaptist approaches to share the gospel. The plans are the same – to build and create a group of leaders that can give continuity to the church. At this moment, I am praying and asking God for direction and to give us a woman as a pastor to inspire many sisters in our congregation. It is my hope and plan that Piedra Viva is a place where women take ownership and leadership positions.
For More Information
Church Planting
Piedra Viva Mennonite Church
Brooklyn Peace Church