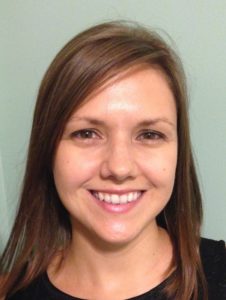 At the Mennonite Church USA convention in Orlando in July, planners tried something new. Something they called MennoTalks. Not quite TED and not exactly Pecha Kucha, MennoTalks explored a different topic each day, featuring speakers from diverse perspectives. Topics included Celebrating Women (Wednesday); Race, Religion and Justice (Thursday); and Local and Global Peacemaking (Friday). Over the next several weeks, we'll be featuring a series of posts based on the MennoTalk presentations in Orlando.
Megan Leaman Heinly is from Lancaster, Pennsylvania, and is a member of East Chestnut Street Mennonite Church. Megan is a Licensed Master of Social Work (LMSW) and has worked in the areas of foster care and adoption, refugee and immigrant services, family homelessness services and anti-poverty initiatives. Currently, Megan and her husband, Jon Heinly are living in Cochabamba, Bolivia where they are serving for a year in capacity-building roles with Centro Una Brisa De Esparanza (A Breeze of Hope), an organization that is working to stop sexual violence against children in Bolivia. Megan's MennoTalk was categorized under the topic Race, Religion and Justice.
In light of the current tensions in our country, including an increased sense of nationalism and a fear of immigrants and refugees, I believe faith communities have an essential role in being vocal and active agents of hospitality to welcome our refugee and immigrant neighbors.
This is at the heart of the biblical call to welcome the stranger and care for those who are marginalized. While there are many examples of this call, a great one comes from Leviticus 19:33-34. "When a stranger resides with you in your land, you shall not wrong the stranger. The stranger who resides with you shall be to you as one of your citizens; you shall love that person as yourself, for you were strangers in the land of Egypt."
There are many ways to build community in our neighborhoods with people of different languages, faiths and countries of origin. I am going to share about work I did in Lancaster City, Pennsylvania, with a community garden, and how this may be a tangible way for you and your church to build relationship with your international neighbors.
In 2011, I was a master of Social Work student and, as part of a group project, I had to identify a need in my local community and implement a project to meet that need. I was also interning at Church World Service, a refugee resettlement agency in Lancaster City, and I wanted to find a way to help newly arrived refugee families connect to their non-refugee neighbors in a practical way that could build community to bridge the divide between cultures, languages, religions and places of origin.
So, why a community garden?
Lancaster City is a pretty welcoming place and volunteers were already doing a lot to welcome refugees. What we didn't see though, were opportunities for neighbors in a specific geographic community to connect with one another and build friendships in their neighborhood. We also wanted to address the need for food, because we learned from families that making food stamps last an entire month was challenging.
As many of you know from growing up doing youth group work projects, people build relationships when they connect through the shared experience of work. Even if you don't speak the same language, you can hoe dirt, plant seedlings and pull weeds side-by-side. There is a basic and invaluable human connection that is made through this sort of shared experience. There were some people in our community garden that I couldn't communicate with in English. But we still felt a connection because of our shared smiles, the hours in the garden working together, and the food we shared in celebration of harvest.
There are a few aspects to consider in a project like this. The first is partnerships. A community garden requires a lot of buy-in and financial support. We worked with a diverse set of partners to make this garden a reality. Partners included neighbors, congregations, non-profits and businesses, all of whom supported the project in essential ways, like donating land, time, money and supplies.
The second aspect is recruitment. Church World Service helped us find recently arrived refugee families that lived near the garden plot and, through translators, we met with them and invited participation. Through a neighborhood leader, we also invited the participation of non-refugee neighbors and members of the church from across the street.
The third is aspect is implementation. Our community garden started as an empty grassy plot in the middle of Lancaster City. Therefore, part of starting the garden project included literally building the garden! It was important to make sure everyone felt included in this initial work day, so we invited people who could provide translation to families that did not speak English. Building the garden together helped members have a sense of ownership in the garden.
During our first year, we decided to start with fully communal plots to use the space most efficiently. We also believed this would fit best into the collectivist culture of many of the refugees. The group agreed on a variety of seeds and seedlings, including some that families had brought to the U.S. with them from other countries.
We scheduled monthly workdays for everyone to come together to maintain the garden. We also assigned pairs of families and individuals to different days of the week to take care of watering the garden so people got to know each other in small groups. Aside from the nasty mosquito population, my spouse, Jon and I always looked forward to meeting our friends, Deepak and Sita, a young Bhutanese-Nepali Mennonite couple, at the garden to water plants and talk.
A harvest potluck was planned at the end of every summer. This was a highlight because we all came together after a summer of working in the garden and enjoyed the fruits of our labor — literally and figuratively. People shared traditional dishes from their families and demonstrated many ways to use the same produce.
Through my Mennonite theology, I see sharing food together in community as a spiritual experience and found a lot of meaning in these meals.
As with any project, we learned ways to improve through our challenges. During the first year, we noticed that ripe produce was often rotting in the shared plots, and we learned that some people were hesitant to harvest from communal plots because they were concerned that someone else needed that produce more. We also had challenges with people wanting to use different parts of the same plant, which was sometimes in conflict, like when the pumpkins didn't grow because of too many leaves being harvested for stew.
We found that individually assigned plots with a few shared areas for herbs, blueberries and tomatoes was the best model for our group. We still created community through shared work and the potluck, but this change increased the level of engagement and the use of produce by participants. Learning and adjusting in these ways was an important part of showing cultural sensitivity and hospitality.
Sustainability was also a challenge. As the original garden participants moved away and new neighbors moved in, the garden decreased in refugee participation. The long-term success of a mission-focused neighborhood refugee garden requires intentionality and dedicated work by garden leaders along with a local refugee resettlement agency to stay committed to on-going communication and recruitment of new families. This should also include leaders from the refugee communities. A great example of a larger farming model is at Habecker Mennonite Church in Lancaster, Pennsylvania, which has developed an incredible relationship with local refugees from the Karen people of Burma.
Despite these challenges, I consider our garden to be a success because we succeeded in forming great relationships with the other garden participants, such as the friendship with our watering partners, Deepak and Sita, and we were able to increase the awareness of refugees among people who previously did not know a lot about these new neighbors.
Through working together and sharing food together, we were able to create a way of welcoming our new neighbors across language, cultural and religious differences.
In a time when fear, suspicion and ignorance are causing many Christians in the U.S. to turn away, I encourage you to think seriously about how you and your church can build practical connections with refugees and immigrants. Perhaps something like a community garden may be a way for you to be peacebuilders in your neighborhood.