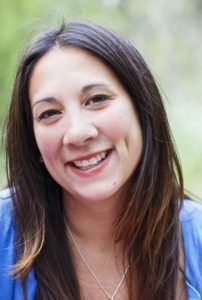 Jenny Castro is communications associate and coordinator for the Women in Leadership Project for Mennonite Church USA.
The first worship service I experienced at San Antonio Mennonite Church felt like a breath of fresh air. My husband Jake and I (together with our young son, Joaquin) decided to visit SAMC upon our return to our hometown after spending three years working in El Salvador with Mennonite Central Committee. Our experience working for MCC and getting to know a few Mennonites personally gave us hope that maybe our beliefs weren't SO crazy after all. For several years before our stint in Central America, we'd visited several churches – most non-denominational, some evangelical – and often felt like fish-out-of-water. We desired a faith community that valued justice, that named and resisted oppression, and that loved and valued all God's creation – including God's people – without agenda. We wanted a church that visibly demonstrated God's love in practical ways. And we just weren't finding it. I was beginning to think we were the weirdoes.
When we visited SAMC that first time, they were in the middle of a worship series based on the book Earth Trek by Joanne Moyer. After a time of singing and a short reflection, congregants moved to a variety of stations where they wrote letters to congressional representatives, baked cookies in a solar oven, drew, painted and more. I remember thinking, "We're home."
And we were home in a lot of ways, especially theologically. We resonated with the sermons on Sunday. We valued the thought-provoking conversations and the challenge of the community. We were inspired by members of the congregation who, compelled by faith, lived their vocation throughout San Antonio. Our congregation at any given moments has contained teachers, doctors, nurses, those who work in non-profits, in community education, in immigration, in environment care, and in youth development. And in their free time, members organize home school co-ops, community gardens, musical groups, intentional living communities, running groups, and participate in city-wide advocacy. San Antonio Mennonite is certainly filled with an inspiring group of folks with whom we quickly invested and chose to work out our faith. I gave thanks to God for a community like this. These brothers and sisters soon became our spiritual family.

But in the midst of these incredible joys, we began to encounter feelings of otherness. We began to get the sense that this community we love maybe didn't see us. San Antonio Mennonite, although located in a city with a majority Hispanic population, doesn't necessarily reflect its surroundings. In fact, a great number of our members are Mennonites with roots in Ohio, Iowa, Pennsylvania, Indiana and Kansas and whose lineage can be traced back to Switzerland and Russia. My family, on the other hand, does not have that kind of roots or connections. I grew up in San Antonio. My roots are here in the culture, customs and life of this city. My lineage can be traced to Mexico (on my Dad's side). And worshipping together with these white Mennonites felt increasingly like work and more and more one-sided. We got the feeling that in order to worship here, we needed to leave our cultural identity at the door and assimilate. We needed to worship the way "Mennonites do."
"But, we are Mennonites," I often thought during this time. We had officially joined the church about a year after we'd first visited. This was an act of committing ourselves to the community, living out our faith alongside these people. "This is my church too," I'd say to myself. We weren't sure what to do or how to move forward feeling the tensions we felt. We discussed leaving the church, but that didn't feel right. So, we started by talking. We shared our concerns with our friends, with our pastor, with other members of the congregation. And we soon discovered that were weren't alone: there were others in our congregation who felt the same way.
Together with members of leadership, we started a racial justice conversation group that was open to anyone who desired to participate. We gathered mostly to talk about race and cultural inclusivity. We shared and learned from one another. At first, we met without a clearly defined agenda – mostly to get to know one another more fully and share stories. Through those growing relationships we challenged each other with different perspectives. And, little-by-little, we were able to name some practical things our congregation could do within the context of worship to move toward a greater inclusivity and welcome.
These are the things we started with: singing songs in other languages, especially in Spanish (we have many members who are bilingual in our congregation – some of whom grew up worshipping in a language other than English); singing songs outside the blue Mennonite Church USA Hymnal (we created a song book with songs that people have learned from other sources and found meaningful); praying and reading scripture in other languages (sometimes without translation – gasp!); being aware of inclusivity in who we quote and reference from the pulpit (they shouldn't be all white men).
I recognize this is just a start. And for some, these might seem like largely symbolic changes (they probably are). But sometimes practicing inclusivity and challenging ourselves to feel the discomfort of the less familiar creates an openness in our hearts. Sometimes going through the motions of singing unfamiliar songs creates for us an appreciation for the diversity among us. And for me personally, these small things make me feel seen and cared for – like my experience and what I bring are valuable.
At SAMC, we continued to have conversations as a racial justice group over the course of a little more than year. We created a worship series focusing on racial justice and a group of us attended a Damascus Road anti-racism training together. I am well aware that the issues related to race and cultural inclusivity in our congregation are not solved. I think we continue to wrestle together with how we live into what we believe God's vision is for us as a welcoming and inclusive congregation. But I am thankful for the openness of our leadership to engage in this hard conversation with us and to continue the process of living out our faith together in all our beauty and diversity.