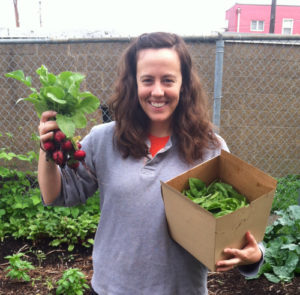 Cara Rufenacht is a website designer and photographer living in Pittsburgh, Pennsylvania. She started her own business in 2013 after working for several years in non-profit communications. Cara grew up in Archbold, Ohio and graduated from Bluffton University. She is married to Joseph Delphia, a teacher and ceramic artist. Cara and Joe attend Pittsburgh Mennonite Church. 
During a visioning exercise at the Pittsburgh Mennonite Church fall retreat I sat with fellow members and discussed our hopes for our church. We sought to answer in three words or less, "What is PMC's purpose, and how will we make it happen?"
Answers were supposed to start with a verb; mine was "garden together."
My table's leader read our answers aloud to the other small groups scattered around the lodge. When she read, "garden together" I heard a subtle "ooo" of confirmation from a few other members around me. By the end of the retreat, the Grow Group was one of four task force groups created as a way for our church to try new things.
Since then, the Grow Group has been a real and working reminder to me that Christ's body has many parts:
Tina knows edible landscaping.
Shari connects us with community partners.
Jackie leads and knows about seeds.
Bernie offers his truck.
Billie weeds for fun.
Others have absolutely no interest in touching dirt but want to sponsor a blueberry bush.
All of these people are important and have something to contribute.
In our first season, the Grow Group replaced much of the church's traditional landscaping with edible landscaping. You can now pick a blueberry, strawberry or cherry tomato on your way into church from the parking lot.
We also planted raised beds with peppers, kale, tomatoes, radishes, turnips, beans and collards along with other colorful vegetables. We made several large contributions to a food pantry run by a neighboring church, and we have since learned that everyone loves collards, and nobody knows what to do with kale besides put it in a smoothie.
We partnered with a local organization called POWER, who helps women reclaim their lives from drug and alcohol addition. Their campus is a few blocks from our church, and every Friday morning throughout the summer women from POWER came and worked in the garden. They weeded, planted and harvested. They became friends and took fresh vegetables back to share with the other women in their program.
The Grow Group started as a few gardening enthusiasts with a lot of ideas. Our church members nurtured us and helped us flourish, providing trucks, plants and compost when needed. But the POWER women were the most encouraging and transformative part of the group. They expanded our church body outside of its walls and into the community.
These women showed up at 7:45a.m. every Friday to weed – for fun! They wanted to contribute what they had. They brought willing hands, a positive outlook, and an excitement for spinach that was contagious.
The POWER women became part of our body. They showed me that both our church and our garden have many different parts but we all "garden together."