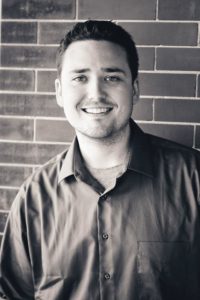 Joshua Paul Smith recently graduated with an M.A. in Theological Studies from Central Seminary in Shawnee, Kansas. He and his spouse Alyssa attend Rainbow Mennonite Church in Kansas City, Kansas, and enjoys baking bread, gardening, discussing theology, writing book reviews, and teaching the occasional New Testament bible study. Joshua blogs at joshuapaulsmith.wordpress.com.
Good Friday is my favorite Christian holy day. When I was a child growing up in a little liturgical United Methodist church in rural southeast Missouri, the United Methodist Women's group hosted an annual Good Friday breakfast for the whole community. They brought in boxes of hot cross buns from a local bakery, brewed lots of bad coffee, and mixed up big heated urns of something called "Russian Tea," which was really just Lipton and orange-flavored Tang. The quality of the meal notwithstanding, it was the quality of the fellowship and the liturgy that captured my emotional imagination. I was an awkward kid, didn't fit in very well with most of my peers, and in a town of 300 people the church served as my one connection to a community of believers who seemed to care as much about me as I cared about them.
Today marks the eighth year I have been observing Good Friday with friends (I say "observing" because it has always felt weird to say "celebrating"). Each year I get up at 3:30 a.m. to mix the dough for homemade hot cross buns. Alyssa and I brew several airpots of coffee, and then compose a short litany that we recite together with our friends once everyone arrives for breakfast. And then we are just present with one another. No expectations. No time limits or formal structure. People are free to stay as long as they please. Like the disciples hiding out together after Jesus' execution, we realize that we have nothing left but one another. There is little to do after a failed revolution except derive what comfort we can from the presence of those who mean the most to us.
What began eight years ago as an attempt by a homesick college student to reconnect with the traditions of his childhood has now become a vital tradition of my adulthood. It has carried me through my life in community at the Baptist Student Center of my undergraduate university, woven its way throughout my marriage to my best friend, and traveled with us when we moved to the Kansas City area in 2011. It has survived my connections to four different churches across three different denominations as well as long periods in which I experienced such profound doubts about God's existence that I did not go to church at all. And when I became a part of a Mennonite congregation two years ago, I brought it along for the ride.
For years, Good Friday has also served for me as a powerful statement of political possibility. The long, spectral shadow of the cross has followed the community of Christ throughout history as a witness to the true calling of those who would be disciples of Jesus. It is nearly impossible to look on the crucified Messiah without reflecting on those similarly crushed by the institutions of Church and State, particularly those suffering under the inhumane violence imposed by governmental oppression. As the theologian Jürgen Moltmann writes in his phenomenal work The Crucified God, "The symbol of the cross in the church points to the God who was crucified not between two candles on an altar, but between two thieves in the place of the skull, where the outcasts belong, outside the gates of the city. It does not invite thought but a change of mind. It is a symbol which therefore leads out of the church and out of religious longing into the fellowship of the oppressed and abandoned."
And yet beyond the inhumanity of crucifixion is the life-altering presence of resurrection in community. In Luke's gospel – my personal favorite – following the death of Jesus, two disciples of his failed movement are met by the resurrected Lord along the road. He proceeds to ask them questions about the recent events in Jerusalem, to talk with them along the way, and yet the disciples do not seem to recognize him – and why should they? By all accounts Jesus's corpse should be rotting away in a tomb by now. As the evening sun begins to set, they invite the stranger to dinner, and as this stranger eats with them their eyes are suddenly opened to his true identity. It is in the act of sharing a meal that the presence of Christ is fully made known. This idea is perhaps nowhere more succinctly echoed than in the words of Dorothy Day, the founder of the Catholic Worker Movement. Outside a local Catholic Worker House in Kansas City there is a huge mural proclaiming: "We know God in the breaking of the bread, and we know each other in the breaking of the bread, and we are not alone anymore."