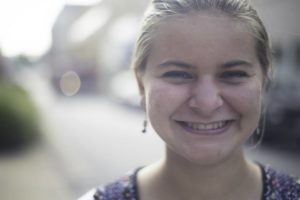 Mariah Martin is currently a junior at Eastern Mennonite University where she studies nursing and plays field hockey. Though her home base is Greencastle, Pennsylvania, she spent the last semester traveling through Jordan, Palestine, Israel, Turkey, Greece and Italy through Eastern Mennonite University's cross cultural program. She enjoys long talks, writing, rock climbing and anything outdoors. In the future, she hopes to pursue a career as a nurse midwife and eventually work overseas.
In the past semester I did enough to fill a typical bucket list. I rode a camel through the Negev desert. I planted olive trees on a farm in Palestine. I hiked the Jesus Trail. I saw Petra, the Roman Colosseum, and the Leaning Tower of Pisa. I got my ear pierced in Istanbul, and I ate a gyro in Athens.
Eastern Mennonite University's cross-cultural learning program is wonderfully life-altering, and all of these things are amazing. I scarcely know how process them, even after having been home for a month. But the incredible sights are not what I wrestle to hold as I sit at the kitchen table surfing my newsfeed or in church hearing prayer requests.
I wrestle with empathy.
Empathy is good, right?
But after my cross-cultural trip, everything is amplified. Articles posted on Facebook about women suffering at the hands of the Islamic State, prayer requests in church for relatives and friends in car accidents and chemotherapy, the tears of Israelis and Palestinians as they clash again and again in the town of Hebron.
There is so much pain. Everywhere.
I can't turn it down.
All I can do is feel it.
I can't fly in and talk to Islamic State fighters, point out how these women are humans and deserve dignity and respect. I can't show them that each act of cruelty tears at their own soul. I can re-humanize neither the terrorizers nor the terrorized.
I can't reach out and stop the child before he falls into the still-hot coals. I can't heal his burns. I can't find the tumor that has taken over a woman's inside, stifling her life. I can't make chemotherapy work, I can't heal the scars of surgery that leave her missing parts of herself.
I can't cut open the doors of a house that have been welded shut, cutting a family off from everything they've ever known. I can't hold the hand of every child as they walk to school, shielding them from tear gas and full-body searches by soldiers.
I can't erase the PTSD of an entire nation.
No, I'm just a college kid, wrestling my way through a nursing degree, a few gas tanks from flat broke. I don't know how to help.
So how do I hold this empathy, this pain that courses through me when I hear another's story?
How do I not sidestep pain while also not becoming paralyzed by it?
I don't know.
So I talk.
I tell the stories that were told to me with pleading eyes and tear-stained hearts. I describe the crushing beauty of a 26-foot concrete wall covered in graffiti that begs for humanity. I write poems about a town emptied in a population exchange because those families didn't call God by the right name.
I listen.
To the fears of a woman who feels she lives a double life: in one going to work and cooking in a whimsical fashion that never quite follows the recipe, and in the other spending her day being passed from one office to another, being put through an alphabet soup of medical tests trying find out why her body is fighting itself.
To the friend who let her protective gaze falter for just a moment and wasn't watching when her nephew toddled too close to the fire.
I cry.
For every crushed dream, every lost piece of soul, every shaken life, every beautiful thing shattered by nameless, purposeless, inexplicable brokenness.
And I wait.
For the light, because the darkness can only last so long. For change, because I know so many exquisite souls bent on doing good. For opportunity, because some day I will have the knowledge and the resources to do more than cry. For heaven on earth, because our Savior lived in times much worse than this and still brought us a greater hope than we could ever imagine.
Everything is amplified, but that doesn't mean it can't be turned into music.