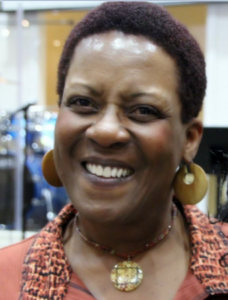 Ann Jacobs is a Church Relations associate with Mennonite Mission Network and one of three leaders of Work in Progress choir. In her role, she furthers relationships with African American Mennonite congregations. She helps congregations become more informed of resources, services, and agency partnerships in support of the congregation's vision for mission. This is the second of a three-part series in conjunction with Mennonite Mission Network, Nothn2Hard4God.
Kingdom has Come
We are to represent the Kingdom of God in this life. We're in the world but not of it … we are aliens, representing the Gospel to a dying world.
The truth and kingdom of God is established in us. Sinners are drawn by the truth that lives within us. This world was given to creation by God. The kingdom of God has come in our hearts.
God's kingdom on earth is established in the hearts of the believer – love, joy and peace in the Holy Spirit.
God's amazing grace establishes strength and power in us to draw sinners out of the world. God's grace gives us undeserving mercy, grace and peace to reflect His Kingdom on this earth (Colossians 2:8).
Who are the Mennonites? What draws people's attention to us?
I am not officially a Mennonite, but I represent the denomination by representing the Kingdom of God in my work as church relations associate and worship leader for Mennonite Mission Network's Work In Progress Ensemble. What I find attractive is the welcoming spirit offered by the Mennonites. And like life itself, it's a piece of work after that point. But I keep believing God in our efforts together.
Over the years, my ministry leadership assignments have been in connection with Baptist, Apostolic, Pentecostal and now Mennonites – so I call myself a Mennoanabaptacostal.
That works for me. As a matter of fact, I've included this word into my dictionary, and it defines my experiences. It's my story and I can tell it anyway I need too.
I am remembering brother Ivory who I met. He was one of the ushers at KC2015, the Mennonite Church USA convention. He worked diligently around the escalator for those entering the upward side from the main floor level near the coffee house. He asked me about this large group of Mennonites. He first noticed the few sprinkles of people of color and especially when he saw me singing with Work In Progress Ensemble at the coffee house. He asked how the people of color became a part of this body of white people. And he ask what attracted me. I told him it's a church and I have a right to be a part of a church body. We work together; the work brings us to ongoing progress. We celebrate the life of Christ in us. Then I asked him if he knew Christ and he replied no. I asked him if God would call his name where would he go — to heaven or hell? He said he was a good person, I said I don't doubt that but it won't get you to heaven. As he was talking to me, he continued to pay attention to folks who were passing along and was attentive to his work. But he kept turning back as if he was listening with his heart.
What happens when we begin looking away from our own lives and offer witness about the life of Jesus Christ in us – moving away from debating to witnessing?
These are times we can see God in what we proclaim. It is about learning to trust and to know what is being trusted in our lives. I shared with him about God's love for him and he could never be separated from the Love of God. He began to light up. In talking with this brother I asked him if he would be interested in praying the prayer of confession with me, and he did. He was "won" with the truth, not with condemnation. The Spirit reveals the truth. The work of Christ holds the truth of life. The truth sets us free not the condemnation.
The kindness and truth leads sinners into repentance (Romans 2:4), brother Ivory gave his life to Christ in the midst of our conduct at the 2015 Kansas City convention.
We should hope that people will continue to ask, "Who are the Mennonites?" with hopes that people see us as something they want to be a part of.
Our presentation to the world as followers of Christ and the Spirit in which we conduct ourselves makes a difference in the world. The denominational piece sometimes becomes very complex and maybe the Mennoanabaptacostal is what brother Ivory witnessed. When the world see us as representing the Body of Christ there is "Nothn2Hard4God" (Genesis 18:14) While we are representing the Gospel.
REPRESENT with the life of Christ and for the purpose of building God's Kingdom!