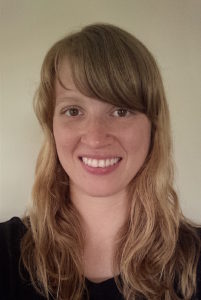 Kelly Shenk Koontz lives in Boston, Massachusetts with her husband Peter, where she is a second year MBA student at Boston University in the Public & Nonprofit Management program. Before attending BU, Kelly worked with Mennonite Central Committee in Kabul, Afghanistan doing peacebuilding work. She currently attends the Mennonite Congregation of Boston.
I look out the small airplane window. The sun is shining bright over the dusty mountains. In the distance I can just make out the buildings, cars and houses that form the outskirts of Kabul, Afghanistan. Everything is covered in dust. As I see the city that will become my home for the next three years, a knot forms in my stomach. Have I made a huge mistake? Around me, women begin putting on their headscarves, preparing to exit the plane. I reach into my bag, pull on my scarf, and take a deep breath.
The flight landed and I entered a new world as I began my three-year assignment with Mennonite Central Committee (MCC). If you would have told me a year earlier that I would be moving to Afghanistan for three years, I wouldn't have believed you.
I grew up in the small Mennonite community of Goshen, Indiana, where I never saw myself as a risk-taker.
I attended college only a few blocks from the house where I grew up. Yet, my close-knit community challenged me to step outside of my comfort zone. While attending Goshen College I had my first significant international experience when I studied for a semester in the Dominican Republic. After college, I felt the need to explore a new place, and I accepted a position with Mennonite Voluntary Service in New York City, where I was welcomed into a supportive community. However, the biggest adventure was still ahead of me.
After my husband and I got married, we decided to look into working internationally with MCC. There were positions open in Afghanistan, but we were hesitant. Was it safe? What would our families think? Is this where God is calling us to go? The decision was difficult and yet a clear choice emerged. We had been taught all of our lives to care for the poor, advocate for social justice, and love our enemies. Moving to Afghanistan was one small way to put these principles in action.
Looking back, it's clear that that God was moving in our lives and in the people around us, nudging us to go to Afghanistan.
Being a woman in Afghanistan wasn't easy. There were new wardrobe requirements for me – I wore long tops with long sleeves and pants all year-round, as well as a headscarf, or chador, whenever I was out in public. I got used to new gender norms – I didn't shake men's hands and wasn't allowed to ride a bike. Adopting some of the new norms was difficult for me at first. Initially, I was uncomfortable with the idea of wearing a headscarf, but over time it became natural. I got used to it, in the same way I got used to hearing the call to prayer five times a day and bargaining for carrots in the bazar. I became an expert at winding it around my head before leaving the house, and I built up quite a collection of colorful scarves on the hooks by our door. While I personally do not agree with the beliefs underlying the practice, wearing a headscarf helped me establish a foundation of cultural respect in my relationships, particularly with Afghan women.
The majority of my work in Afghanistan involved developing and implementing a peacebuilding program with an MCC partner.
In this role I was stretched in new ways and developed new interests. Although previously I had considered working in academia, while in Afghanistan I realized that I wanted to develop concrete skills that I could use to work for social justice.
I was impressed by projects that were able to improve individual's lives in small but significant ways. For example, one project trains women in basic math, literacy and business development skills. The businesses they establish might not always generate significant revenue, but they do provide women with a significant sense of independence. Learning about programs like these in Afghanistan led me to pursue graduate study in a field that was entirely new for me.
As an undergraduate history major I never would have considered studying business, but last year, my husband and I moved to Boston, Massachusetts, where I started a Master of Business Administration program. I have been challenged in new ways – taking finance and accounting courses and conducting consulting projects with organizations.
Although at times I feel like an outsider in the business world, I am convinced that it is important for people who are working for social justice issues to understand how the business world works.
I am excited about organizations that operate at the intersection of the business and social sectors, working for social justice issues and also pushing for a sustainable social impact. I hope to use my skills to support this work, whether working in fair trade, social entrepreneurship or with a church-affiliated service organization.
As I reflect on my life experiences and the path that has led me to where I am today, I recognize the way that God has moved in unexpected ways in my life. I am incredibly thankful for the varied, challenging experiences I've had, and I trust and hope that there are more surprises to come.