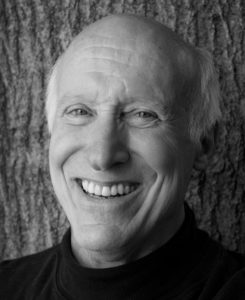 Roger Martin conceived and edited Explore, a University of Kansas research magazine that won 12 national awards in 14 years.  In 1990 a panel of Newsweek jurors named it one of the nation's 10 best college/university magazines.  After that, he wrote commentaries about KU research that were broadcast on Kansas Public Radio, an NPR carrier, and published in several Kansas newspapers.  Woodley Press recently contacted Martin about publishing his manuscript "A Doubter's Guide to God."
My wife and I get together with a group to yack every couple of months. Since the early 2000s, we have discussed more than 70 topics, from chutzpah to death, from shopping for clothes to clichés.
In August, we discussed prejudices and stereotypes.
My wife's feelings got hurt.
We started off by naming those groups we had stereotypes about. Someone mentioned Texans. Someone else seconded that. Hasidic Jews were named and somebody squawked, "Jews for Jesus – what's up with that?" I mentioned obesity.
Then as my wife Barbara, a cradle Mennonite, had dreaded,
Christians were mentioned.
The first person to speak, a retired professor of nursing, lambasted some born-again fundamentalists who had, she said, recruited her sister. An otherwise kind-hearted therapist joined her in the condemnation. Next came a shock: A longtime friend (a novelist and creative writing professor) said, "I think all religion is bad." Smiling a bit too broadly, speaking a tad too energetically, he seemed to me a little soused.
I came to religion's defense, beginning with a story. One day on the campus where I worked, I saw a woman I knew. I told her I was struggling. The only thing that seemed to help was prayer and that's why I was headed for the chapel across the street.
She said, "Do you go to places like that often?"
I said no.
She invited me to come to Peace Mennonite Church and try it out. Single at the time, I was attracted to her, so I showed up the following Sunday.
I shared a hymnal with a different woman who, during a time for sharing responses after the sermon (about victim-offender reconciliation), said, "I'm having trouble with the topic this morning. On my way here, I drove past my new boyfriend's old girlfriend's apartment. His car was parked outside." I was stunned. After the service, I praised her bravery and her openness.
She said,
"Peace Mennonite is the kind of place where you can be real."
Seven years later, we were married.
And 18 years after that day, I'm still at Peace.
That story was the first defense I presented to the salon on behalf of our church. I was suggesting that church could be more than an institution intent on evangelizing and politicizing.
It was also a place where – at least on some occasions – you can feel the pulse of the real.
Next, I brought up the good works that Mennonites do, especially after disasters. If you're into service, the Mennonite church is a place where you can find others who will join you, I said. And collectively you can leverage more good than you can individually.
Finally, I spoke up for Christians in general, saying that the engagement in Christianity by writers I admire – Anne Lamott, Reynolds Price, Kathleen Norris and Annie Dillard – helped me return to church after 33 years away.
Yet on the ride home, my wife was near tears. She'd previously felt an undercurrent of hostility toward religion in the group. Now she said she might quit going, and that would be hard considering the warmth she felt for many in the group.
I said only one person had expressed outright contempt for religion, while the others who spoke mentioned a category – fundamentalists – toward which they felt anger.
That wasn't the way she remembered it, she said.
Then I mentioned the Mennonite value of Gelassenheit – yieldedness – but she said the yielding was to be extended to fellow Mennonites, during say, decision-making, not to those outside the faith.
I wasn't angry with those in the group who had attacked religion; I, too, have felt upset by some of its spokespersons. Nor was I upset by my wife's response; I, too, have found annoying the contempt for religion among some intellectuals.
My neutrality surprised me. I'm typically possessed of strong convictions, about which I won't be still.
Have I caught the Menno virus, the bug that infects you with a yearning for nonviolence?
Am I learning to "see double" in a good way – catching a hint of the truth lodged on both sides of some arguments? Or, at 69, am I just tired of fighting?
And what part does God play in all this?
I'll wait and see.