By Joanna Shenk
A few months ago I was contacted by Linda Lawrence Hunt, who was energized to see the work of the Women in Leadership Project and wondered about how she could support it. She was interested to participate in the All You Need is Love conference, but realized it would not work in her schedule.
She also let me know that she soon had a book coming out that reflected on the life and death of her daughter, Krista Hunt Ausland, who was a Mennonite Central Committee worker in Bolivia. The book, Pilgrimage Through Loss: Pathways to Strength and Renewal after the Death of a Child, tells the story of Krista's untimely death in a bus accident in the mountains of Bolivia and Linda's ongoing response to this tragedy.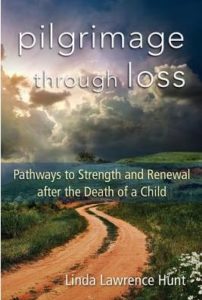 I began reading Pilgrimage Through Loss during Lent of this year. It seemed like an appropriate time to reflect on loss and dying, as the church remembers Christ's suffering and death.  Although Linda's story is one of deep pain, she writes in an inviting way, calling readers to reflect on their own losses and the multiple pathways of hope.
Whereas some books on grief have a goal of "moving on" past the pain, Linda does not follow that train of thought. Instead, each of her chapters include stories and research that make it possible to continually honor the pain and loss, while expanding the heart to love more deeply.
In Chapter 5, Allowing Time for the Long Season of Sorrow, Linda quotes Rev. John Perkins, who was reflecting on the death of his forty-year old son, Spencer, due to a heart attack. "I've learned to release what I can, and embrace the pain that stays." Then she goes on to share, "Knowing one never 'gets over' the death of a child does not mean one can't eventually live again with an expanded heart and vibrant hope that life can still resound with meaning." (page 53)
And as the book continues you learn of the varied ways that Linda and her husband, Jim, relate to their loss, including a trip to Bolivia to meet Krista's community. Linda writes:
"Seeing how her joy touched others in such a brief time gave us a reservoir of joy in the cup of sorrow, a gift that has endured. As Jim and I flew back to the States the next day, I knew we had been blessed by this trip into terrible beauty." (page 67)
Later chapters include the use of creativity and ritual to respond to pain and create meaning, as well as the hope that the natural world offers. In the final chapter stories of forgiveness are shared, as Linda reflects, "Whether to oneself or others, forgiveness is a gift you give yourself. From parents' stories, most experience more of the peace they long for if they eventually make the move to forgive." (page 164)
The book also includes a discussion guide for parents and grief groups, as well as a list of organizations that support those who are experiencing grief and loss.
As the church is now celebrating the Easter season, this book remains as relevant as it was during Lent. Just as the disciples grieved the loss of Jesus on the cross, as well as their hopes for the kind of Messiah he would be, they were given the opportunity to hope again, and see the Kingdom of God in a new way.
While the earthly death of Krista Hunt Ausland is a sorrow beyond measure, her spirit lives on, through stories and memories, as well as through the Krista Foundation for Global Citizenship, co-founded by her mother. I offer this book as a resource to pastors and congregations who are companions on the journey of grief and loss. May it both be a solace and a source of hope.