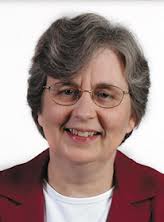 Linda Gehman Peachey is a freelance writer living in Lancaster, Pennsylvania. She has an M.Div. from Anabaptist Mennonite Biblical Seminary, Elkhart, Indiana, and a D.Min. from Lancaster (Pennsylvania) Theological Seminary. Previously, Linda worked for Mennonite Central Committee on women's concerns and also served with her husband, Titus, as co-director of Peace and Justice Ministries. She and Titus have two adult daughters and enjoy visiting them in Chicago and Guatemala. She is a member of East Chestnut Street Mennonite Church and serves on the steering committee for MC USA's office of Women in Leadership.
One of the most challenging aspects of my spiritual journey has been the struggle to know God as a nurturing presence in my life. Although I always loved the church and heard much about God's love, I still experienced God as a distant, judgmental, male figure, someone who was always watching me and counting my sins. It was hard to pray or seek God's presence.
Only when I began to deliberately use different images for God was I finally able to relate to God in a more positive way.
It has been so wonderful to discover other Scriptural images for God, such as mother, light and shepherd. For example, Jesus explains to Nicodemus that God is like a mother who wants to give birth to us, so we might enter into God's reign and live according to God's will (John 3:3-5).  Also, God is like a mother who holds, comforts and feeds us. See, for example, these verses:
Psalm 131:1-2 – "O Lord, my heart is not lifted up…But I have calmed and quieted my soul, like a weaned child with its mother."

Isaiah 66:13a – "As a mother comforts her child, so I will comfort you."

Hosea 11:4b: – "I was to them like those who lift infants to their cheeks. I bent down to them and fed them."
Finding these images has been a life-line to me, enabling me to encounter God in a much more intimate, personal way. No longer was God such an aloof and fearful figure, but rather one whom I could deeply trust with my whole self. No longer was God keeping track of all my weaknesses and faults, but rather I found God calling me gently and persistently, to follow the way of love, to become my best self.
Nevertheless, many continue to insist that we must call God father, since that is the term Jesus often used for God. In fact, in a recent opinion piece in the Mennonite World Review (June 4, 2018), pastor Tim Bentch insisted that we dare not replace the word father with other images. To do so risks idolatry and a lack of reverence for God. While he does acknowledge that any description of God is inadequate, he clearly thinks the father image remains essential.
Of course, it is true that Jesus used this image. Yet it is surprisingly rare in the Hebrew Scriptures. Of more than 12 thousand references to God, only 18 refer to God as father. Nearly a third of these refer to David and his relationship with God, so perhaps Jesus addressed God as father in order to link himself to David's family line.
Or perhaps Jesus used this title as a way to be more inclusive. At that time, many religious leaders claimed Abraham as their father in order to signal their status as part of God's chosen people. Referring to God as father then highlights the truth that all people are included in God's family. All have the rights and privileges of being God's sons and daughters. All are invited to love and trust this God who has welcomed them in, and adopted them as children and heirs.
Still another reason why Jesus and the early church may have used the term father was to challenge the idea that the Roman emperor was supreme father of the world. As Warren Carter points out, the emperor was known as the "Father of the Fatherland … having authority over and blessing the members of his large (submissive) household that comprised his empire" (The Roman Empire and the New Testament, 87). To claim instead that God was our father was to insist that the emperor was not. This claim also emphasized the truth that real blessing came not from the emperor (who in fact exploited and oppressed the people), but from the God revealed in Jesus, the very one whom Rome crucified. Calling God father was thus a subversive act, confronting the ideology and claims of the world's political and religious rulers.
This of course is no longer the case. In today's world, when powerful male leaders call God father, this usually serves to maintain the status quo of patriarchal religious and political systems. It reinforces the assumption that men, even when they are abusive and cruel, are somehow more like God than women.
Unfortunately, this belief in God's male identity became deeply entrenched in western Christianity, especially as it adopted the worldview of Greek philosophical dualism. This perspective divided the world into hierarchical binaries, which elevated the spirit over the body, heaven over earth, reason over intuition and male over female. God and all things spiritual were linked to heaven, the mind and a certain type of masculinity. At the same time, women and other oppressed people were viewed as earthly, emotional, and dangerous. Indeed, God became become so identified with a transcendent male figure that it is almost impossible for many to use other images for God, especially feminine ones. For how could God be found in what is considered earthly, immanent and vulnerable?
Nevertheless, this is the message of the incarnation: that God is in fact found on earth and in the midst of the most vulnerable and afflicted. God is truly revealed in Jesus. How then do we recover this radical affirmation? What divine images best encourage us to follow this Jesus and the truth that God especially identified with those who are oppressed and dishonored?  
For me, it has been vital to envision God as mother. But there are other biblical images for God that can also be helpful: life-giving light, caring shepherd, dependable rock, discerning wisdom, encouraging midwife and protective mother hen. Of course, we can still call God father. But we must be careful this does not further entrench destructive patterns of domination and exploitation. Instead, it is essential to cultivate many and diverse divine images so that we can more fully comprehend this God revealed to us in Jesus. Surely, this God is our mother too.