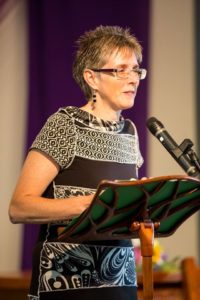 Cynthia Lapp is a pastor at Hyattsville (Maryland) Mennonite Church. This month she celebrates 30 years of living and working in the Washington D.C. area. Cynthia is married to Eric Stoltzfus and is the proud mother of Cecilia, Jamie and Elijah.
As a young seminarian, I heard about the (controversial) ecumenical "Re-imagining" conference in 1993. Over 2,000 Christian feminists assembled in Minneapolis for education and worship.
Gathering with this many women for four days, using feminine language for God and seeing the world through a feminist theological lens was a threat. Several women, who helped plan the meeting as part of their denominational work, lost their jobs. Challenging patriarchy in the church is dangerous work.
When I heard that a group of Mennonite women planned to gather to "do theology" the following year, I was pretty sure it would not be so large or so radical. Still, I was determined to attend. I had been part of feminist groups since my years at Eastern Mennonite University and was eager to see what this gathering in Bluffton, Ohio would be like. I remember that some were hesitant to use the "f word" — feminist. It was exciting to see older women as part of the gathering. And I heard that the older women were glad to see younger women like me there as well.
This gathering made clear that multiple generations of women yearned to have the voices and experiences of women receive respect in the church. And it was evident that we all had much to contribute.
Since 1994, I have attended at least three other Women Doing Theology conferences. Always I come away challenged and rejuvenated, with new friends and new ideas. I particularly remember the 2003 event at Eastern Mennonite Seminary. The gathering was centered on The Red Tent by Anita Diamant. It is the biblical story of Rachel, Leah, Bilhah and Zilpah, told from their points of view. Over 200 women gathered under that red tent for three days.
I can still see the beautifully draped, deep red fabric. What stays with me even more is the initial conversation the planners had with all in attendance. They said this event was attempting to be not only anti-sexist but anti-racist. The planning committee was committed to being diverse from the beginning. At the opening sessions, planning committee member Jane Hoober Piefer said, "We worked hard to include a 'good mix' of women of color and white women for speakers … for workshop leaders … etc. And yet we realized we were falling into the trap of multicultural tokenism as it applies to racism."  They announced that there was going to be a racism audit shared with everyone at the end of the weekend. I admit, I wasn't sure what that meant. As a white woman, I suddenly felt very self-conscious about my interactions with women of color. Would I be called out as racist?
It is with great appreciation that I look back on the honesty and strength it took for the planners to trust that the gathered women would engage with anti-racism work. My eyes and heart were opened in new ways to the gifts and possibilities of hearing each other's stories across not just generations, but across race and culture as well. It was the beginning of new understandings about justice that came too late in my life.
In subsequent Women Doing Theology gatherings I have appreciated similar commitments to anti-racism, to bringing a diversity of voice, race, style and age. This careful attention creates space for real change during the weekend and contributes to change across the church.
When we truly share from our strengths, when we truly listen to each other with open hearts, when we challenge each other and embrace each other across difference and find God — now there's some power.
I can't wait to see what I've got the Power! has in store this November.