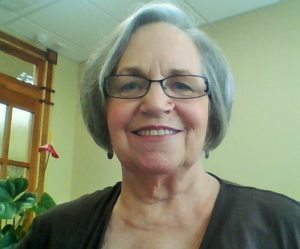 Rachel Lehman Stoltzfus lives with her spouse Eldon and grandson Khalid in Goshen, Indiana. A member of Waterford Mennonite Church, she has given leadership to Human Resources at Mennonite Mission Network for more than 20 years. Rachel enjoys learning from the gifts and perspectives of people from various backgrounds and cultures. She is grateful for time, grace, sunrises and sunsets, poetry, friendships and for Eldon, her loving spouse of 45 years.
I went to my first all-women's conference in Puerto Rico in 1986. I traveled from Haiti where I was serving with Mennonite Central Committee. There I met women from across the world, even still-segregated South Carolina and apartheid South Africa. The time was troubled. Mothers struggled to feed their families and mourned children lost too soon. Women were suffering through rape, discrimination and war. And so they gathered. Neighborhood organizers, peace and justice workers, theologians from many faith traditions experienced an uncommon unity of purpose.
We knew that our love, power, vision and energy, as women who care, could change the world.                                                     
The context was different, but the Women Doing Theology conference, All you need is love was similar in its depth of love and care for one another, the church and the world. In those few days in 2014, women lit a path through obstacles of difference in cultures, generations and beliefs. We paid close attention to one another's stories, explored the practices of faithful living, we sang and danced with tears of joy and sorrow. We encircled our pain with our kyrie, Lord have mercy. I came home buoyed with hope that perhaps we can be midwives for this tired church, laboring to birth something wonderful and new.
So I am ready for the 2016 Women Doing Theology conference, where the theme will be I've got the power! Naming and reclaiming power as a force for good. It's the year to join grieving mothers (again) fighting for gun control. The church is being shocked awake by horrific sexual abuse finally come to light. Racism rages. Meanness has taken over social media. We are beset with repeated attacks on women's rights and voting rights. Our bodies, our intelligence and our ability to contribute are being devalued. Even as we anticipate the possibility of the first woman president of our country, she is subjected to personal ridicule.
Coming to terms with the power we hold needs to happen this year! What better year to name our power and reclaim it as a force for good? What better year to stand together – to stand with those who are hurting, stand up to predators who target the vulnerable.
It is the time to stand together, to celebrate the power of God within us and embrace the opportunity to make a difference!
Our power is unleashed when we come together. It's like yeast rising. Think about it. The rhythms of worship and challenge empower the rising. In our togetherness, hope and faith are generated in spite of adversity. Rising up is what we need to do. It calls to us and gives us courage. Feel it!
"I'll rise like the day, I'll rise up, I'll rise unafraid, and I'll rise up high like the waves, I'll rise up in spite of the ache, I'll rise up and I'll do it a thousand times again, for you."
"… Yet still I rise never to give up, never to give in, against all odds, yet still I rise high above the clouds, yet times I feel low, yet still I rise."
And a verse from the magnificent May Angelou says:
"Does my sassiness upset you? Why are you beset with gloom? 'cause I walk like I've got oil wells, pumping in my living room. Just like moons and like suns with the certainty of tides, just like hopes springing high, still I'll rise."
Sisters, we've got the power to make a difference for the healing of our church and our land. Let's claim it! Come with me! Together we rise!
______________
Registration is now open!
For more information about the conference, contact Jenny Castro or visit the conference webpage:
www.MennoniteUSA.org/wlp-conference
Scholarships available:
Representing the diversity of voices and perspectives that exist across the church is a priority for the WLP. Our collective experience is enriched when we are intentional about engaging those with differing theological and life experiences. With that in mind, the WLP is offering partial scholarships for women of color across Mennonite Church USA. Scholarships will not include travel expenses.