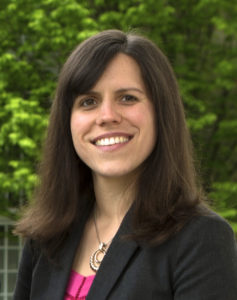 At the Mennonite Church USA convention in Orlando in July, planners tried something new. Something they called MennoTalks. Not quite TED and not exactly Pecha Kucha, MennoTalks explored a different topic each day, featuring speakers from diverse perspectives. Topics included Celebrating Women (Wednesday); Race, Religion and Justice (Thursday); and Local and Global Peacemaking (Friday). Over the next several weeks, we'll be featuring a series of posts based on the MennoTalk presentations in Orlando.
Sarah Ann Bixler is a Ph.D. student in practical theology at Princeton Theological Seminary, focusing on Christian education and formation. She also works as the assistant to the director of the Center for Church Planting and Revitalization at Princeton Seminary. She has served throughout Mennonite Church USA in education, youth ministry, curriculum writing and conference leadership. Sarah lives with her husband, Benjamin, and their three children in New Jersey and they attend Oxford Circle Mennonite Church, Philadelphia, Pennsylvania. Sarah's MennoTalk was categorized under the topic Celebrating Women. 
I dipped my cold foot into the water. Her soft fingers reached in, scooping handfuls as the smooth cascade warmed me from toes to head. She lifted my cleansed foot on her thigh, gently massaging it dry. She repeated this with my other foot, then handed me the towel, smiling. I knelt before the basin and mimicked what she had done. As I stood to face her, something felt different both within me, and between us. She leaned into me, folding me in an embrace and kissed my cheek. "God bless you, sister," she whispered.
I experienced this intimate practice of foot washing as a teenager. It illustrates the relationship psychologists call attachment, which begins at birth and transitions throughout the lifetime. We cannot be human without relational attachment. And neither can we live as a community of disciples without attachment relationships.
Our faith grows out of relationships we form with people in faith communities and ultimately with God in Jesus.
In my study of Christian formation, I've discovered how practices that foster relational attachment are critical for discipleship formation and the cohesion of the church.
As it turns out, many of the areas where the Mennonite church traditionally allowed women to flourish represent prime places for attachment formation. Take foot washing, for example. This is not an exclusively female practice. But women, I've noticed, often enact it in an especially attuned manner growing out of their role caring for people and bodies assigned by gendered tradition.
Mutual attachment relationships form out of intimate practices such as foot washing, where participants are tuned in to one another. Out of these attachments, faith grows and trust is built within the church.
This year, we celebrate 100 years of Mennonite women in the U.S. practicing attunement in the church. Women have historically filled the gendered role of nurture, creating strong attachment relationships that bind us together as the body of Christ.
Now I'm not saying men can't or haven't practiced attunement or developed attachment relationships in the church. Males and females have these capacities, equally created in the image of our relational God. But men have been taught to function from a more removed position of authority, while women have operated from a closer and more intimate position of informal care. Women have worked in areas of the church that function to bind us together. For many of us here today, we have a woman to thank for our commitment to the church.
Women have occupied their own spaces and had a subversive yet profound influence on the Mennonite church. Though often kept from official leadership roles, they were permitted to flourish in three particular areas: children's ministry, non-authoritative teaching and mission. They occupied these spaces with authenticity and relational attunement.
Women have long flourished in children's spaces. This gives them a profound influence on the church. Not only do women shape young people's core beliefs, which are in place by age 12, but also the very structure of children's brains, which are wired based on their interactions with people. In relegating women to the children's wing, the church has given them the most influential role in young people's formation.
So, too, women have occupied the most impactful teaching spaces in the church. Denying women the pulpit means little in terms of learned content. Educational research shows that lecture, the traditional method used in preaching, is least effective for communicating information. The most effective ways to transmit faith are through stories, embodied practices and relational interaction. These are the spaces of power women have occupied in the church.
Finally, women have flourished in mission. Because mission contexts are often informal and lack prescribed roles, women were affirmed for mission work. Thanks to their relational approach to witnessing, women have embodied the missional church for over 100 years!
As the Mennonite church focuses on its missional purpose, we have much to learn from women who practiced innovative and incarnational approaches to witnessing with their lives.
I am not lifting up as a model relegating women to the spaces of children's ministry, non-authoritative teaching and mission. Rather, I offer a subversive understanding of women's power in the church, recognizing how women's practices bind us together and form disciples committed to the church.
This is cause for both celebration and change. Since 1973, the Mennonite Church of North America has ordained women and formally recognized our leadership capacity. As we increasingly assume formal positions of power within the church, we bring with us a legacy of practicing ministry in an attuned manner. As we occupy both the pulpit and the children's space, the delegate seat and the teacher's chair, the pastor's office and the mission context, let us bring our authentic selves to these roles.
May we not assume hegemonic masculine approaches to leadership, but lead boldly with compassionate authority, cultivating healthy attachment within the body of Christ. May we remain tuned in to persons inside and outside of the church, contributing to God's binding us together over the next 100 years.c