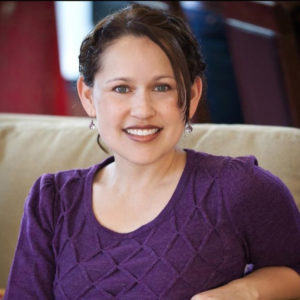 Maribel Ramírez Hinojosa is a clinical psychologist in College Station, Texas. She was born in Nuevo León, México, and immigrated to central California in the 1980s where she and her family joined a Mennonite church. Her Anabaptist upbringing and her training as a marriage and family therapist and clinical psychologist were instrumental in developing her passion for peace and justice. Maribel works with children, couples and families with varying mental health issues. Her goal is to help patients achieve a better state of being in order to arrive at an improved state of functioning. Maribel enjoys volunteering with Mennonite organizations and with organizations that promote music and the arts. She and her husband Felipe have two children, Samuel and Ariana, who keep them very busy. They enjoy traveling, dancing and laughing together. Maribel is a member of the steering committee for Women in Leadership of Mennonite Church USA.
When I was a junior in high school, I thought that I wanted to be a lawyer.
I was in forensics and debate and believed that I could help some of the most vulnerable populations as a lawyer. During that time, my friend invited me to an event that her school counselor was coordinating. Part of the gathering included the counselor going around the circle and asking us what we wanted to be when we grew up. When it came to my turn, I confidently stated that I wanted to be a lawyer. I went on to explain the reasoning behind my decision to which the counselor responded that it sounded like I wanted to be a psychologist, not a lawyer. I had never considered that, but was certainly open to exploring that possibility.
The counselor recommended that I take concurrent enrollment my senior year and try out a psychology class at the local college. I did just that. The following academic year, I registered for a psychology class and absolutely loved every minute of it. I remember each time leaving class with a renewed sense of wonder for the complex ways that God had created our emotions, our mental capacity, and our whole selves. From that moment forward, my passions were directed toward the field of psychology. In college, I majored in Psychology and went on to earn a master's degree in Marriage and Family Therapy. At that point, for no reason other than the fact that I was able to practice and start helping people, I decided that a master's degree was sufficient. I was the first in my family to earn a graduate degree, and frankly I saw no need to further pursue my education. But colleagues and former professors of mine often asked me if I would ever consider pursuing a doctoral degree. My response was always the same: I am able to practice and do what I love with a master's degree and thus would not pursue a Ph.D. Most of them encouraged me to continue on, but I didn't give it much thought until I spoke to my faculty mentor from graduate school. When I told Professor Allen Guenther that I would not pursue a Ph.D. in Psychology, he seemed surprised. He then asked me if I had ever considered that my decision was based on not personally knowing/having anyone with a Ph.D. around me.
Maybe my decision had everything to do with not seeing myself, or people like me — Latinas in particular — with advanced degrees practicing as Psychologists. Those words burned in my heart.
I was angry, not at my mentor, but at the fact that perhaps my decision to not fully pursue my dream, my decision to limit myself, had everything to do with the fact that I did not see Latina Ph.D.s or know any woman of color with an advanced degree, much less one in the field of psychology. I grew up in a small farm working and immigrant community in central California where my social worlds were limited. The faculty in Psychology during my undergraduate and graduate study years — people that I admired — were all white, and mostly male. People that I saw in the field, working and practicing, were also white for the most part. The point that I had reached, as a master's level practicing therapist, was certainly something to be proud of, and had I decided to stop there, no one in my community would have faulted me. But I did not want to base my decision on the fact that I had no role models with Ph.D.s who looked like me or came from my background. How many other gifted and talented Latinas, women of color in general, had also not reached their full potential because they did not see themselves represented at the highest levels?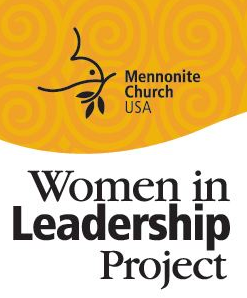 So, as you might have already guessed, I persisted.
I kept going, kept pushing, and in 2005 I earned a Ph.D. in Clinical Psychology. Not for the prestige, not for the money, I did it for the young Mexicanas and Latinas around me. I wanted to be that role model, I wanted to be that Latina — that hermana de la iglesia — who young women could point to and find inspiration in.
More than that, I also believed that this was a calling from God — that God was telling me that I had to be that role model for my community, para mi gente. People in my Mennonite church, Latinas/os around me, women around me, they could say that they know someone, someone who looks like them, that went to graduate school and earned a Ph.D.
My experience is but one. And I could not have done this without a supportive family and without my community's affirmation every step of the way. But I think my story can serve as an example of why representation matters and why it is important that we see people that look like us, that speak like us, that are of our similar cultural background in positions of power. Seeing ourselves in books and in the movies, not just as villains, but as sheroes and as creators and co-creators; as thinking human beings who make choices, who fail, and who love. Many times we unconsciously limit ourselves because of the lack of role models around us. This is why we must fight for representation, why we must create, why we must write, why we must engage, and why we must together imagine a new future for ourselves and for our children. So, how are you pushing beyond the limits? How are you being a role model for someone? It is never too late to start. Start today.