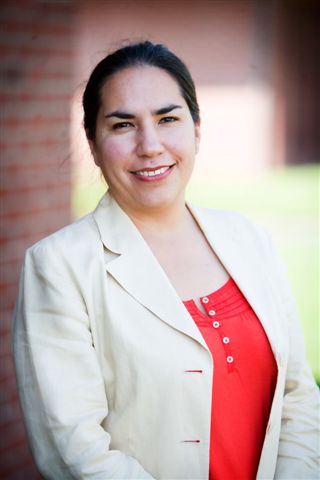 Sarah Augustine is the executive director of the Dispute Resolution Center of Yakima and Kittitas Counties. She is also adjunct professor of sociology at Heritage University. Sarah is the co-founder of Suriname Indigenous Health Fund (SIHF), where she has advocated for Indigenous Peoples whose health and communities are threatened by resource extraction since 2004. She co-wrote the statement repudiating the Doctrine of Discovery on behalf of the World Council of Churches (WCC), and further organized indigenous leaders globally to found the WCC Indigenous Peoples Program. Sarah is a founding member of the Anabaptist Coalition to Dismantle the Doctrine of Discovery, where she serves as the chair of the Structures Committee. This post originally appeared on Mennonite Church USA's convention blog.

Does this resonate with you?
Mid-40s, career in a helping profession, aging parents who have expanding needs, raising a child whom I see in the car on the way to school and for one to two hours in the evening, mortgage, struggling for global justice while seeking right relations with immediate neighbors … there is a lot to do. Each day I drop to sleep exhausted, every morning I rise and do it again. Meanwhile, things in my community, and in my world, seem to be tipping backward toward rage and despair and violence. These are hard times.
Perhaps what feels most challenging is that these times are not uniquely hard right now, not due to some immediate situation that will lift — this is my life for a while, without the promise of relief any time soon. And this life feels exhausting. There is not a quick fix that will relieve the pressure. What I need now is some way to endure: resilience.
Following Jesus has not made life easy for me; it has rather opened my heart to suffering, opened my eyes to injustice, particularly as I grow in relationship with my neighbors.
I often feel I have little to offer, when suffering is all around me: ICE sweeps through my neighborhood, seeking out the vulnerable; young women in my classroom who are undocumented and working in warehouses are harassed and even brutalized, by employers who act with seeming impunity; racial tension in city council meetings grows over whether or not it is prudent to be "welcoming"; Native American elders on the reservation where I live are disregarded, even mocked, while Indigenous communities in Nicaragua are killed by their own military for their lands.
Yet following Jesus has also opened my heart to hope. I rejoiced with the Wayana, an Indigenous People in South America, when the dam project that threatened their lands was halted due to global collective action; I stood with 80 Indigenous leaders from around the globe when the World Council of Churches established an Indigenous Peoples network, committing to the struggle for justice led by the most vulnerable; I have traveled the country, meeting Anabaptists committed to seeking justice for Indigenous Peoples everywhere, and ultimately forming the Coalition to Dismantle the Doctrine of Discovery;  I have connected with mainline church leaders petitioned by a national movement of women who are urging their church to repent and repair the damage done to Indigenous People; I have witnessed the shocked joy of national legislators when groups of Mennonites have shown up from the four corners of the country, together, seeking peace.
In the book of Matthew, Jesus says:
"Come to me, all you who are weary and burdened, and I will give you rest. Take my yoke upon you and learn from me, for I am gentle and humble in heart, and you will find rest for your souls. For my yoke is easy and my burden is light."
I have puzzled over this invitation time and again. How can it be, that in the midst of these hard times, my burden is considered light? I am becoming open to the idea that I find hope in the we, the movement of the Spirit together. My burden is lightened by working and mourning and living together. In being part of the body, I am subject to pain and suffering experienced by all who are in the body. I am  also the beneficiary of the movement and transformation of the Spirit that can only occur in who we are together.
______________
Learn more about resilience at Sarah's seminar in Orlando in less than three weeks! For the complete listing of convention seminars click here.